All porn movies based on the Mortal Kombat video games
Mortal Kombat is one of the most popular video game franchises in the world. Apart from brutal fighting, this one-on-one title is famous for particularly voluptuous babes who tend to wear the skimpiest clothes while doing all sorts of captivating acrobatics. That alone was enough to spawn numerous porn parodies, each hotter and kinkier than the next.
The hardcore Mortal Kombat porn parodies
Once again, Rule 34 seems to be 100% true, as the list of porn parodies based on the Mortal Kombat fighting games (developed by Midway Games and the first title in the series being released in 1992) is a lot longer as you'd might suspect.
But before we dive right into the porn action, let's have a quick look at some of the female characters from the Mortal Kombat franchise, to refresh your memory.
From left to right, Kitana, Mileena and Sonya Blade, which are arguably the most popular female fighters of the Mortal Kombat series. However, there are a few other playable characters such as Jade, Sindel, Sheeva as well (see images below).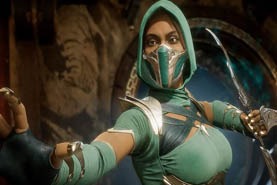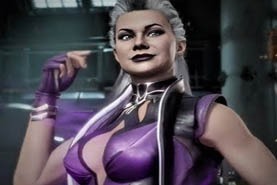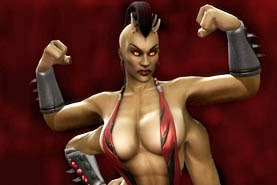 Now that we had a brief look at some of the tough and sexy chicks from the MK-universe, it's time for the real hardcore action... Time to "Finish Her".
Mortal Kombat: A XXX Parody (by Digital Playground)
For starters, we have a "Mortal Kombat: A XXX Parody", released in 2017 by the popular adult film studio - Digital Playground. While there are a ton of chicks in this fighter game, this video focuses on two particular charmers: Kitana and Johnny Cage.
Everyone's favorite jock, Johnny tries to reason with exotic brunette, pornstar Aria Alexander in the role of Kitana, before figuring out that talking doesn't do the trick so he proceeds to ram her throat and ravage her trimmed right in front of Shao Kahn, the great conqueror.
The production values are through the roof and you'll feel as if you're in the middle of the game before really hardcore stuff begins. Will she "Finish Him"...? Only one way to find out, go watch this hot and horny porn parody right away.
Watch at DP

Brazzers Kombat (by Brazzers)
A second movie on the list comes from the industry giant, Brazzers, and is titled Brazzers Kombat. This one has the worldly famous MILF Krissy Lynn in the main role of a particularly busty combat chick wearing an extremely inviting outfit, to say the least. Well, can't go wrong with a dirty babe like Krissy Lynn, that's for sure!
With nothing but a scanty bra, tight pants, and leather boots on, she approaches her opponent in the final round and immediately goes for his throbbing boner. As a player, you get to watch this curvy blonde giving the sloppiest blowjob in one of Mortal Kombat arenas before she gets pounded into screaming and ends up covered in cum for the ultimate victory.
Watch at Brazzers
Speaking of Brazzers, sadly, they've only produced one Mortal Kombat cosplay porn movie... However, the folks over at Brazzers sure seem to be big fans of the Super Street Fighter games, as they've produced not one, not two, but three porn movies based on the Street Fighter game franchise.
Mortal Kombat virtual reality (VR) porn scenes
Looking for an even better experience in terms of adult entertainment involving the MK girls? Lucky you, as the ladies from the Mortal Kombat franchise seem to be highly popular in the many VR cosplay porn scenes available online. And of course, we've listed them all for you.

Anal threesome with Kitana and Mileena [VR]
When it comes to porn parodies on video games, it doesn't get much better than the immersion that virtual reality provides. In a VR anal threesome called "Mileena vs Kitana: The Hottest Fight" you'll get precisely that: two dashing brunette hotties taking turns riding your throbbing boner with their tight asses.
In their signature pink and blue costumes, these girls start the fight right in front of you before the situation escalates and they get all riled up. It doesn't take long before the combatants start kissing and stripping and, from there on out, it's all about blowjobs, pussy licking, and anal riding.
If you're a fan of both VR porn movies and the Mortal Kombat games, you'd better watch this fantastic and kinky scene starring Lita Phoenix and Kerry Cherry ASAP!
Watch at SexLikeReal
Jade and Kitana share a cock [VR]
Kitana is one of the most wanted girls when it comes to Mortal Kombat porn and in "Jade and Kitana share a cock" another exotic brunette (Alba De Silva as Jade) joins her for a wild VR threesome.
With those sexy and authentic, green and blue outfits, the show starts with them giving a long and sloppy double blowjob. Being vigorous opponents, these girls go even harder when it comes to fucking. From doggy style to cowgirl and reverse cowgirl riding, they take turns on that fat schlong and play with each other the whole time creating an unforgettable VR experience.
Watch at SexLikeReal

Mileena's warm up before deep anal sex [VR]
Next up on the list of VR scenes is "Mileena's Warm Up Before Deep Anal Sex", where you get to be one-on-one with this fit cutie in a two-parter. In the first one, the scene starts with you staring right at this cosplaying beauty as she starts teasing and fooling around, showing those feisty Mortal Kombat moves.
Then, the situation escalates and she starts stripping clothes off. It doesn't take long before Mileena has barely anything on while her legs are spread wide and she's passionately rubbing that smoothly shaved pussy for your viewing pleasure.
The second part, Deep Anal With Mileena, takes you in the middle of the real action. Now, this brunette starts by sucking on a big, fat cock to make it all wet for her asshole. One sloppy blowjob later, and she first straddles you like a lusty cowgirl, to ride with her tight snatch.
It's only after you pound her this way that she turns around to finally give up the other hole. A big schlong gently enters her from behind before she continues to ride balls deep and moan in pleasure while being stretched to her absolute limits.
Watch at SexLikeReal
Tanya and Raiden having steaming hot sex (XXX Parody in VR)
Apart from previously mentioned, there are even more characters in the Mortal Kombat universe, and "Tanya A XXX Parody" gives us an especially beautiful and exotic one, paired up with nonetheless than the powerful warrior and defender of Earthrealm himself - Raiden.
After being defeated, tanned and busty Tanya (played by porn starlet Alyssia Kent) immediately goes down on her knees for sloppy dick sucking. Then, she teases with that curvaceous body and fondles her big, supple, magnificent breasts just enough to get her smooth pussy railed in every position imaginable while she moans in pleasure in that tight, yellow, leather outfit.
Watch at SexLikeReal

Sonya goes down and dirty with Johnny Cage [VR]
Then, we have a match made in heaven, and in VR, where Sonya Blade (played by porn starlet Selvaggia Babe) goes down and dirty with Johnny Cage. A black, leather costume only makes this dazzling blonde look even hotter as she deepthroats in Mortal Kombat: Sonya A XXX Parody before tearing her pants and putting her pink pussy right in your face while rubbing and fingering it with a passion.
From there on out, it's all about this hottie vigorously bouncing on Johnny's massive dick in every position imaginable while moaning and screaming. Athletic and dominant, Sonya Blade only gets more energetic when she's turned on and there's a huge schlong to satisfy her needs.
Watch at SexLikeReal
Mileena wants to fuck you [VR]
Last, but not the least, comes another scene called Mileena Wants To Fuck You. One can never have enough of this kinky chick who loves her lethal, dual-wielding sai and that provocative, pink costume almost as much as she loves being ravaged with throbbing boners.
This time, after turning you on with her mere appearance, she slowly comes forward before dropping down and giving the meanest blowjob ever. And only after making sure that such a huge dick is all slippery from her sucking, she turns around and gives her ass up for doggy style hammering.
Mileena even manages to use her erotic, leather boots to get you turned on even more before going back to bouncing on your member with that trimmed snatch.
Watch at SexLikeReal
Check out our MK inspired naughty merchandise
Speaking of Mortal Kombat, this makes the perfect opportunity for a little cheap plug of our own. Have you seen our Mortal Kombat inspired; "Finish Her" and "Finish Him" merchandise already? We've got laptop bags, face masks, stickers, t-shirts, sweaters, buttons, posters, metal prints, pillows and so much more. Go check out our official Stick Of Joy merch at our Redbubble store!

If you've ever played any of the Mortal Kombat games, doesn't matter if you've played the original classic in the arcade halls or on your Nintendo, Sega Megadrive, or modern day gaming console, all titles in the MK-series contain the (in)famous phrase "Finish Him"... But remember, don't forget to "Finish Her" as well.
Visit our Merch store