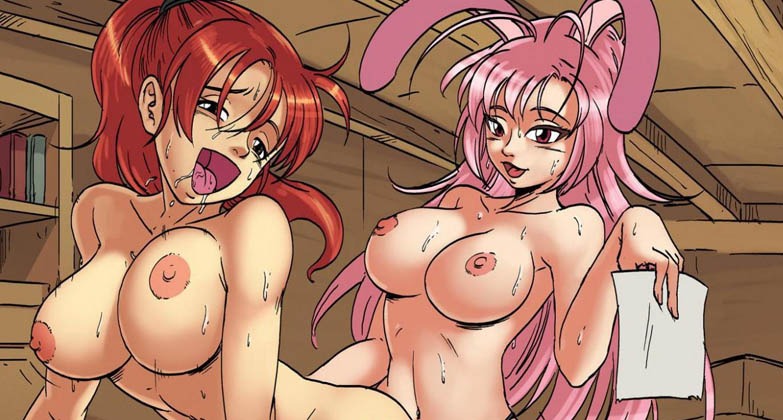 Harem Heroes is a comprehensive Hentai game that'll get you hooked (Adult Game Review)
Thanks to its interesting, naughty and kinky storyline, combined with easy to learn and fun RPG-gameplay elements, Harem Heroes is arguably one of the most addictive (adult) Hentai games that is entirely free to play. If those aren't good reasons to give this adult video game title a try, I'd give up.
Got curious? Good! Let's dive into today's adult video game review.
A comprehensive Hentai Game
Harem Heroes might look like a small and simple browser game at first, but it packs a big punch and hides a lot underneath. Once you start playing, you'll find yourself going for as long as you want because there are so many features to have fun with. Additionally, the creators keep things fresh with constant updates and regular, time-limited events that always bring something new to the table, even if you grow bored of the original game.
That, however, is unlikely to happen considering Harem Heroes is, after all, a porn game. The more you progress, the dirtier and spicier things can get. But don't get me wrong here, as you'll be enjoying your first sex scenes and nudity in the very first 30 seconds of playing Harem Heroes!
On top of feeling the satisfaction of progressing in a video game, you'll also be rewarded with a ton of porn in all sorts of different ways.
Follow the white rabbit (and bang her ass)
Harem Heroes (also known as Hentai Heroes) starts off with the you (the player) getting busted with his dick in his hand, while spying on a couple having sex in a classroom. That's when this mysterious bunny-girl appears, she points her finger at her tight asshole before sticking her finger inside. She invites you to stick your hard rod deep inside her ass, but only if you manage to catch her first as she starts running away.
And like any man would do in such situation... You'll start chasing the bunny-lady, hoping to get rewarded with some wild anal sex. And guess what? Sorry for the spoiler alert, but you do get lucky! Very lucky, indeed!
What's next? A lot! Because this is just the start of the game, and from here on out, you'll get to discover the fictional universe of Harem Heroes. In this universe, there's only one thing that's truly important; bang as much chicks as possible.
Plenty of steaming hot porn wrapped in a captivating video Game
As the title of the game suggests, you get to manage a harem. The premise itself is more than enough to spark anyone's interests and, once you start playing, things get particularly steamy. A simple fact that, currently, there are over 350 girls that you can "catch" (kinda like you would catch a Pokémon in one of those classic Gameboy games), interact with, and in the end; turn into "employees" at your harem.
Of course, you'll get to do a lot of of dirty stuff with your harem as well. And with over 350+ in-game babes, that tells you just how much porn there is to discover in this game.
Not just that, but the number of girls constantly increases and each new event could add a completely different hot babe for you to play with. However, this game is not just about quantity. There's also variety to the adult action that Harem Heroes offers.
The adult video game Harem Heroes offers a little bit of everything
The game features an original storyline mixed with comics, manga, pop culture, and other video games and all of that is of an adult nature. There are hundreds of hentai drawings and illustrations that range from solo chicks, naked or in sexy outfits, to full-blown futanari orgies where girls with monster cocks fuck helpless ladies into multiple leg-shaking orgasms.
And to keep you engaged and immersed in this whole thing, you're the one everything depends on. You get to find the girls, seduce them, give them gifts, get them to work for you, train, and take them to competitions, and much more. For all of that, you're rewarded with some of the best hentai on the web.

Many possibilities of exploration mixed with interesting RPG gameplay
Harem Heroes is, in essence, a video game and, regardless of whether they offer good porn, nobody would play it if the gameplay wasn't satisfying. That's exactly that thing where this naughty game title really shines. It's pretty easy to get hooked to Harem Heroes as soon as you start playing and discover the fictional world that Harem Heroes lets you explore.
Harem Heroes is a resource-management RPG, mixed with visual novel-elements and multiplayer gameplay.
You don't need lightning reflexes or expensive PCs to play it, but you can still have immense fun nonetheless. Progress at your own pace as you seduce, train, and upgrade your girls, develop your harem, enter, and win various competitions.
Currently over 369 hot girls to catch.
A ton of missions to overcome.
Develop your sexual skills (by upgrading your equipment at the Market).
Challenge the Sex Champions (and receive new girls as a reward).
Join other players in clubs.
Participate in monthly "specials".
Hundreds of uncensored hentai to enjoy!
You can also count on those monthly events to give you constant reasons to continue playing and enjoy brand new content. That's right, the game keeps getting updates to satisfy all of the player's urges. And, as if all of that wasn't enough, there's also a multiplayer function. Go PvP, dominate leaderboards, or start Clubs with other players.
Most Frequently Asked Questions about Harem Heroes
The differences between Hentai Heroes and Harem Heroes?

There ain't much differences between Hentai Heroes and Harem Heroes. While being pretty much the exact same game. The original title used to be Hentai Heroes. However, the alternative title "Harem Heroes" is used on the Nutaku website (where you'll get to play the game for free).

One small note; Harem Heroes and Hentai Heroes use different online servers, which means, if your friends are playing Hentai Heroes, and you are playing on the servers used by Harem Heroes, you won't be able to find and connect to each other.

Besides using different servers for multiplayer options, both titles are the exact same adult game, with the exact same features.
That brings us to our rating of the game and yes, we love it that much!
To sum it all up, once you'll start playing Harem Heroes, be prepared to give up on all your spare time because you're probably hooked to your PC or smart phone screen, playing Harem Heroes for hours straight, and of course, enjoying all the kinky and wild hentai content that the game has to offer. The game is free to play on both desktop and mobile devices!
Play Harem Heroes