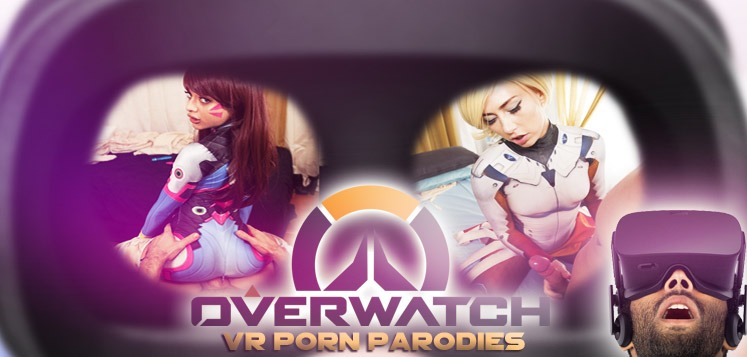 The Best Overwatch Hentai & Porn Parody Videos in VR (2022)
From Overcrotch to Overwhore, ready to watch your favorite videogame franchise's characters come to life in a way you've never seen them before? Forget about battling hostile robots or any of that sort of action. Today, the famous Overwatch videogame characters will be seen in a totally different kind of "action-packed" adventure together... Yes, I'm talking about Overwatch porn because, well, that appears to be "a thing".
D.Va does Dallas? Not quite! Instead, D.Va does VR and she will be sharing a big hard dong and even takes a stiff cock deep inside all of her tight fuck-holes.
Embrace yourself for in-your-face endeavors packed with virtual spurts of cum in our list of the best Overwatch Hentai, as well as the best Overwatch videogame porn parodies, all of which in the highest quality VR video you'll find on the web.
As many likely already know, Blizzard Entertainment's Overwatch is a first-person shooter game that was released in 2016. Despite the fact that Overwatch was released more than six years ago, the player base in 2022 is still between 650,000 and 800,000 on a daily basis.
The game is clearly among the most popular shooter games, with an average of 12,000 concurrent viewers on Twitch in February 2022, demonstrating the game's immense quality. Simply put, the game franchise has been quite a hit worldwide.
Ladies and gents, rule 34 is real - there truly is a porn version of everything...
The game's enormous popularity spawned a wave of both 3D animated, as well as life-action porn parodies that took the best of the world's vibrant characters and infused them with a plethora of seductive traits.
But before we list the best Overwatch adult virtual reality vids, let's have a quick look at some of the female characters of the game, shall we?
Introducing the most popular and most sexy characters of the game (but with a kinky twist)
Like every film, TV series or videogame, every franchise spawns its own fan-favorite characters. That same goes for the Overwatch videogame as well. Especially among the fan-made NSFW parody content found online, but also within the cosplay and ero-cosplay community.
For those that have been living under a rock or have been too busy jerking off to dirty vids online and therefore, somehow aren't familiar with the sexy female characters from this game franchise yet, allow us to introduce to you...
D.Va

Besides immersive combat scenes, Overwatch owes a lot of its popularity to the characters. The bombshell in a tight blue bodysuit, D.Va is a hot gamer chick who operates a big pink mech, in her efforts to save the planet from the invasion of intelligent robots called Omnics.




Fun fact: the free to play, adult strategy game called Need For Sin, also features a D.Va lookalike character... Yeah, "Nerf" that!

Tracer

Tracer's power to control her own time, allowing her to accelerate and slam on the brakes of time at will, made her one of Overwatch's most potent agents. She is a wicked pilot, a delish cutie-pie and a master of weapons that throws bombs and carries pistols that are bigger than her ass.

Mercy

Mercy, a beautiful blonde with a great mind, arrives to help the injured warriors fighting to rescue the planets. She is a nanobiologist who heals, strengthens, and even resurrects, and she proudly wears her Valkyrie armor. Mercy, as beautiful as she is intelligent, gives her comrades hope that good will triumph in the end.

6 Adult VR videos that shed a new light on the famous Overwatch videogame characters
VR videos allow new generations to experience porn from a whole new perspective. Making viewers feel like they are a part of the action, the three-dimensional technology turns plain porn watching into a spectacular experience.
And I'd bet you know what that means, as mentioned, with Rule 34 being 100% true and all, that means there's a whole lot of eye candy awaiting for the naughty gamers among us as well. Today, we'll be showcasing the Overwatch videogame characters in ways you've never seen them before, and yes, also in VR!
Time to list the best Overwatch hentai, cosplay and adult parody films in virtual reality!
Overwhore (A Virtual Reality Adult Film, Every Gamer Should Watch)
The moment you enter this vid, you'll realize why so many porn features D.Va. This time, a stunning redhead with perky tits squeezes into a legendary blue bodysuit and starts flirting with the camera.
As her naughty hands wander around her chest and her pink tongue licks her puffy lips, the fiery princess feels her pussy getting dripping wet.
All of a sudden, strong male hands unzip her costume and begin stroking her back, slowly lowering down towards a steamy tushy. Unable to control his dark urges anymore, the stud rips the stunner's bodysuit and reveals a shaved, juicy pussy hiding underneath.
The VR porn flick "Overwhore" is starring the sexy and cute, seductive, tiny and petite pornstar Holly Hendrix in the role as D.Va. Fans of porn should already know by now that you simply can't go wrong with a tiny, horny adult film star like Holly Hendrix. She knows how to steal the show and she does exactly that in this Overwatch porn parody scene.
Watch this VR porn video
Overcrotch (A Hot & Steamy VR Threesome Cosplay Video)
Dressed as Tracer and Widowmaker, two magnetic hotties are ready to embark on a hardcore quest. To prepare their wet twats for the upcoming drilling, the cosplay princesses grab a dildo and use it for raw pussy stretching. Brace yourself for a sizzling hot VR threesome adventure produced by VRCosplayX!
Already as stiff as a rock, the cock springs in front of gorgeous faces, luring them into a ride of a lifetime. As Tracer hops vigorously up and down the mighty shaft, D.Va strokes her butt cheeks, encouraging her to pick up the speed and make the stud bust the nut.
Overcrotch might sound a bit like a cheesy title for an adult film but hey, this is porn after all. However, this VR video on the "other hand" is far from cheesy! In fact, it's pretty freakin' hot! But did you expect anything else from the sexy porn starlets Zoe Doll and Alexa Tomas?
Watch this VR porn video
Overwhore Merci (A VR Porn Cosplay Fantasy Brought To Life)
There's nothing Merci (cosplayed by pornstar Carter Cruise) wouldn't do to help a patient with the swollen-balls case. In a tight suit and with her blonde hair up, the hypnotic firecracker paid close attention to every inch of the stud's dong.
While using her delicate hands to make it as straight as an arrow, Merci felt a sudden urge to climb it.
Determined to aid the man in distress and exude every last drop of his precious seed, the light-haired diva rode it hard, spicing things up with loud moans.
Give this top-notch virtual reality porn scene a try if you're a fan of the Overwatch series, it contains all the ingredients to deliver a fap-worthy roleplaying adventure based on Overwatch's very own Mercy (or in this case - Merci).
Watch this VR porn video
Have Sex With D.Va in a (POV) VR Hentai Clip
This Hentai porn video features the ravishing D.Va and her fun-loving twat. While her dazzling eyes stare at the stud and his lengthy prick, while "it" finds its way inside her slippery wet love-hole. And guess who that "stud" happens to be in this point of view VR sex video? You!
Already as stiff as a rock, the cock springs in front of gorgeous faces, luring them into a ride of a lifetime. As Tracer hops vigorously up and down the mighty shaft, D.Va strokes her butt cheeks, encouraging her to pick up the speed and make the stud bust the nut.
Thanks to the POV style of camera angle, it's almost as if the viewer is banging D.Va in this 3D animated porn scene. So, in case you have been fantasizing about shaggin' D.Va, well, put on your VR headset and enjoy the ride because this is your chance to bang her brains out on the sofa!
Watch this VR porn video

Who Knew D.Va Loves It Up The Butt? (Anal Toying With Her Butt Plug)
Do you wanna see D.Va's big booty bouncing during a superb cock ride? Then you've come to the right place. This 4K, 3D animated VR video reveals that this sex goddess often reaches for her diamond butt plug that she leaves lodged deep inside during intense pussy fucking.
While her blonde pigtails jiggle to the rhythm, she moves her hips in a circular motion to feel the joy-stick as deep as possible. Soon enough, on the verge of the big O, the blonde vixen tenses her muscles before her figure goes into a trembling mode.
As if watching a kinky scene like this with your headset on wasn't hot enough already, to top it all off and to double the fun and pleasure - this video right here is also available combined with a sync script, allowing you to synchronize the on-screen action with your masturbator toy (such as the Kiiroo Fleshlight and various other brands)... Ain't technology great, ha?
Watch this VR porn video
Supports syncing with masturbator sex toys *
Dva Takes Anal Sex In The Metro (Overwatch Hentai Scene By HentaiVR)
D.Va is always up for kinky games. Knowing that her lover adores her tight costume that hugs her perfect curves, she leaves it on and approaches a nearby window, letting subtle light fall on her flawless complexion.
He whips his throbbing shaft out and shoves it between D.Va's big butt cheeks, feeling the sublime tightness of her butt hole. The blonde squirms in pleasure, pushing her hips towards the fat shaft in a desperate urge to feel every inch of the penis inside her aching butt hole.
Watch this VR porn video
Supports syncing with masturbator sex toys *
* Syncing is limited to the following devices: TheHandy, Kiiroo Keon, Kiiroo Onyx+, Kiiroo Hot Octopuss Pulse Solo Interactive, Kiiroo Fleshlight Launch, Lovense Calor, Lovense Gush, Lovense Max 2, Lovense Nora, Vorze A10 Cyclone SA and Vorze A10 Piston SA.
Better be ready to wipe the dust of your Oculus Quest or Rift, HTC Vive, Windows MR, Valve, Pimax, cardboard, or any other virtual reality headset you happen to own, because trust me, you really don't want to miss out on the steamy VR porn videos involving Tracer, D.Va, Mercy and various other characters from the popular gaming franchise.
To end this article with one final tip - be sure to check out our cosplay category page for even more videogame porn parodies and spicy cosplays based on popular gaming characters such as Lara Croft, Princess Peach and many others.