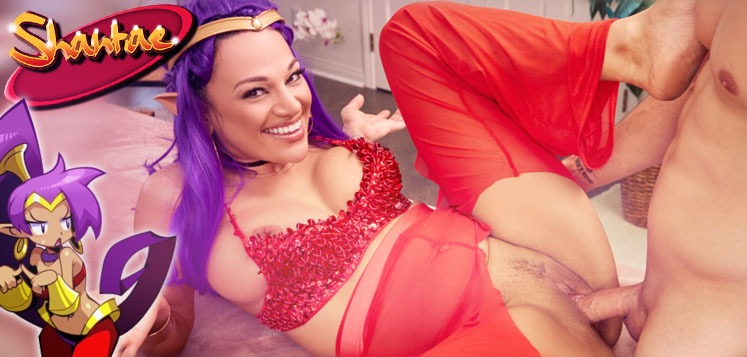 From Gameboy heroine to Pornstar - Shantae in VR Porn Video
Shantae, the half genie and half human gaming persona, complete with her trademark purple hair and red bikini, and of course, being the star of her own videogame series (with the same title) has recently made quite the transition, perhaps not the type of transformation loyal fans of Shantae were expecting, nor the transformation we knew we'd needed.
That being said, change doesn't necessarily mean that it's for the worse, right? Certainly that's not the case today! Because today, the famous videogame character Shantae will show off her wild side.
In all honesty, once you start to think about it for a second, it actually makes total sense – let's face it, have you never wondered what's hidden underneath that tiny red bikini while playing any of the titles in the Shantae platformer videogame franchise?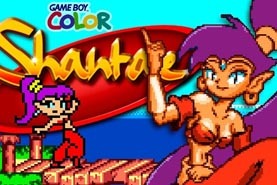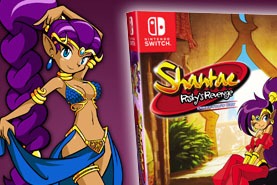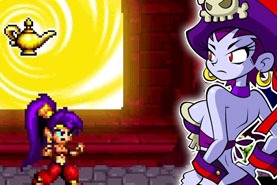 Speaking of transformations, there's another quite noticeable change that occurred with Shantae's appearance since being introduced to the world on the Gameboy Color (GBC), back in 2002. Especially in terms of Shantae's breasts size.

From starring on Nintendo's Gameboy to becoming a porn star...
As it turns out, now that she's all "grown up", it's not just her cup size that has been growing, Shantae also seems to be growing quite the big and juicy, sexy bubbly booty lately.
I guess, even a genie girl and heroic protector of Scuttle Town, can eventually grow up to become a cock-craving slut too. Well, ain't nothing wrong with that, right? Genie girls deserve a little bit of "love" (or should we say – naughty fun) every once and a while as well, you know.
Ok, Nintendo might disagree about that last bit, but then again, we all know our friends over at Japan always seem to have had a serious case of titty-phobia for some reason. Come on guys, we love your consoles, legendary game mascots and all, but man, just grow a pair already.
All jokes aside, a brand new VR porn parody film has just been released, featuring the beloved videogame character who made her debut on Nintendo's beloved handheld console - the Gameboy Color... Only now in a way you've never seen Shantae before.
For the first time in history, ready to put on your virtual reality headgear, unzip your pants and watch Shantae without a bikini, flaunting her massive topless breasts, wiggling her big butt, all while having her mouth and magical, soaking wet pussy getting pounded by a hard, large cock?
Shantae fans, it's time for you to enjoy the show… in VR! And with porn starlet Mona Azar in the role of Shantae, that hard rod appearing on your screen is 100% not going to be the only "hard thing" today... Time to whip that joystick out of your pants, if you know what I mean!
Shantae - A XXX Parody (in VR)
The half genie, purple haired videogame heroine Shantae isn't always busy fighting off baddies such as the evil lady pirate, her arch enemy - Risky Boot. All while platforming her way through magical lands, hypnotizes her enemies with her mesmerizing dance moves or defeating her enemies by whipping them with her hair and what else not. Shantae is quite a badass babe.
But sometimes, Shantae also has found some time to have a little fun. And you know what girls all want, right? Just go ask Cyndi Lauper.
Shantae's definition of fun though? That would be having raw, hot and horny, steamy sex. Basically, her favorite type of fun would be a stiff cock pounding her wet pussy as she bends over in doggy-style position, moaning as his hard rod slides between her slips, while eventually, Shantae reaching her one magical moment as she orgasms.
By the way, ever seen a horny, bare naked genie babe, during the heat of the moment while she reaches her climax?
Well, we sure learned something today while watching this porn flick. Turns out, it truly is a magical moment to watch… and loud! Really loud!
Shantae surely doesn't seem to have any problems letting her self go as she's moaning and screaming loudly, begging the lucky bastard that's banging her magical fuck-hole not to stop pleasuring her.
With that said, I bet you can do the math yourself to figure out whether or not the Shantae VR XXX Parody includes a "happy ending" or not.
With the busty, curvy cutie and rising pornstar Mona Azar cosplaying the videogame character Shantae in this sizzling hot VR adult film, you can probably already tell that this video is going to be freakin' hot, just from her appearance (and that extremely hot, curvy, nude body of hers) alone…
Simply put, Mona Azar automatically turns any porn scene she stars in, into a totally fap-worthy video, all thanks to her fantastic, all natural, "heavy" assets, her adorable smile and lust for kinky, uncensored sex. Mona loves to get freaky. Exactly the reason why we love to watch her getting into action!
What are you waiting for? Go and watch Shantae go on a magical journey, the type of journey you've never seen her in until now. You're about to find out what's underneath Shantae's small red bikini top, but do you think you can that "big" secret? Big being an understatement here.
This is your chance to jerk off to Shantae while she's proofing the world she has more than just dancing skills, wait until you've seen this genie's other skills, like when she climbs on top of him and starts riding up and down his dick, as if her life depends on it.
Watch this VR porn video
About the Shantae game series
Shantae was first released on Nintendo's Gameboy Color back in 2002. However, years later, the game did get a re-release for the Nintendo Switch and can be played with upgraded graphics or using its 8-bit graphics from the original release. Shantae was developed by the WayForward game studio and got published by Capcom.
The protagonist of the game series with the same title, Shantae, got introduced to gamers worldwide as being the protector of Scuttle Town. Much thanks to the fans of Shantae and her digital, action-packed, platformer adventures, the original game spawned 4 more sequels due to the demand.
However, Shantae's debut game had a little rough start during its original release and that fan-following of her, didn't exactly grow over the night, to say the least.
One of the main reasons for that was the late release date of the first Shantae GBC game. By the time gamers got their first chance to play this little gem on their Gameboy Color devices, months prior, Nintendo had already moved on and launched its much more impressive hardware successor - the Gameboy Advance. As many gamers already had moved on, releasing a Gameboy Color game in such a late stage, heavily impacted the sales during the game's first run.
Shantae's first release might have been quite unnoticed during that time, however, once gamers discovered how much of a fun and awesome platform game this actually was, the game eventually turned out to grow into somewhat of a "cult classic". And once the demand by fans was there, one platform game became two, two became three and eventually, the franchise would end up counting a total of five official game releases.

Shantae (GBC, 2002)

While originally released on the Gameboy Color in 2002, this classic platform game got a re-release on the Nintendo Switch, many years later... Introducing a whole new generation of gamers to the half genie Shantae and the magical world of Sequin Land.

Shantae: Risky's Revenge (Nintendo DS, 2010)

With the graphical limitations of the Gameboy Color out of the way, this much more visually appealing sequel was exactly what fans and the Shantae series needed.

Shantae and the Pirate's Curse (2014)

The third platform adventure in the series arrived in 2014. This was the first platform game in the series which was released on various consoles - Nintendo Switch, Xbox One, PlayStation 4, and PC.

Shantae: Half-Genie Hero (2016)

In 2016, Shantae's fan-base has proven to have grown so much bigger and stronger over the years. In fact, even so strong that the development of this fourth entry in the franchise, was made possible due to a successful crowd-funding campaign. The game didn't just introduced yet another brand-new storyline, it also introduced players to Shantae's world in HD graphics for the very first time.

Shantae and the Seven Sirens (2019)

A special version was first released on the Apple Arcade platform in 2019. In 2020, the full version and final entry of the game series made its way to multiple game consoles, PC and Apple Arcade as well.

If you like mainstream platform games, in terms of gameplay and game mechanics, the Shantae series offers hours and hours of solid platform gaming action. Not just that, but also delivers in terms of colorful visuals and many adorable, unique characters for players to enjoy. Not in the mood for some gaming fun? Well, then there's still some "action" to watch and enjoy in this videogame-based VR porn parody.