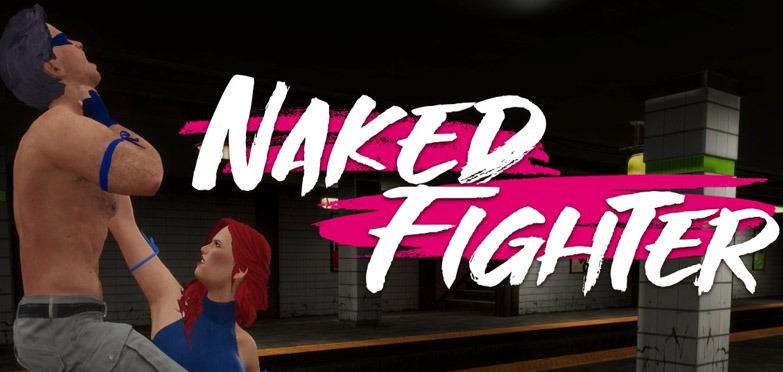 Time for a sex-fight in Naked Fighter 3D (Adult Game Review)
Let's get ready to rumble... Bare naked, that is! In this review we will be playing the naughtiest wrestling PC game that's currently still in development, and it's called Naked Fighter 3D. Brace yourself for some single and multiplayer fighting action for adults!
Let's face it, who needs Ric Flair's figure four submission hold, if we'll get to apply the "figure four footjob" instead? Or what about a headbutt to the pussy or chocking our opponent with our big, juicy breasts? Things tend to get a little wild in this 3D adult game.
To quote Triple H's famous entrance theme by Motorhead – "time to play the game"....
If you're into pro-wrestling and porn games, such as myself for instance, the Naked Fighter 3D game for the PC, seems like that one perfect combo. But Naked Fighter 3D is not like the typical wrestling or fighting game, at least not in the traditional sense.
However it does offer quite a bit of game modes, all providing the player onto completely unique experiences. We'll get into that in just a second.
Let's find out what the fuss is all about by digging into this spicy, solo dev title, shall we? Let's go! I'm ready for some nude wrestling action... Ring that bell!
What is Naked Fighter 3D? A different kind of fighting game!
Naked Fighter 3D is made by a single developer known as Sam3DX. To quote the developer himself – "I'm a big fan of competitive sex-fights! So I've decided to make a fighting game I always wish to play". Fair enough, the whole concept does sound intriguing, to say the least.
The entire development of this NSFW wrestling videogame has been made possible thanks to all the sponsors on the Naked Fighter 3D patreon page.
But what type of game is Naked Fighter 3D exactly? Well, if you're expecting a traditional wrestling game, whether it be one of those classic Nintendo 64 titles such as WWF No Mercy, WWE Raw on PC or (the glitch-fest known as) WWE 2K20 for the Playstation, I hate to disappoint you, because that's not what this game is.
Don't get me wrong, it's still a competitive fighting game, but you won't be smashing the buttons like you would in a regular fighting game such as Mortal Kombat or let's say – a game like Street Fighter.
If you are more interested in an actual arcade style fighting game starring fully nude babes, I'd recommend to check out the NSFW PC game called Fight for Fuck by BooB ball.
Download Fight for Fuck
Instead of being a regular style fighting game, Naked Fighter 3D takes the turn based approach for its gameplay mechanics, and offers the option to either take on an AI opponent or go to brawl against other players online in the multiplayer mode.
There is more to it though, because Naked Fighter 3D treats its players onto multiple different types of gameplay modes, depending on what the player prefers.

For example, if you're not in the mood to have an actual (nude) wrestling match against any other online player, nor the CPU opponent, there's also an option which puts you directly into the director's seat. Basically, allowing you to direct your own "wet dream match", which includes having full control over multiple camera angles, the attacks, wrestling moves, submissions, and of course – the finishing moves!
Once you're satisfied directing your kinky, one on one match, there's the option to rewatch the whole show from start to finish (and can be viewed from various different camera angles). Including an additional game mode like this, makes Naked Fighter 3D not just interesting to actual "gamers", but also to those that love crafting and directing their own NSFW video scenes. More details on this later.
But first things first – let's start with the regular game mode by ripping off our opponent's clothes and deliver some ass-kicking between the ropes, or as Stone Cold Steve Austin would say – raise some hell!

Let's get moving into action and start our first bare naked fight
Let's go with the regular gameplay mode first and try beating our opponent using turn based tactics which include a wide variety of attack moves. Not just that, also the ability to strip off pieces of clothing from your own character, as well as ripping off your enemy's clothing.
However, the moves you pick for each turn must be chosen wisely, because certain attacks also afflict damage upon yourself. Once you'll get the hang of it, you'll be forcing your opponents into surrender in the most unusual ways you can probably imagine...

Ever thought you would be forcing your opponent into submission by choking her with a forced blowjob, or what about making your opponent tap out by choking him (or her) by shoving your tits deep down his or her throat? This, and many more ways to winning a match. It's all possible in Naked Fighter 3D.
But before we start off with our first match, we'll need to make our own custom fighter... Time to get a little creative!

Create your own custom character
What would a wrestling game be without a "Create your own character" mode, right? It has been "the standard" since the good old days of the Nintendo 64. To be fair, I can't think of any wrestling game after those N64 classics that didn't include such an option.
Considering Naked Fighter 3D is also an erotic game, giving the player the ability to customize his own fighter's appearance, according to his own (sexual) preferences, is more or less a must. The good news is that such a feature is indeed included here.
There's plenty of options in terms of customizing your own character here, ranging from body type such as petite, curvy, chubby or modifying the muscles amount on certain parts of the body.
If pregnant babes are considered "your thing", there's even such customizable feature build in as well.
And yes, of course, you'll also get to decide the shape and size of her hooters as well.
After messing around for a while, playing with all sorts of different shapes and sizes, from perky tits to big and juicy melons kinda hooters, all while trying to craft the perfect shaped knockers. Eventually, after I forced myself into going into "full Bob Ross-mode", I ended up creating the perfect boobies for my characters. Tiddies so perfect, as if "they" were made by God's very own hands... Halleluja!
Want to add some fancy nipple piercings as well as the finishing touch? Well, it's all in the game, baby!
By the way, the player gets to create both his own female or male custom characters.
Besides the body measurements, from the shoulders all the way down to the size of her feet, there's still a lot more to change according to the player's wishes!
For starters, we'll also get to customize facial types, ranging from the color of his or her eyes, to adjusting the style of her eye brows, put on some make-up and much more.
Your own custom made fighter also doesn't have start off in her Eve-costume or his Adam-costume as you'll also be able to pick our own clothing by clicking on the wardrobe button. Additional add-ons are also available, including; types of gloves, socks, masks, lingerie, hats and stockings, just to name a few examples.
The only thing left to do is to change your character's statistics by dividing a total amount points and spread them across a variety of meters, such as your character's strength, accuracy of attacks, stamina, vitality, ferocity, arousal and more.
Simply put, in terms of building your own custom fighters, there's plenty of customizable options to choose from! After creating two masked female wrestlers myself, I was almost ready to start a match... but not before picking the location for our little fight.
Choose from various locations to brawl
While in the free demo version of Naked Fighter 3D, the only available location for a match would be inside an old boxing ring. That being said, in the full version (available through Patreon), you'll also have the option for a fight on multiple different sceneries.
For starters, there's an option to start a fight inside a subway, in a living room, the love suit at a hotel, a casual fight inside an apartment, an ancient arena in the desert sand and more.
Now that we've picked our fighters and the location, it's time to put our fighting skills to the test and start brawling!

Available attacks, jabs, kicks, submissions and finishing moves
Like mentioned, this game is a turn based combat game, meaning, the player needs to carefully select his next move and attacks. But what options and type of attacks can we choose from?
We can select our attack moves from three different tabs inside the menu – strikes, submissions and finishers. Obviously, we can't directly go for our finishing move right off the bat, we have to weaken our opponent a bit more first. The best way to do so is to go with some strikes at first.
Strikes include attack moves in different categories, from power kicks such as a high or round kick, but also power punches such as a good old jab, a left or right hook, or what about the classic uppercut?
If we scroll down further, we'll find the energy draining punches and kicks, which, as the name suggests, drains your own energy but do afflict more damage to your opponent.
But where things get really "interesting" are creative submissions moves! I mean, I'd bet you've never played a game before which allows you to use submission holds such as the "pussy smother", "the oil check (anal fingering), "the gentle guest" (a handjob from behind while having his arms locked), the "figure four footjob" (a variation of Rick Flair's famous figure four leglock submission hold, but with an additional footjob added), a knee, stomp or even a freakin' headbutt to the genitals, and much more.
Wrestling fans might also recognize quite a bit of common wrestling moves being included such as the famous boston crab, the camel clutch, cobra twist, or some sexual variation to regular wrestling holds and moves, like a very unusual "piledriver", for instance...
For me, being a life-long pro-wrestling fan, that sure put a smile on my face.
If you play your cards right and manage to beat up your opponent enough, it's time to unleash your finishing move. Let's face it, what would Stone Cold Steve Austin be without his famous finisher – the stunner? Or what about Bret Hart's submission finisher, the famous Sharpshooter?
Once again, as you'd probably already suspected by now, Naked Fighter 3D also comes bundled with a bunch or highly creative and quite naughty finishing moves – from the "pleasure rack" to the "chocking doggy" and "the pussy smother".
Let's just put it this way – Mortal Kombat's famous catch phrase "Finish Him" suddenly gets an entire different meaning, hihi.
Whether or not or not you've won the match in the end, you'll get to watch the replay of the entire match afterwards, which definitely is a cool bonus feature. Speaking of just watching these kinky matches starring fully stripped-down fighters getting into action, let's check out some of the other gameplay modes this game has to offer, shall we?
There's definitely also one such gameplay option that will likely satisfy most of the "peeping Tom" types among us.
All Gameplay Modes
As mentioned, Naked Fighter 3D offers different types of gameplay modes. Let's have a quick look at all available options below.
Tournament
The tournament mode is the game mode for those that are up for a fair share of competition and allows up to 64 fighters to come and join the battle. There can be only one final winner in this battle.
Quick Match
The "Quick Match" mode is the fastest way to get started. Select your own fighter, pick an AI opponent, set the location, as well as the type of fight-mode and click the fight button to begin your match. What are these "fight modes", you'd might ask?
Naked MMA – punches, kicks, submissions, but no sex or humiliation moves allowed.
Boxing – a good old fashioned bare knuckle fight.
Kinky Wrestling – no kicks and punches, this one is all about sexual grappling.
No rules – no holds barred, baby! Anything goes in this type of fight!
Sex Fight – make your opponent scream and orgasm to win the match.
By default, you'll start the match controlling all the moves. That being said, there's also a feature that can be toggled on or off, which is the "auto-battle" mode.
If the player selects the auto-battle mode, both fighters are being fully controlled by AI. In other words – you can just sit back, relax and watch the show unfold, while still maintaining full control over all the camera angles.
Basically, allowing you to become a voyeur and watch the match from the sideline, which might be an interesting gameplay mode for the non-gamers among us, that rather just want to play around with all the camera's, more or less directing the video elements of the show, while witnessing the kinky wrestling action taking place right before their eyes.
Not the Peeping Tom kinda person? Just stick to one of the regular fighting options instead.
Last but not least, in case you'd rather play against other players instead of an AI controlled fighter, there's also the "Multiplayer Mode", which allows you to connect to and battle with other players worldwide through a server.
Final Verdict
As long as you're not hoping or looking for the traditional arcade style fighting or wrestling game, you'll likely be entertained by this spicy, 3D game for adults, over here... The fact that it is entirely being made by one single developer, makes the whole thing even more impressive.
With various game modes and more than enough customisation options, this game offers many hours of adult entertainment. Go check it out yourself!
Try the free demo version of Naked Fighter 3D
For this review we've played the free to download demo version of Naked Fighter 3D, which we can surely recommend. While it does unlock most game features, such as the available match types, the demo version does offer limited availability in terms of items or clothing, within the "create your own character" menu, and only offers one location for the fight to take place.
Still, the demo delivers plenty of fun and options to get a good taste of what this game is all about!

Download Links for Naked Fighter 3D
Ready to get a little dirty on the mat? Making your opponents climax with sexual submissions or simply because you're in the mood for some ball-busting fighting fun instead? Lucky you, because here you'll find the download links. Simply grab the demo version (1.6 GB in file size) from any of the links below.
It's free, contains no ads and no install or registration is needed whatsoever. You'll be brawling in a "sex-fight" or "naked MMA match" in no-time!
Once downloaded, you can extract the file using a file extraction application of choice, to launch the game and start playing. Extracting a zip archive is really easy using any of the following free tools like 7Zip or Winrar.
Support future development of Naked Fighters 3D (through Patreon)
While the demo version of Naked Fighters 3D is completely free to download, if you are still craving for more and like to get access to all the neat features, as well as all future updates and new, future add-ons, I'd suggest you go and sponsor the developer Sam3DX on the Patreon page for the Naked Fighters 3D project, in order to support the development of the game and to get access to the full version of the game.
So far, at least, at the current time of writing, the game's Patreon page already has 614 loyal monthly backers, all showing their love and support for the project.
You can support the developer of the Naked Fighters 3D game for as little as $1 per month, which in return, gives you access to the lastest news updates, as well exclusive "Behind the scenes materials", ranging from work in progress models, to previews of upcoming features and animation.
If you truly enjoy playing this game and can't get enough of it, there's also the $10 tier option on the Patreon page. That tier gives you access to the latest game build. A new version is being released every other two months or so. This tier is the best option for the die-hard fans.
Have fun playing this naughty, 3D fighting game, I sure had! And for more info, simply go and check out the official NakedFighter3D.com website. While you are at it, also make sure to follow @NakedFighter3D on Twitter for the latest news regarding the game... Enjoy!
Play Naked Fighter 3D