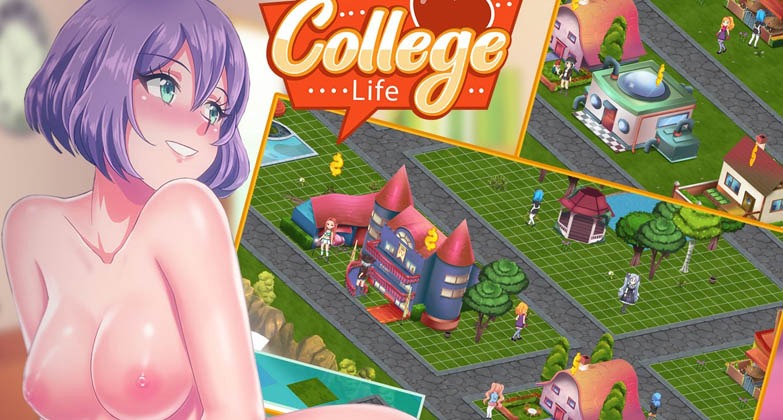 College Life - A real hot and spicy dating sim (Adult Game Review)
Everybody remembers their time in college. It's the time when guys get to score the most pussy and chicks get to act like total sluts. Relive your college days with the sexy adult video game; College Life.
You'll get to relive that kind of "hot and horny" experience on your PC or smart phone by playing College Life. The same goes for the main protagonist of the game, as he's also looking to relive those same spicy memories of his days in college.
When you launch the game, and visit the college campus for the first time, you'll notice only a shadow of its former glory. What you need to do is restore it and by doing so, of course you'll meet plenty of hot chicks that you'll be able to fuck along the way. Well, that doesn't sound that bad, now does it?
This all reminds me of those classic Deftones lyrics from their great White Pony album. Man, now I really feel like going back to college for some steaming hot adventure time!
'Cause back in school, we are the leaders of it all...



Chino Moreno (Deftones)

Lyrics from the song; Back to School
Are you the kind of leader that will take this boring little college town called "Beaverton" and turn it into one big student orgy? Only one way to find out, right? By playing College Life, that is.

Make Beaverton Great Again (by rebuilding your college campus into a sex haven)
You come into this campus thinking that all you'll be doing is fucking chicks. However, the moment you get there, you realize that the students are so miserable that they don't even have sex with each other! All the babes over here are completely dry instead... Quite a bummer!
Turns out, you can't even stick your hard dick inside of them, not even if you pleasure them by eating out their tight and wet horny teen pussy.
The poor male students at Beaverton town sure got the "no pussy blues". Gets worse, considering there's so much sexy young meat walking around campus all day, all teasing by wearing shorts skirts and such. Sure makes you feel sorry for those guys.
That's where you come in and try to do your best to make this college campus pop! You're about to become the hero of the campus as it's your task (and duty) to provide pussy for all the poor guys in campus again. It's a dirty job, but someone's gotta do it... Let's make Beaverton great again!
Complete dirty quests and restore the college to its former glory. Oh yeah, and don't forget to fuck all the girls you'll meet along the way on your sexual journey to glory!
Build your town like in Sim City... Fuck as if you're on the wildest ride in Roller Coaster Tycoon!
While you definitely have the standard 2D hentai scenes to jerk off to, the gameplay is completely in isometric style view, like with those old classic 90's building simulator games such as Roller Coaster Tycoon.
In other words; Nutaku's "College Life" dating simulator game offers an amazing blend of 2D hentai scenes and great looking isometric style graphics and gameplay.
You'll get to move around the map and build all kinds of assets for your campus and as you slowly expand it, you'll also be able to see more and more girls walking around college.
By interacting with these "hot girls", you'll be able to unlock more sex scenes. The art style with these is absolutely phenomenal and it really gives you that anime/hentai vibe that you're usually looking for in hentai movies, as well as adult video games like this one. In other words; plenty of eye candy for the real hentai freaks amongst us!
Play the erotic browser game "College Life" on your PC or Android device
College Life is available for both PC and Android, so you can play it at home, or on-the-go!
There are many ways to play the game without doing anything or seeing anything NSFW so you can freely just pop the game open at work to progress the building of your campus. You can even play it while commuting since large portions of the game revolve around collecting resources and expanding your college influence.
You choose when you want to engage in sex scenes, and you can always go back to them if you want to enjoy them again because of the phenomenal art style. Even though, I wouldn't recommend watching any of the hentai clips in public, considering things on your screen can get quite kinky.
Quest-based gameplay with building and sex mechanics
While there are plenty of quests to go through, the main thing you're probably going to play College Life for, are of course, the fap-tastic sex scenes.
These aren't too interactive, but you can definitely go through them over and over again when you want to jerk off to this game.
At the same time, the quest mechanics can definitely be very fun as they have RPG elements and visual novel elements too. You also have a matchmaking vibe to the game as you chase these girls around and try to seduce them into fucking you, so it's definitely somewhat of a dating sim as well.
The building part is also definitely worth mentioning! It's pretty fun as you'll get to customize your campus however you like and however you see fit! Kinda reminded me of the classic Sim City simulator game, the old school (and classic) video game I used to play on my old MS-DOS machine... And that's quite the compliment!
There are just so many gameplay aspects to go through and enjoy here! It offers something fun for fans of all video game genres, which is quite an unique feature of the game. These days, adult video games really seem to get better and better!
College vibe and plenty of humorous scenes
While we all know college as a somewhat stressful experience because of all the exams and studying, you can get into College Life completely loose. There are no exams here, just enjoyment and relaxation. And ok, a lot of boobs to enjoy too!
Not to mention the humor! Some of the laid back jokes in the interactions you have with these gorgeous college girls is going to leave you in stitches from laughing so damn hard! It's a great experience.
Our final conclusion and thoughts on College Life
If you're looking for a (or another fun and awesome Nutaku) game that's going to bring you back to the days of college sex, then you've come to the right place.
College Life focuses on two of the most important aspect of that period of a person's life. Getting influence by doing cool things, and then fucking chicks afterward.
Man, you'll even get to have sex with 12 gorgeous college girls in some of the sexiest scenes I've seen in erotic video games in quite a while. They look absolutely stellar and will satisfy even the die-hard hentai fans.
College Life is 100% free to play
Save the best for last? Well, we sure did. Since we haven't told you yet that the College Life game is 100% free to fap to play... What are you waiting for? Go play College Life on the Nutaku website ASAP!
Play College Life