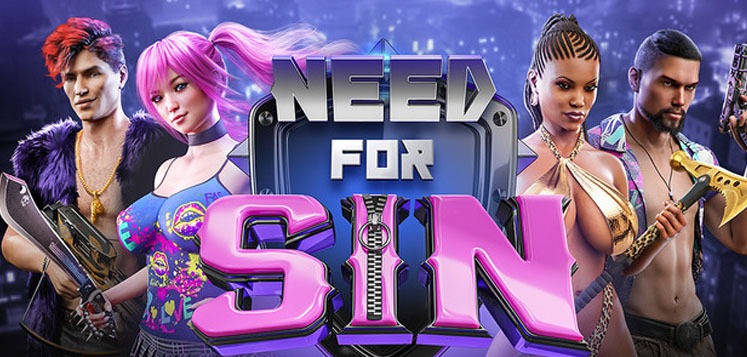 Need For Sin - A strategy game featuring badass 3D hot babes (Adult Game Review)
Need For Sin is one of those adult games that will grab your attention right off the bat thanks to all the gorgeous 3D babes which are starring in this adult strategy game that reminds me of a blend between Command & Conquer: Tiberian Sun and the Grand Theft Auto franchise. Sounds like quite a golden combo to me!
Today we'll be reviewing another spicy game that has "Sin" in its title, and nope, we ain't talking about City of Sins, 7 Sins, not even the classic and underrated 90s First Person Shooter - SiN.
Gangsters and thugs, you'd better watch out because me and my crew of heavily armed busty gals are coming for you, as today we'll be checking out Need for Sin, which is available at EroGames.com.

Titties and action? I'd say - "Welcome to the jungle". The hardcore urban jungle, that is!
Let's enter the Urban Jungle
With computers becoming more powerful, and visual artists and programmers becoming more skilled, it was only a matter of time when someone would make a porn game that can rival mainstream titles in many aspects. Need For Sin comes with graphics that will take your breath away and with over 50 hours of gameplay, it will keep you entertained to no end.
Between managing a group of faithful gangsters, capturing beautiful chicks and doing unspeakably kinky things to them, and progressing the story, you'll quickly forget this isn't one of the popular mainstream titles you're playing.
And not just that, but the game is free to play and works on all devices, from your desktop PC to Android or iOS phone or tablet. The only thing you'll need to do is visit their official website, create a free account and start playing right away... As simple as that!

Roleplaying Elements combined with a Captivating Storyline
Need For Sin is not a random browser porn game where you click around a bit before being rewarded with a half-assed porn animation. Instead, it's a full-blown adult gaming experience where the story is one of the main aspects.
As the leader of a group of criminals, you follow directions from a mysterious Old Lady. She meets you after you end up being caught by police and, from there on out, she gets to be the one pulling the strings and giving you different missions to complete.
Over 54 missions to explore and complete
These missions get more difficult as the game progresses and you'll have to keep finding different ways to defeat your opponents. Fortunately, you start with a solid group of outlaws that only gets bigger as you go on. It's your job to utilize them to their full potential and advance the storyline.
At the time of writing, the game offers a total of 54 missions, divided over 9 different chapters. After completing a chapter, you'll be either rewarded with a new chick to join your harem of badass hot babes, or in some rare cases, objects such as a car.
And, even if you get stuck at a certain point, and unable to finish the story mission, you'll still be able to do regular fights until you and your gang become stronger as your harem "levels up".
Besides the regular story and its missions, the player can also try to finish special quests. Every day, 4 special quests appear in the game, you must try to complete these quests within 24 hours, in order to claim the reward.
Gameplay of Need for Sin
Need For Sin is a turn-based strategy game with RPG elements. It's not fast-paced and you don't need to have lightning-quick reflexes. Instead, you have to for a proper team, play to your strengths, and exploit your opponents' weaknesses in order to defeat them. While the premise is simple, the game can become rather complex, especially considering there's a ton of characters and each one comes with unique skills and abilities.
Mia Star, for example, a tattooed emo girl with neon hair has the ability to make her adversaries bleed, dealing 75% of her weapon's damage to them should they move.
Elsa Lust, on the other hand, is a dazzling blonde who is a true femme fatale and can silence enemy characters, preventing them from doing various actions for 2 turns. With as much as 50 heroes present in the game, you can only imagine all the possibilities when it comes to creating a perfect team.
And the fun doesn't stop there. To spice things up even further, there are five different types of guns, then there's ammo, armor, cars, types of gangsters, and more. The more you play, the more resources you obtain.
Things like gold and experience can be used to purchase weapons or upgrade them, as well as to upgrade characters, allowing you to overcome difficult challenges.
Overall, there's just enough complexity to make things interesting before you get to all that spicy action that Need For Sin is famous for.
Breathtaking 3D porn models & Animation
After all, Need For Sin is an adult game and that is its biggest selling point. With a plethora of gorgeous girls, you can't even imagine how good those 3D stills and animated scenes can get.
A photorealistic approach to visualization is what makes this title so popular. Every character is completely different than the next, both in appearance and personality. And while there are plenty of guys as well, the majority of everyone's focus is on those stunning chicks. And well, "they" do really steal the show with just their huge round knockers alone.
Chicks with "Big Guns"
For example, there's a petite Asian chick with pink hair and cute pigtails who loves being spit roasted in threesomes. If oriental beauty is not something you're into, there are also ebony babes with big tits and thick curves. There are teens and MILFs, blondes and brunettes, dominant mistresses, and playful cuties.
No matter your tastes and preferences, you'll surely fall in love with every single one of these busty hotties, even before you see all the dirty stuff they are capable of.
Must say, the cute blonde teen Lily Jean is quite the stunner as well, thanks to her juicy big breasts and cute freckled face.
I have to admit, some of the characters don't really appear to look that original, to say the least. I mean, just look at the screenshot below. Now tell me the one on the left isn't D.VA from the popular Overwatch game?
Well, it isn't! The girl on the right is D.VA, while the babe on the left actually is Hana Anys, one of the sexy 3D characters in Need for Sin.
And OK, Hana Anys over here might not really have a truly original look, and maybe a few elements of her appearance are somewhat borrowed, that being said, she does look pretty freakin' hot though. So that doesn't ruin any of the fun for me, especially when she has a giant sexy bubble-butt like this chick right here! Go Hana!

Final Conclusion
The studio behind Need For Sin is also famous for their previous released and incredibly popular porn game (with a similar style) called Angry Bangers, which quickly garnered a massive player base. Because of that, you know you can trust these guys when it comes to creating a sexy porn game which also offers fun gameplay mechanics.
They will make a premium adult game on par with the more popular mainstream ones, but unlike those regular video games, of course their version will be featuring unforgettable porn action and that's always a big plus, if you'd ask me!
Fans of the classic top-down or isometric strategy games such as the Command & Conquer series, as well as fans of the whole "gangster and ghetto" vibe from the GTA-series, will probably enjoy playing an adult game like Need for Sin over here.
On top of that, if you enjoy watching big, sexy, juicy round boobies bouncing up and down on your screen too, you'll really be having a blast with this title! Go check it out!
Play Need For Sin