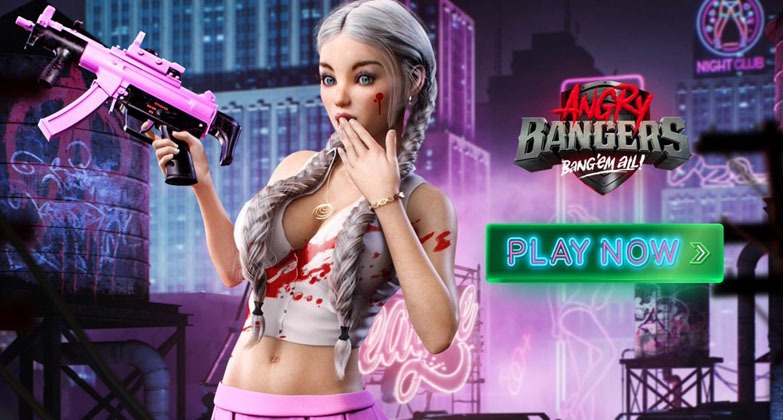 Angry Bangers - The 3D sex game that let's you bang babes in GTA style (Adult Game Review)
Finally a 3D adult video game that isn't simply a sex simulator style game, Angry Bangers offers great 3D sex scenes and turn based strategy style gameplay instead! Do you ever wonder what GTA would look like if it suddenly went through puberty? Well, this game right here is the answer.
Here, the main story is connected to robbing, breaking the law and doing all sorts of criminal activities... Oh yeah, and let's not forget about the most important part; a lot of raw sex coming at you!
Sex, Blood and Rock 'n Roll
The secret that makes Angry Bangers such a popular game amongst fans of "XXX games", is the fact it's one of the few adult games out there that has both 3D graphics and actually delivers in terms of gameplay.
In fact, the game became so popular that over 10 million gamers world wide, visit the website to "cum and play" this naughty, fun and addictive game for adults, each month. And to be honest, that doesn't surprise us one bit.

Sex, blood and Rock 'n Roll... What else do you search for in a game, right? No wonder this game is so beloved by naughty gamers on such a large scale.
Chicks with guns and everything else you'll need to know about the storyline...
All the robbing, street gangs and criminal activities sounds all very similar to the GTA (Grand Theft Auto) video game series, but it's a wee bit different. I mean, with Grand Theft Auto you can pretty much count the amount of titties on one hand. That's not the case with Angry Bangers, I can tell you that!
So what makes Angry Bangers different compared to a mainstream game like GTA? That's because, here, you'll only have wild and hot women on your team!
These women, they're here to help you out in your mission to become the best and the fastest-growing criminal in the universe. And, of course, if you win at your illegal activities, you'll get to fuck hotties like you wouldn't believe! And these animated women genuinely have something really spicy to offer to you.
You can see some skinny ones, and you can see some thick ones. But, mostly, they're here to serve the story, and if you take over territories and steal money, you can indeed be successful. So, the story is similar to GTA and other identical games with that type of content, but the attractive women in Angry Bangers sure enhance it.
A perfect mix of 2D and 3D erotic art style
The art style is what's truly fascinating about Angry Bangers. You see, generally, hentai games either have a Japanese drawing style or have 2-D graphics, which sometimes makes these adult games kinda all feel a bit more of the same.
But luckily for us, that's
absolutely not
the case with Angry Bangers over here! It has a 3D style in a lot of sequences, as well as isometric view in others.
Here, the style is unique and intriguing, but it's also mind-blowing and totally not what you'd probably expect, which really feels refreshing to find in an adult video game.
Overall, this game is excellent, so it's no suprise that the fantastic art style really makes the game stand out. Women are exceptionally well-drawn here (or make like great 3D rendered models, in this case). They possess gorgeous (and often big and sweet) boobs, and their pussies all look juicy and tight as hell. Their bodies are generally curvy, and you can see them take tons of dicks, which are also well made and nicely animated.
If you're the kind of guy that gets his kicks out of hard pussy poundings, or uncut and raw (3D animated) sex scenes, Angry Bangers will surely satisfy all of your cravings.
Many players really enjoy all of that, and that's exactly why you'll get more and more of them every day... The Angry Bangers fanbase is pretty much an entire army by now.
And like we've mentioned earlier, with such huge amount of players world wide, that's quite an understatement!
So, overall, the authors of the game paid attention to every single possible detail. And well, with that kind of approach, you'll get impressive stuff like this as a result.

On which devices can you play Angry Bangers?
You can only play Angry Bangers on your PC. Unfortunately, you still can't play this game on your mobile phone, but it would be too complicated anyway. That's because this game has a lot of complicated strategies, fantastic fights, sex scenes, and many other things. So, playing on your smartphone seems to be out of the question for now.
But don't worry, you'll get to play Angry Bangers on your PC. All you have to do is learn how, and that's pretty much it.
It's simple to learn, and basically, any PC that isn't fifteen years old can support this game, which is impressive. Angry Bangers is an online game after all, so you don't even have to bother to download it. Which will even save you both the time and space on your computer.
So yeah, even though you can't play this game on a smaller device, you can still have tons of fun on your laptop or your desktop. And it would help if you took advantage of that because this game is worth it.
Not just another 3D sex simulator
The gameplay isn't complicated at all, and is very easy to learn, even for the non-hardcore gamers amongst us. At the start, there's only you, and one single babe with you. Of course, along the way, you'll get to expand your harem.
Your tasks are usually to either defeat gangster rivals, or to engage in street wars with cops, gangsters, and even rob banks. If you fail, you fail, but if you succeed, you usually get great sex scenes with their girls—for example, orgasms, group sex, wild orgies, facials, or anything else you desire.
So, in a way, the game's biggest reward is sex, but you do get other things too. Sometimes, you get new cars or new weapons. And, you can also fight with bombs and many other things.

Final Thoughts on Angry Bangers
A fair amount of effort was put into this game, so you shouldn't worry about selections or anything else. Also, in this game, the battles are turn-based. So, you take a turn, and then your enemy does as well. So, there's no chance for you to lose if you play your cards right, which is excellent because all players get rewarded. It would be best if you gave this game a chance because it is terrific.
It's refreshing to finally see a stunning 3D adult video game that isn't simply yet another sex simulator type of game... Angry Bangers offers some real fun and great gameplay instead! Not to mention all the nudity. Sounds like plenty enough of reason to me for starting to play Angry Bangers right now.
You don't need to register as you can even play for free as a guest, but... There's a big but! By signing up for a free account you'll receive 200 free golden coins, which you'll get to spend on in-game weapons, armor and other neat little power-ups.
Ready to become the king of the streets? Time to "get your hands dirty" by playing this awesome, sexy and free 3D browser game for adults.
Play Angry Bangers