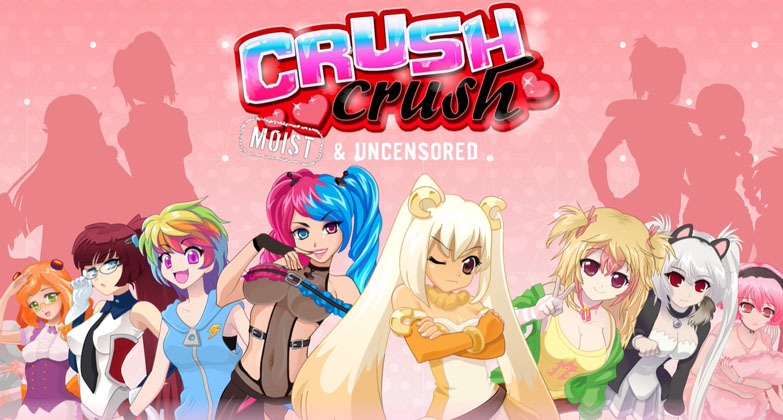 Crush Crush Moist & Uncensored - A highly erotic hentai dating simulator (Adult Game Review)
When it comes to dating simulators, especially sexual themed dating sims, Nutaku is known for some real spicy and great titles. Among them is the very popular Crush Crush Moist & Uncensored.
This game is a highly addictive, very well crafted sex dating simulator, where you are a guy who's trying to get laid with as many girls as possible. Now that sounds exactly like my kinda guy.
You'll get to meet and interact with these girls, and as time goes by, you'll eventually "grow" closer to them. Real close, if you know when I mean. And finally, when they are fully ready for "the real wet fun", you're going to be the luckiest man alive and bang 'em all, one by one, all day long.
The scenes in which they are having steaming hot sex are just great, since you're being treated on some of the best hentai artwork ever. Both in a cute, as well as highly arousing way.
Another huge plus is the fact that "Crush Crush Moist & Uncensored" is available for free on both desktop PC's and smartphone. No downloads needed, as you'll get to play the game straight inside your browser.
One of the most addictive dating simulators on the web
One of the defining features of any dating simulator is the progression system. How do you progress in the game? Well, you'll do so by earning money, just like in real life, by getting a job and working your butt off. And also by grinding hobbies to score extra bonus points.
Then later, simply use those points and the money you've earned to impress the girls and hopefully they will settle for a date. By seducing them as much as possible, and with a bit of patience, you might reach your end goal, and she finally allows you to take off her panties.
The more the better? All hail polygamy
For the players amongst us that aren't much of a "traditional kind of guy", you're in luck! This game simply doesn't care much about monogamy, since you'll be allowed to date as many girls as you'd like in Crush Crush.
It's just amazing to see them all perform like the secret naughty sluts that they truly are (once they dare to show it to you). They might be a bit shy at first and not willing to show their true wild personality straight off the bat, but don't worry though, eventually, they'll all come around.
The dating sim also features very simple controls and a revolutionary time block system that lets you organize your gameplay better. Thanks to this build-in feature, it allows the (in-game) time to continue, even when you're not running the game or having it open.
Cute, adorable and naughty characters that will steal your heart
This game is based on a 2D hentai art style, and all the scenes are usually done in pictures here. There's only a very few animations in this game, which is quite common for most of these hentai-style adult games. Nor does that mean that it's bad.
It just means, it relies on the tried and true method of showing you the hottest still images of hot hentai chicks as possible. Eye candy that you're going to appreciate both because of the storyline, as well as because of the fantastic artwork.
One of the great things about this game is that there are over 20 babes to check out, offering plenty of variety. Each one of these characters brings new art, completely different looks and a different personality to the table. They all shine in their own way.
"Balls deep" in a quest for redemption
As with all saying simulators, Crush Crush Moist & Uncensored really has a lot going with the storyline. It's basically some sort of redemption quest of yours, involving all the girls you'll meet here. There are dozens of them that you'll get to know sooner or later, and each one of them starts off with a dicey relationship.
How does this redemption quest all started out, you'd might ask? Usually, it's because you're somehow responsible for creating some sort of an accident in the past or you've hurt one of these girls in some way. Now it's up to you and your responsibility to fix those problems.
However, you'll be fixing these problems until you're balls deep in these hot babes as well. Now that's what I like to call; going "all in". Oh well, quite a great bonus, don't you agree?
Final Conclusion
All in all, Crush Crush Moist & Uncensored is a game that you'll most likely enjoy if you're a fan of simple gameplay, point-and-click games or dating simulators in general, which allow you to "get lucky" with a bunch of sexy girls, all wet and eagerly craving for your "joystick".
If you play Crush Crush over a long enough period of time, you'll end up being able to see and experience, each and every single one of these babes in all their full glory. Ass, titties and even soaking wet pussy. These cuties will reveal and offer it all to you, as long as you've earned it!
Go check out Crush Crush right now, as this naughty simulator game is not only very sexy and fun, it's also completely free to play on both desktop and smartphone.
Play Crush Crush Moist & Uncensored