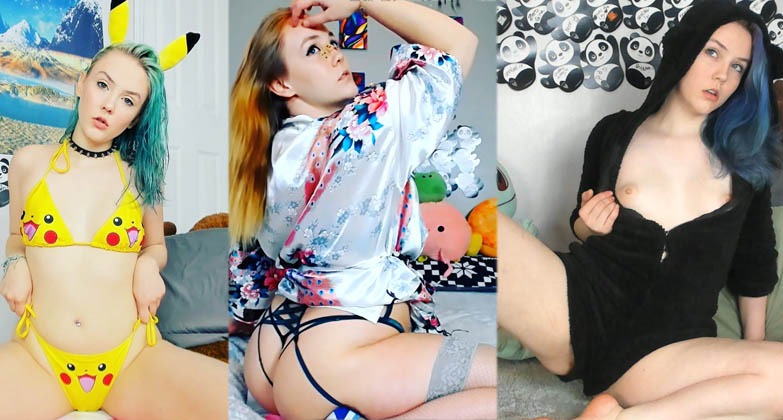 Follow the wild and horny cosplay babe Syndica (on Snapchat, Fancentro or webcam)
Meet Syndica, a lovely and stunning red vixen that's into erocosplay, both on Snapchat or watch her squirt live on webcam. From Star Wars characters to Sailor Moon and Pokémon, Syndica likes to cosplay 'em all.
This redhead cutie loves to get dirty on her premium Snapchat or Fancentro accounts, as well as getting naked live on webcam, either as herself or while cosplaying all of our favorite sexy fictional characters.
Syndica's favorite naughty cosplay characters
Young, playful, energetic, and kinky are the words that only begin to describe what Syndica is. This foxy, natural redhead is your ultimate girl-next-door type and is a true nerd at that. However, there's much more hiding underneath that innocent facade.
She looks all cute and adorable when you first lay your eyes on that pretty face but, once she gets turned on and gets going, there's no stopping this hottie from doing all kinds of dirty.
Being a girl of many talents, she's particularly fond of cosplay. Pretty ladies all over the world love dressing up as their favorite book, anime, TV shows, or movie characters but Syndica takes everything a step further. On top of that, considering she is a rather horny geek deep down, she brings those characters to life in their naughtiest, most perverted editions.
You're surely familiar with titles like Pokemon, Star Wars, The Addams Family, Sailor Moon, and so on. If you want to see lovely girls from those shows and movies in ways you've never seen before, Syndica is your babe. Her Pikachu cosplay might look charming at first, but it doesn't take long before this cutie ends on her bed naked.
She just loves spreading those slim legs and putting both of her tight, smooth holes on full display while using a plethora of different sex toys to bring herself to multiple intense orgasms. All that and much more can be found on her Fancentro page where she exists to fulfill your dirtiest desires.

For example, if you're not into a playful and colorful Pikachu cosplay, you might prefer Syndica cosplaying the fictional goth character Wednesday Addams, from The Addams Family. Posing as a striking, black-haired beauty, she goes to slobber on her dildos, give erotic jerk-off instructions, or simulate hardcore action.
Watch Syndica squirt hard live on her (cosplay) webcam shows
Also, considering nobody can forget how breathtaking Leia looked in that sexy bikini back in the day, Syndica is here to show you how that scene could've been that much hotter. That's right, Syndica dressed as Princess Leia, the sex symbol from the Star Wars-franchise is just pure lust for the eye. Best part is, she isn't shying away from revealing "it" all.
By using vibrators to edge herself before squirting hard, this lady will get your blood racing in no time. And even if you're not into cosplay, it'll be hard to keep your eyes off of this young beauty.
She's an all-natural chick with a pair of beautiful, perky tits and a perfect, pink pussy and she loves being naked in front of the camera. Because of that, Syndica also performs live.
She has a profile on Chaturbate, where you can go and enjoy all the naughty stuff she does for her fans. If you're particularly lucky or follow her long enough, you'll eventually run into a live cosplay show that combines all of this camgirl's many talents into a breathtaking performance.
You can follow her on Twitter or on Instagram where she likes to keep her audience updated and also offers enough pics and videos to tease you into falling in love with her. Then, you'll find yourself rushing over to her Fancentro page for all of her extremely hot and horny hardcore action.
Or, you'll tip her during live performance to have Syndica flash her sensual attributes for your viewing pleasure alone, give you access to her Snapchat, or even start dirty messaging with you. Who doesn't enjoy sexting with a total hottie like Syndica over here, right?

Syndica is a true anal loving freak
If there's one thing Syndica truly enjoys, it's having some anal fun with her favorite sex toys and penetration-machines. Man, watching Syndica's face of pure joy and satisfaction while her tight asshole gets pleasured is just such a huge turn on! Trust me, a lot of jizz will be wasted watching her live webcam streams! Think you can handle a little sneak preview?
Watch Syndica's Live Shows
Time to follow Syndica on all her social media channels
One thing's for sure, doesn't matter if you prefer watching steaming hot live webcam shows that involve cosplay or squirting action, or if you're looking to follow a wild and horny cosplay babe on Snapchat or FanCentro, Syndica will never leave you disappointed.
I can feel a jerk-off marathon coming up!