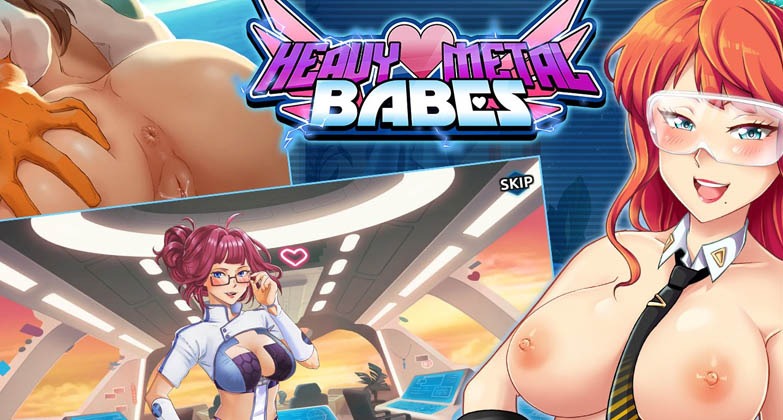 Heavy Metal Babes - Mecha and lots of sex in this turn based RPG game (Adult Game Review)
Every now and then you run into a game that completely blows you away and captures your attention until you end up playing for hours before figuring out where the time went. Heavy Metal Babes is one of those titles that take plenty of different things and combine them into a unique experience.
From alluring graphics to captivating gameplay, you'll have a blast playing this tactical RPG even before you figure out what the best part about this game is. I'm talking, of course, about the fact that Heavy Metal Babes is a hentai game. That means that everything from visuals to storyline and the way you progress in the game revolves around breathtaking girls with massive, supple breasts and an insatiable lust for sexual pleasures.
Now, having a decent RPG where you can utilize your skills and manage resources in order to achieve victory is nothing new. In the same manner, there are already a ton of hentai games on the internet that offer luscious girls going down and dirty in various ways.
However, what Heavy Metal Babes managed to achieve is not something you'll easily find. Amazing games are often mainstream and don't offer kinky content while hentai games usually pretty much only focus on art. So, finding a title like this that effortlessly mixes everything up is something definitely worth checking out.
Come for hentai girls, stay for interesting gameplay
When it comes to adult games, it's easy to talk about the porn part. After all, interactivity is the main reason why this type of entertainment is so attractive. You take the good old, tried, and true method of using porn for adult pleasure and sprinkle something new on top of it.
Because let's face it, no matter how good that porn video you enjoy watching is, eventually you'll get bored with it and switch to something new. In time, as you watch more and search for more interesting genres, you end up seeing everything there is, and then you're left with subtle variations that might spark your interest.
Well, with porn games you get to be a part of the action and that is where Heavy Metal Babes truly shines.
Instead of being an idle observer of a random adult clip, you get to partake, win or lose, seduce and command, decide the outcome and enjoy the spoils of victory. As a result, while you'll probably try this game out for it's NSFW aspect, you'll end up enjoying the actual gaming bit of it as well.
Being a compelling, turn-based RPG like, for example, famous Pokemon games, this one offers a lot of things to enjoy and have fun with.
You'll find yourself carefully planning out the next attack, figuring out the strengths and weaknesses of enemies and your own characters, creating the best team for any given situation, and progressing faster the better you learn all that's required. And, as a cherry on top, there's the PVP mode. PVP always offers much more variety than PVE and allows limitless fun. Even if you complete the story aspect, PVP comes as an extra challenge for the dedicated.
Heavy Metal Babes comes with breathtaking hentai scenes
In the end, we wouldn't do this game justice if we didn't talk about the NSFW aspect of it. After all, it is the title's main selling point and it is extremely well done. Each and every scene, picture, and animation is polished to the max, offering pure erotic art.
From gorgeous babes with colorful hair, seductive, curvaceous bodies, and large, supple breasts to various drawings and animated scenes, you'll have a blast progressing and unlocking hentai artwork.
There are over 40 animated scenes which is more than enough for an entire, standalone anime. You unlock them over time, by defeating opponents and working with your girls. Apart from being a turn-based RPG, Heavy Metal Babes is also, in a way, a dating sim.
The plot is somewhat cheesy but that comes as no surprise. As you keep playing, you'll unlock more dialogue options with the ladies, buy and gift them various presents and, in turn, be rewarded with the kinkiest dirty action that you could ever imagine.
The dating sim also features very simple controls and a revolutionary time block system that lets you organize your gameplay better. Thanks to this build-in feature, it allows the (in-game) time to continue, even when you're not running the game or having it open.
Pretty cool, right? Such feature allows the player to make and craft his plan and tactics even further down into future.
Final Conclusion
To sum it all up, Heavy Metal Babes is the perfect game for fans of the mecha genre, or adult RPG gameplay in general. The game won't disappoint any fans of wild hentai action neither, as it features great artwork and quite some steaming sex scenes, even involving orgies.
Another huge plus is the fact you'll get to choose on which device you'd like to play! Heavy Metal Babes can be played on Android devices, as well as desktop PC's. Ready for some action? Go play Heavy Metal Babes for free on the Nutaku website.
Play Heavy Metal Babes