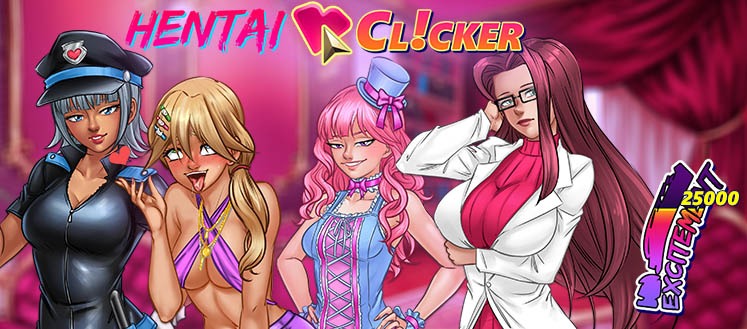 Hentai Clicker (Adult Game Review)
A mystical force has arrived upon the world known as "The Mist". Sadly for all the girls out there, this mist prevents all women from reaching their orgasms. As you can imagine, these girls are completely left unsatisfied and they are all desperately in need of some sort of hero that can provide a "cure" to their "little big problem".
And guess who's going to be the hero in this scenario? You! Or should we say - lucky you!
Time for us to review Hentai Clicker, a brand new adult game by Kinkoid, the same team of developers that previously made the highly addictive porn game and also a game which we totally recommend checking out - Harem Heroes.
The Story - Once upon a busty witch
Because of this mysterious mist that causes women to no longer be able to climax, it's up to the player to save the day.
Like we've mentioned, the player takes on the role of the hero, and what would a hero be without his "super powers", right? Well, your special ability turns out to be the fact that you're the only guy that owns the magical powers to sexually satisfy every girl in town.
Since all these babes haven't had an orgasm in quite a while, and are all craving for a hard rod for multiple weeks in a row now, that makes you pretty much the most desired man in the entire universe.
Having such a powerful ability quickly puts a target on your back and thus, at the beginning of the game, the protagonist gets caught and trapped inside a dungeon by an evil (yet busty and sexy) witch, who seems to have caught the news about your "special" abilities.
You know what they say, right? Supply and demand, baby! And well, you sure are in demand at the moment (thanks to this "mysterious mist").
While being locked and handcuffed, this evil witch comes to visit you in her dungeon every single day with only one thing on her mind - abusing your special abilities by rubbing her clit against your hands to satisfy her own sexual cravings. She pretty much turned you into her own personal sex slave.
Suddenly a wild PIMP appeared...
One day, completely out of nowhere, a portal miraculously appears and a pink-haired bunny girl arrives to rescue you from the dungeon by transporting you to "Begin City".
For those that have played Harem Heroes (aka Hentai Heroes) will probably recognize this mysterious bunny-girl right away, because that's exactly the first character to appear in (the adult game) Harem Heroes as well.
The mysterious bunny-girl tells us that we, and I quote - "Have to be the one to satisfy all of their tight, wet and yet frustrated pussies".
She continues explaining that she wants to start an "office" in the Haremverse, where "clients" can make use of your "special cure". Hmmmm, I don't know about you, but this "office" sounds more like a brothel to me. Why do I have the feeling we're getting pimped out right now, haha.
As soon as we've been transported (or more like - teleported) to our brand new "working space", there's already a line of troubled ladies waiting upon arrival. No time is being wasted, as we start our mission of providing sexual therapy straight off the bat. There are many beautiful girls desperately in need of our assistance, who cares if we're being pimped out or not, it's a dirty job but someone's gotta do it, right? Time to get to work!
One thing you'll notice right away is the fact that the graphics and all the visuals aspects of the game look absolutely fantastic. Just look at all the girls, one by one, they all truly look stunning. There's plenty of variety as well. Ranging from different skin color, bouncing breasts, variety in hairstyles and color, clothing, lingerie and undies, as well as in type of body figure and personalities. I must admit, especially those horny curvy babes truly look freakin' sexy.
Well, I guess we'd better start clicking to undress them right away!

The Gameplay - Clicking for pussy
It is a clicking game, as you could have guessed from the title. However, unlike the title might suggest, the girls in this game don't actually have those traditional Japanese Hentai looks. Instead, Hentai Clicker goes with the more familiar (comic) art-style which we are used to here in the West. And well, we can't say we're disappointed by that choice in any way.
Clicking on the girls your patients will slowly undress them, all the way until they are completely stripped down bare naked. Once they've revealed their Eve-costume, you'll need to provide them some satisfaction with your magical touch by continuing to click all over their nude body. The excitement bar tells you how much further you'll need to go to make her orgasm.
Once you satisfy a girl, some of these chicks might love your magical touch so much that they'll even decide to join your Harem (as their soaking wet pussies apparently got a little addicted to your "fingering skills"). The more stages you'll pass, the more girls you'll get to collect to your Harem.
Touch of Neptunes and other Power-Ups
So far our description has been a little bit too simplified as there is a lot more going on while playing Hentai Clicker instead of just having to click on a bunch of wet ladies. There's a ton of different level and score meters that all have their own functions. The higher your scores, points and bars, the more "action" you're going to get on-screen.
For example, girls in your harem have the ability to "level up". There's also the affection meter and the ability to chat with your Harem girls using your phone. To interact with the girls, you need to have enough affections first and each girl requires a different amount. Just make sure every "patient" of yours leaves the office with a big smile on her face and you'll be good!
There's also plenty of power-ups you can collect while playing Hentai Clicker. For starters, the first power-up you'll come across is the "Touch of Neptunes", which gives you a temporary god-like ability that does all the clicking for you, basically making multiple girls in a row orgasm, all without having to do any work, and in result, will gain you a lot of points in just a matter of seconds.
You also obtain different crafts or magical additions that will help you complete your "tasks".
Grow, satisfy, seduce and "level-up"
If you play your cards right while chatting with any of your Harem babes, they'll might even end up bragging about you and your skills on their social media accounts, resulting in even more horny girls passing by your "office" allowing you to score more points even quicker.
If you get lucky and one of your "collectables" is being horny as hell, she's probably in the mood for some sexting fun as well. Meaning, you'll be treated on some wild and sexy selfies. That's a pretty good reason to keep your girls happy at all costs, while in the meantime, trying to get even more "fresh" new ladies to cum and join your harem.
Build your relationships and enjoy all the sexting fun
Another sexy addition to the game is that the heroine girls, occasionally, will send you their nudes as a gesture of appreciation for all the help you've been providing. And by "help" I mean - all the sexual pleasures you've been supplying these girls with.
"They" will keeping assisting you on your journey, as long as you keep doing what you're "good at" and keep investing and working on growing your dick the relationship between the two of you.
While playing, you will also stumble upon certain challenges. In these so called "challenges", the girls will command you to touch particular body parts. They will navigate you the way to their climax, and you'll simply just need to make sure to follow their instructions.
The more you please, the more girls that'll join your Harem and eventually, the more eye candy you'll get to unlock.
You can check the info and stats on your Harem girls to find out how to unlock all their perks (which stats are required to level up, for example).

The perfect match for (naughty) casual gamers
All in all, the game is fun and very easy to play. Definitely, not the greatest adult game of all-time or anything like that, but also definitely not a bad one either as it still delivers plenty of hours worth of fun, kinky and naughty entertainment.
Hentai Clicker is the type of game that's perfect for fans of casual-style gameplay. The type of adult game that puts you both in a relaxing and a horny mood simultaneously. And to be honest, that makes playing Hentai Clicker quite addictive. But I also understand that some of the more "hardcore gamers" among us, might prefer a bit more fast-paced, strategic or action-packed gameplay instead. If that's you, you'd better check out some of our other adult game reviews instead.
Certain body parts are likely to grow as soon as you'll make progress in Hentai Clicker, simply because all of these girls are highly pleasing for the eyes, to say the least. And trust me, there's a huge amount of different cuties available for you to discover in Hentai Clicker. The more you play, the more hot stuff you'll get to unlock. In other words - Gotta catch 'em all!
It offers a simple but fun little storyline, nothing too fancy or in-depth really, but that's not something you'd expect or need in a casual-style (clicker) game like this anyway.
Free to play on Android and PC
Hentai Clicker is completely free to play and works on all devices. That's right, including your mobile phone. Which also means that you'll get to play whenever (and wherever) you feel like "lending" your magical touch to all these poor (and dripping wet) girls in need. There's an APK available for download for the Android users amongst us.
Ready to grow your dick and your harem? Better start clicking... and enjoy all the tits and asses that will appear on your screen!
Play Hentai Clicker