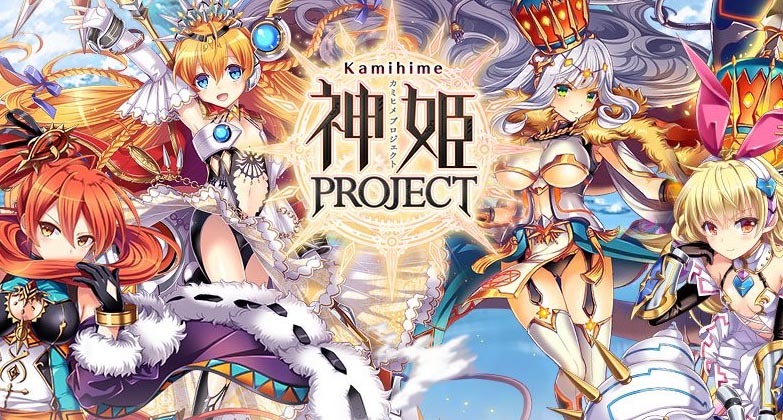 Kamihime Project R (Adult Game Review)
From the Nutaku network comes yet another RPG turn-based combat game, this time browser-based. You can play it on any device, PC, or mobile, and it has an amazing storyline for all of you who enjoy hot babes in fantasy settings. With great animations, a single-player storyline, and co-op raids, there is just so much you can do with this game. Of course, the animated hentai is one of the main reasons to check it out, but you might be surprised as to how amazing the story is too.
I mean, an exiting and arousing plot makes the sex (in-game) feel so much more intense and well, the storyline in Kamihime Project R will definitely do just that and probably get you pretty freakin' horny. Ain't going to lie, it sure did the trick for me.
But before we dive straight into the hot hentai and the hardcore sex action, we'll kick things off by reviewing the actual gameplay. Let's call it foreplay, shall we?
Kamihime Project R is a fantasy themed turn-based RPG
We're going to start things off by talking about the gameplay. Basically, you're put into a fantasy setting where you're collecting these beautiful babes who are going to help you as you try to battle the forces of evil and prevent the end of the world from occurring.
Of course, that isn't as easy as it sounds as you'll find many obstacles in your path, and it's on you to decide how you're going to deal with them. This is where the customization comes into play where you decide what your party should optimally look like to defeat the forces of evil in turn-based RPG gameplay.
You can also equip various weapons with your party members to make them stronger against certain foes. And as you progress through the game and the babes on your party realize what a badass you are, they're definitely going to want a piece of your dick. That's where the hentai animations come into play. Trust us, you're going to love this part of the game since it's probably one of the main reasons people play it in the first place.
Don't get us wrong, the gameplay is fun and there's even co-op to explore, but the animations are the best part.
Fantasy RPG plot and storyline you'll adore
You start your adventure off with a pretty lewd scene of you and your childhood friend Alyssa. You both find a device that allows you to travel the globe by accessing different dimensions and this is what you will be using to get an upper hand against the forces of evil. This device is ancient and holds great power, so you need to use it responsibly.
You will go all over the world and try to gather as many Kamihime in order to destroy your enemies and achieve the greatest victory where everyone will be praising your name, especially the hot babes in your party!
As you progress through the story and the plot, two things will happen. The first one is that you'll get stronger super attacks that you can use with your characters to defeat more difficult enemies and you'll also get better gear to fight against these mobs.
The second thing that will happen is that you'll unlock more and more hot hentai animations with all the girls at your party. And you get a lot of knowledge about the girls since they're on your party and pretty involved with the storyline all the time.
Kamihime Project R reveals steaming hot hentai animations
One of the most fascinating things about Kamihime Project R is the fact that there are so many hentai animations to explore. The animations are really high-quality and created by some of the best artists in the industry. You can expect one of the best art styles ever with full color and shading and you'll also get a good depth effect too.
You're looking for premium content, so you're getting it with Kamihime Project R. You can fuck pretty much every girl you come across in this game and this is the best part of the entire experience. You're going to love going after all this hot hentai pussy.
Of course, expect the scenes to be extremely explicit. You'll see everything, and nothing will be hidden from you. You'll see huge tits on these babes, amazing blowjobs, pussy-fucking, anal drilling, and so much more.
Pretty much every position is covered by these animations, and cumshots are very common. You can even choose where you're going to cum for many of the girls such as inside their mouth, in their ass, pussy, or you can cover their face, huge tits, smooth pussy, or body with cum if you are into that more.
Device compatibility and system requirements
One of the great things about Kamihime Project R is that the game is available on pretty much any device. It doesn't matter which platform you're on or prefer, as long as you're on newer versions of the operating systems and you're using the correct browser, you'll be able to play this game.
It's a very low-intensity game so it won't gobble up a lot of RAM either. You just need to make sure that you aren't using an ad blocker that might interfere with the actual gameplay. The system requirements for windows are to have Windows 7 or newer. Browsers that are not recommended include Internet Explorer, Firefox, Safari, and Opera. Which basically means, for the best experience, you'd might want to use Chrome browser.
For Mac it's a similar story with the only difference being that you need to have OS X v10.9 Mavericks as your operating system or any newer version of Mac OS. You should also use Chrome on your Mac instead of Safari.
So? What are you waiting for?
Go have some naughty and fun times playing Kamihime Project R on the Nutaku website. Oh and by the way, the game is even free to play, in case you didn't know yet!
Play Kamihime Project R