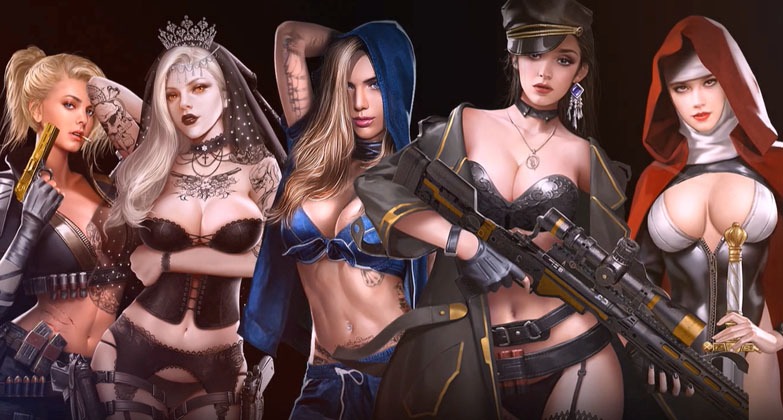 King of Wasteland (Adult Game Review)
King of Wasteland is a massive multiplayer life simulator game that let's you have sex with lots of beautiful women, build cities, train a giant army, fight your battles and of course, prevent this doomsday catastrophe that's about to "cum".
King of Wasteland is the next step in the porn games industry by mixing advanced strategy and simulator gameplay with stunning visuals of the hottest babes with double D's (and even much bigger, hihi).
King of Wasteland is one of those hidden gems on the Nutaku website
Luckily for all of us, King of Wasteland isn't the typical adult game. I mean, when most people think of a porn game, the majority of internet users imagine a small, simple, mobile game, not to mention all of the clumsy outdated flash games that you'll get to play in your browser. You get to click here and there, go through the almost non-existent story in a couple of minutes before you're rewarded with an illustration or two or if you're lucky, a porn animation of debatable quality.
That's NOT the case with King of Wasteland. In fact, far from it!
As a lot has changed in recent years, and with the advances in technology, we now have the opportunity to play totally awesome (and highly arousing) games like King of Wasteland. I think it's safe to say, King of Wasteland is one of the most underrated adult games on the entire Nutaku website and actually is quite the hidden gem.
The type of game that fans of the classic Command and Conquer video game series or games such as Dune 2000, are probably going to love big time.
Why King of Wasteland doesn't get the love and attention it deserves? I wouldn't know. What I do know is that you definitely shouldn't be missing out on playing this free adult title.
King of Wasteland Is the Next Step in the Porn Games Industry
Creative designers and skilled programmers got together to reward us with this masterpiece that combines graphics fitting of a triple-A title (as the girls in this game look absolutely stunning), a storyline that is able to keep the player engaged for as long as they want, interesting gameplay (mixing strategy elements and simulator-type of gameplay) that will have them coming back for more and, last but not the least, some of the best porn illustrations and animations I've seen in an adult game for quite some while.
And, once you realize you worked hard for those animations and you've earned them with your gaming skills, they only get that better. It's also refreshing to see an adult video game that doesn't use hentai-style graphics, but instead, offers an impressive and more realistic-style of painted female models. And yes, complete with gigantic and juicy knockers!
A compelling narrative
There are numerous reasons why people play video games. While some play anything just to pass the time, others love beautiful graphics, a captivating storyline, exciting PvP, and more. And, with adult games, the main reason is always to enjoy that hard-earned porn after completing the required tasks.
King of Wasteland took lessons from other popular video games and, while those hot babes are still top-tier and the dirty action they enjoy in-game is mesmerizing, you'll have fun playing it even before you get to the spicy bits.
King of Wasteland is set in a post-apocalyptic world where survivors fight and struggle for existence. The end of the world theme only gets better once you realize that the majority of living beings are gorgeous girls with bubbly butts and massive tits who, more often than not, wear erotic outfits or lingerie.
So, don't get surprised if you run into a sexy nurse covered in blood after she had just fought off a zombie attack. Not to mention topless nuns. Can't go wrong with topless nuns, right?
As you progress, you'll have to learn how to survive with scarce resources in a hostile environment which will, in turn, reward you with even more illustrations and animations. The art-style is breathtaking and is as close to the real deal as humanly possible.
A Feature-Packed Multiplayer Game (for Adults)
In addition to stunning graphics and an immersive storyline, King of Wasteland comes with plenty of features that ensure playing it never gets dull. For starters, the game uses one global, back-end server meaning you're actually playing a multiplayer game with tons of other players and you're all in the same world.
Being partly a simulator game, you can build cities, raise armies, train soldiers, and much more. The isometric (top view) in-game camera reminds me a lot of the classic strategy game "Command and Conquer: Tiberian Sun", from back in the day. And while growing your penis your army and city, then, you'll start encountering beautiful heroines that you ultimately get to see in those porn drawings and spicy animations that will make your blood boil.
And, as a cherry on top, there are plenty of unique events and missions to keep you coming back for more.
Great sex scenes, storyline and gameplay which even includes multiplayer action... What else do we need in an adult game? King of Wasteland is completely free to play on both PC and Android devices. What are you waiting for? Go play this hidden gem!
Play King of Wasteland