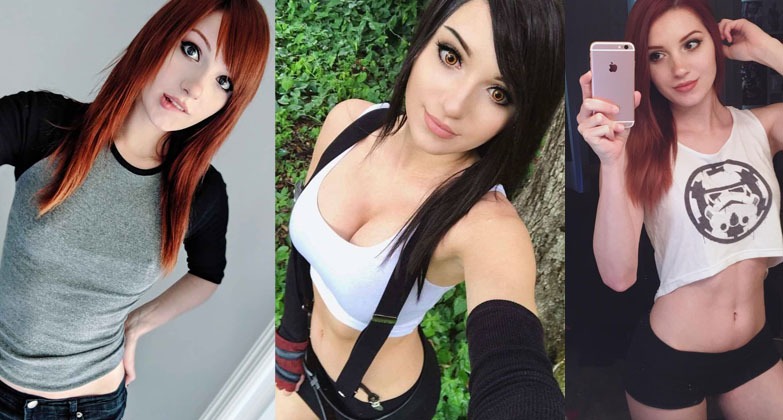 Madison Kate is the lewd cosplay queen of Instagram
Looking for daily hot cosplay candids and lewds? Go follow the "queen of cosplay lewds" Madison Kate on her Instagram page right now!
Besides her natural beauty, Madison Kate truly is a girl of many talents, especially in terms of cosplaying really sexy video game or comic book characters. She is a perfect example of what you get when you combine mesmerizing beauty with artistic skills and the dedication to pleasing the followers with spicy content.
This 23 years old redhead comes from Florida. Born on October 2, 1995, Madison Kate quickly gained a lot of attention and became quite a popular American model. Her main Instagram account is steadily closing in on half a million followers and she hasn't even posted 300 pictures yet.
On the other hand, every single photo of this foxy beauty is breathtaking. From that tight, young body with a pair of perky, natural, supple breasts to wide hips and a bubbly ass, she is a complete stunner that offers the total package, even without her amazing cosplay works.
Geeking out with the fiery red vixen Madison Kate
Rocking that specific, fiery redhead vixen look, she loves to geek out which is why you'll find her equally sexy wearing nerdy glasses as compared to her flaunting her skin in erotic lingerie.
The best combo? What about a blend of that geeky girl look with glasses while wearing lingerie? Sounds pretty hot, right? Lucky you, as some of her best photos feature her wearing both.
Madison Kate loves creating hot and spicy cosplay lewds
Still, this girl hides much more than what you can see on her main account. Apart from being an Instagram model, this spicy redhead is also an influencer and content creator. Her swift rise to fame also happened because of her love for cosplay.
Because, apart from her stunning body and her beautiful face being pieces of art, she is also artistic in nature. She had managed to combine the two and gain the best of both worlds. And man, she totally nailed all of the characters she's been cosplaying. Both in visual appearance, as well as in terms of sexiness.
One of her more prominent works was when she cosplayed as D.Va from the highly popular video game; Overwatch. Madison is apparently in love with this Korean chick as there are plenty of pictures of her to be found while wearing various arousing D.Va outfits.
From posing in D.Va's tight and sexy battle armor, complete with weapons and additional gear, to posing in nothing but a skimpy top and tiny shorts. Quite the eye candy, as Madison Kate sure did D.Va's justice!
Madison's second Instagram account is solely dedicated to (naughty) cosplay
Whether you're into a pretty face or a big, busty rack, you won't be able to take your eyes off of this hottie. Apart from D.Va, her second Instagram account, which is dedicated solely to cosplaying, features a ton of sexy ladies from the world of film and video gaming.
"Does she really need to show off all that cleavage?" - Said no man ever. Nobody is ever going to complain about Kate flaunting some skin... Like ever! I mean, just look at those fantastic knockers, they sure are pretty freakin' sexy.

If you're a Final Fantasy fan, you'll be thrilled to see her in various different editions, posing as sexy protagonists in every sexy outfit, from Rikku to Tifa Lockhart.
And who could forget about Misty from Pokemon? Madison looks even better than her in real life, and she has quite the bigger pair of tits... Not gonna lie, that makes her even more of a turn-on. Besides that, with her sexy red hair, cosplaying another ginger character like Misty makes a lot of sense. Besides Misty, she does various other characters from the Pokemon universe as well.
It simply doesn't matter which famous character Madison Kate decided to cosplay, with her talent and natural beauty, she's exactly the type of girl that will make you want to "play with your joystick". Cute, geeky and sexy as hell, she just has that golden combination!
In addition to those two Instagram accounts, there are plenty more places on the internet where you can find this beauty. She also has a personal Instagram account with less lewd but more playful and private pictures, in case you can't get enough of her (like us).
And if you really want to see her all-in, she has a Patreon where you'll find all of her steamiest lingerie photoshoots. Pfff it's getting hot in here!