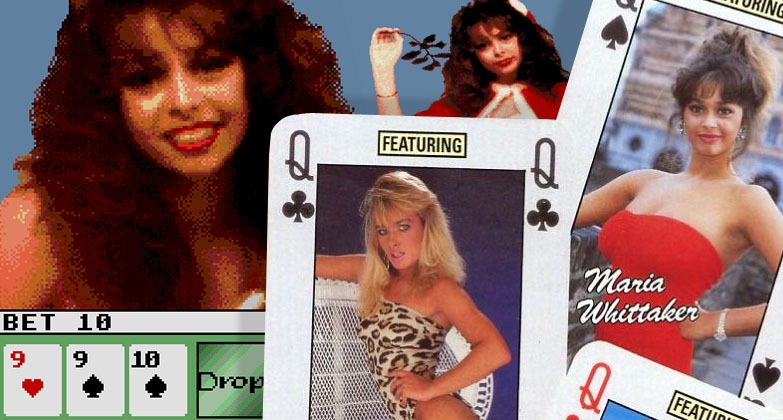 Maria's Christmas Box (starring Maria Whittaker's double D's)
When I think of the name Maria in combination with the most wonderful time of the year (Christmas, that is), my brain automatically starts repeating the Mariah Carey song lyrics of "All I want for Christmas", over and over inside my head.
Don't worry, we won't be talking about Mariah Carey's "special box" today, as the star of the 1988 retro adult video game "Maria's Christmas Box" is in fact... the famous model Maria Whittaker!
Sticky magazines starring pin-up model Maria Whittaker
Sticky magazines, indeed. That's how playing with your "joystick" was done back in the "good old days". You've actually had to go visit your local shop and buy yourself one of those "dirty magazines"... Or you would simply borrow your next door neighbour's sticky magazine, but that might as well could be even more awkward.
If you're in your 20's now, you've been growing up with easy access to a gigantic library of hardcore porn on Pornhub, all available to you with just a single click. You guys probably have no clue how much of a lucky bastards you guys truly are!
Well, if that's indeed the case and you're currently in your 20's or you're living outside of Europe, you're probably wondering; who the hell is this Maria Whittaker exactly? In short; she was one of the most famous pin-up models from England.
Maria Whittaker and her rise to fame
Maria Whittaker was one of the most well known and most popular so called "British pin-up girls" of that time era. A pin-up girl is pretty much what we'd like to call a glamour model in the modern era.
Maria was born in 1969 in the UK, and sadly she passed away at the young age of 50. But she didn't leave our planet without any success, quite the opposite!
Maria Whittaker was probably responsible for many wet dreams and the reason gallons of jizz got wasted, as well as the ruining of many good pair of socks. Both amongst the youth as well as their dads.
Oh well, without the large amount of adult video's we'll get to consume these days, pretty much any "hot looking model" would quickly become a sex symbol back in the 80's. Princess Leia from the classic Star Wars film or popstar Kylie Minogue, would be perfect examples.

Maria made her modeling debut at the age of 16 in the British newspaper The Sun (page 3). Now that might seem young, and well, it kinda is, however, her body was quite grown up as Maria Whittaker's boobs already had the "full grown" cup size of 36DD... Halleluja!
Together with other glamour models such as Samantha Fox and Linda Lusardi, Maria Whittaker would become one of the biggest names (in the pin-up scene) during the 80's.
From pin-up model to stripping topless for video games
In 1987, after having done glamour photoshoots for quite a few years by then, Maria Whittaker accepted a new gig in which she would model and be featured on the box art of the computer game; Barbarian: The Ultimate Warrior.
The Barbarian game was released by Palace Software, a video game publisher from London (England) between 1984 and 1991.
Only one year later, yet again she accepted another photoshoot for the box art cover of a video game, which turned out to be the sequel to the original Barbarian video game.
In 1988, they (Maria and actor Michael Van Wijk) appeared on the cover of Barbarian II: The Dungeon of Drax. While she didn't "show it all" on those game covers, she did however, show quite a lot of skin, especially for that time era.
Back then, they would probably consider the game box art of the Barbarian video games to be erotica... Oh well, times have changed, lol!

The pixelated boobs of Maria Whittaker (in the adult retro game; Maria's Christmas Box)
After becoming the star (or should we say; the sex symbol) of the Barbarian games, Maria Whittaker decided to take this whole spicy "video game thing" to the next level!
While Palace software couldn't distribute their games with a fully nude babe on the cover, that didn't mean that game publishers weren't allowed to add or insert nudity inside those video games itself! The result? A lot of low resolution pixel boobs!
Nowadays, you'll simply type in BannedSexTapes.com in your browser and click on any celebrity nude candids or sex tapes that you'd like to watch... Of course, that wasn't so easy during the 80's or early 90's, without access to the internet.
So for all those horny guys back then, that were all eager to enjoy a glimpse of Maria Whittaker's delicious big juicy knockers. Which means, those same guys had plenty enough reason to go out buying that (now retro) adult video game; "Maria Whittaker's X-Mas Strip Poker" or better known as; "Maria's Christmas Box".
Why? You've guessed it... As it features the completely (uncovered and uncensored) topless breasts of their favorite sexy celebrity; Maria Whittaker.
The perfect Christmas gift for dad, back in 1988? Maria's Christmas Box!
It's a bit confusing as multiple sources use different titles for the game. The now infamous game starring the (fully topless) famous British pin-up girl Maria Whittaker, has been released under 3 different titles;
Maria Whittaker's X-Mas Strip Poker
Maria's Christmas Box
Maria's Xmas Box
Maria's Christmas Box was released in 1988 for multiple gaming consoles, which instantly made this dad's ultimate Christmas gift of the year, don't you think? The game was released on the following hardware;
Amiga
Commodore 64
Commodore 128
ZX Spectrum
Atari ST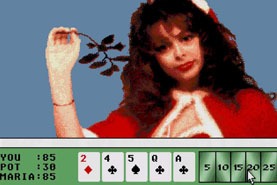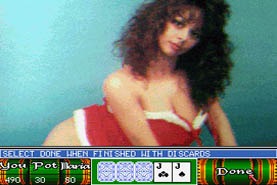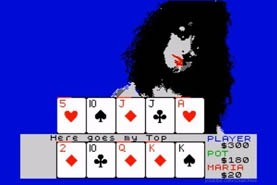 From left to right or from top to bottom, in case you're reading on your phone; screenshots from the Amiga, the Amiga ST and the Commodore 64 version of Maria's Christmas Box.
"Cover Girl Strip Poker" and more erotic video games starring Maria
Starring topless (or semi nude) inside an adult video game, wasn't just a one time thing only for Maria, as she also stars and shines in the 1991 classic; "Cover Girl Strip Poker", as one of eight opponents the player has to defeat in order to complete the game.
You can really tell, getting access to erotica or pornography wasn't as easy back in those days, as even "game critics" were somehow writing really positive game reviews (published in multiple magazine prints). A lot of these critics couldn't help but to mention the fact Maria Whittaker was starring in it... Topless!
Boobs, all the reason to give games a high rating, I totally agree guys! Who cares about gameplay, right?
Sex sells? A nude superstar like Maria Whittaker sells!
The video game critics from that era were praising Maria's sexy and nude poker game titles.
Even though the player had to win poker matches against 7 other opponents (besides Maria Whittaker), somehow, everybody all agreed; the real star of the game were the pixels of the exposed double D's of Maria!

Well, if you've ever actually tried playing any of her poker games, you'll quickly discover how bad these games were (even for those standards, back in the early 90's) in terms of gameplay. Guess those "video game critics" were a little distracted by Maria's big round melons while reviewing these games. Can't really blame them since Maria did have an impressive rack!
Let's face it, sex sells, the developers didn't actually care about the game, nor the gameplay, it was all about sales and making a quick buck.
I guess it all worked out for them and everybody got a "happy ending"... I mean, customers were probably happy and satisfied simply because they finally got to see a glimpse of the big titties of their favorite famous and ultra sexy British model, and as a result; erotic game developers and publishers made some real nice profits.
In the end, everyone got what they wanted... a "happy ending".
How video game box art covers can kick start your modeling career...
After the releases of those two strip poker games, Whittaker had gained so much popularity that she was named "Page 3 Girl of the Year" (topless photo shoots by The Sun magazine) in 1989. At this point, Maria pretty much had superstar fame!
Later on during her career, Maria also had a little success both as a singer and an actress. Even though, a lot of people consider Maria's pop song to be quite awful. I'll just let you decide. She also had a cameo in the music video "Anything She Does" by Genesis.
The moral of this story? Ladies, go flaunt your titties in video games or on box art covers of video games! Good or bad, shitty gameplay or cheaply made video games, that isn't even important, it'll probably kick start your successful career anyway!
How to get a copy of Maria Whittaker's erotic video games?
In case you'd actually like to play any of the Maria Whittaker games (such as Maria's Christmas Box or Cover Girl Strip Poker), I believe emulation is the way to go, as obtaining an actual hard copy of such old school games might not be such an easy task.
I did a quick search online, but couldn't find any seller. But trust me, just by looking at these topless screenshots is more then enough, you won't miss out on anything by not playing these christmas titles starring the busty Maria.
Edit: Found an actual copy for the ZX Spectrum on Ebay at (the current price bidding of) $45. I've got to admit, it's still a pretty cool little collectors item.

Maria's Xmas Box - Free Download Links
These games are considered to be abandonware these days, so you can legally download a digital copy of the game (ROM files) or even play Maria's Christmas Box online, directly in your browser. We've listed some download links below.
Ok, that's enough pixel boobies for today. Hope you've enjoyed the history of Maria Whittaker's erotic adventures in the world of X-rated video games. More articles on retro adult games coming up soon.
Play Maria's Christmas Box