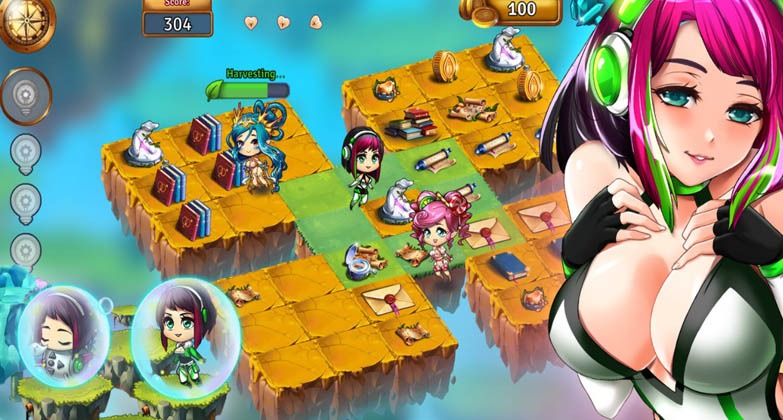 Merge Nymphs - A cute and sexy casual Hentai puzzle game (Adult Game Review)
We had a blast playing the adult video game Merge Nymphs on the Nutaku website, and not just because of all the spicy hentai content, but even more so thanks to its fun and highly addictive puzzle-style gameplay. While this title isn't exactly new, since it was released about a year ago, we'd only wish we had discovered Merge Nymphs a bit earlier as we've found ourselves a new addiction playing this naughty little casual game.
You know what they say about a BBC, right? Once you go black, you'll never go back. Well, the same thing can be said about Merge Nymphs over here. It's fun, it's cute and it's sexy, what else do we expect from an adult video game title, right?
The Storyline
Once upon a time, in a galaxy far away the world of Lush, the peaceful home of the nymphs, that is, until that one day an army of evil goblins decided to come and pollute their land. Sadly, our nymphs never stood a chance and got put into a coma.
That isn't the end of the story, because there's in fact one person that can save them all. And that person happens to be you, the Lord of Fertility! Best part of it all? Once you've start saving them one by one, you'll notice exactly how grateful these nymphs truly are.
They sure are willing to satify all your (dirty) cravings as a way to "thank you". Let's call it, providing a service for a service.
Let the boobs of wisdom guide you through all puzzles
Upon starting the game, we are greeted by a busty blonde nymph (named the Maiden Lake Nymph) winking at us, calling us "my lord", all while flaunting her perfectly round shaped boobies. This nice blonde nymph explains the basics of the gameplay and tells us whenever we're in need of a little guidance, we can always summon the almighty "boobs of wisdom" which will in return provide us with tips, tricks and hints on how to proceed within the game, or how to solve a certain puzzle.
The first level is a real piece of cake, but perfect as a tutorial on how the game functions and how to proceed to the next level. To move onto the next level we need to make a statue whole again by simply aligning three parts of the broken statue. Soon after the first level, more and more obstacles appear within the puzzles.
Merge Nymphs' strength is its interesting and addictive gameplay mechanics
While the game starts off quite easy, puzzles keep getting harder quite quickly as new elements keep on getting added to the mix. Think of new gameplay elements such as; more items appearing that can be used or collected. Think of items like a swimsuit, cucumbers, perfumes, or special nymph coins we can use to "level up" our saved nymphs. But also new enemies blocking your way, damaged land that needs to be healed by harvesting penis shaped candles, and a ton more of dynamics that keeps this relatively simplistic style of puzzling gameplay interesting each time you'll enter a new level.
To give you an idea, currently the game feautures over 250 different items, all of which are interactive, merge-able and serve a certain purpose.
We quickly learn that we also need to collect those cute nymphs that are put into a coma by those evil goblins. By collecting and merging three nymphs, we can awaken them and each time we do so, the player is being confronted with some real hot and spicy eye candy on his screen (known as "cards").
For starters and to give away a little spoiler, after merging our first three nymphs, we're being treated with some great anal action straight away. And from the looks of it, she sure loves it up her tight butt.
We can be pretty certain about that, as this horny babe tells us she wants our cock in every hole she's got. She even tells us she wants it deeper and harder. Well, what can we say? We're happy to give it to her any way she wants, right?
Sexy hentai art (and animations) as reward for merging nymphs
Our second encounter with one of the many nymphs we can awaken and unlock is the "Novice Frost Nymph", this babe is cold as ice, like literally, and she's pretty much begging us to turn her on as much as possible, so eventually, she will feel hot again! We're good guys, so of course, we're ready to offer a "helping hand". Let's turn her hot again, I'd say; challenge accepted!
And that's not it, far from it! As you can unlock those first three sexy nymph ladies just under 10 minutes. Luckily for us, there's a whole lot more to explore and hotties to unlock (as a reward for solving puzzles, harvesting polluted land, collecting items and coins).
It gets even better, once your saved nymphs start to level up, you'll get to unlock even more hot sex scenes. In total, there are 30 fap-tastic hentai scenes to enjoy.
A total of 70 puzzles/levels and challenges to overcome
Collect over 80 spicy nymphs (and their cards)
All nymphs have an unique look (even furry-fans will get their kicks off)
Over 250 unique and interactive in-game items that can be used (and even merged into other objects OR to "level up" and awaken more nymphs)
30 Steaming hot sex scenes to unlock
Another awesome part of the game is the fact that every month, new nymphs are being added to the game, which means, each month there's brand new eye candy to explore.
Final Conclusion
While the artwork is great, the animations are a bit average. However, that doesn't mean they aren't arousing, quite the opposite. If you're looking for a straight up hardcore porn game, there might be better adult games out there for you.
But by far, the best part of Merge Nymphs is its engaging and addictive gameplay, something a lot of hardcore porn titles don't offer.
Once you'll start clearing the first few levels/puzzles, you'll easily becoming addicted and you simply can't stop playing. Even though I've played this game for a couple of hours straight on my PC, I can imagine an (adult) casual-style game title like this, would be perfect to play on mobile as well, as you certainly don't need any fast "hardcore gamer reflexes" to play this one. Overall, it's just a real fun and highly relaxing game, one that I can only recommend.
I never thought I would write this inside an adult video game review, and while even though it's on repeat the entire time, the background music of Merge Nymphs is just so relaxing. I love it, haha!
Merge Nymphs is one of those gems that fans of both kinky hentai sex scenes and casual games surely will enjoy.
We had a blast playing this "free to play" Nutaku game, and we're pretty sure you will too! You can play Merge Nymphs directly inside your browser or download the APK on your Android phone (or TV box) free of charge.
Play Merge Nymphs