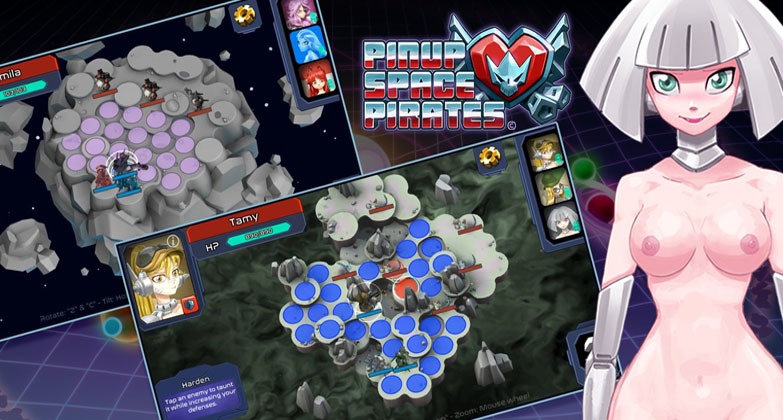 Pinup Space Pirates (Adult Game Review)
Never would expected to be playing an adult video game that's starring steaming hot pinup pirate babes from outer space, but now that I did, It got me really excited. Both in terms of gameplay, as well as in real spicy and sexy visuals.
Ahoy matey! Arrr, ready to get down 'n dirty wit' some lovely 'n sexy space pirate lasses?
Unique, and a fresh and interesting take on a porn game
Pinup Space Pirates comes with a rather self-explanatory name. However, that doesn't make the game any less interesting, especially when you consider that it is an adult game. After all, a mere thought at the combination of space, pirates, and pinup ladies is boner-inducing even before you realize that those pinup chicks often end up naked and in hardcore action for your viewing pleasure.
The gameplay of Pinup Space Pirates and its graphics closely follow such an interesting premise and don't disappoint in any way. If you're an avid gamer, you've probably grown used to having a solar system being in danger of unknown invaders from outer space, right? I mean, haven't we all played the 1978 classic; Space Invaders, just to name one of the examples?
You've also been its savior a number of times already. Hell, as a gamer you've most likely saved the entire universe from evil aliens about a million times already! This time, though, you get to do it in a company of horny space pirate girls in a title that will test your skills and make your blood race. Now that makes things a lot more interesting, especially when your space harem decides to "reward" you.
Free to play game with plenty of hot and fun features
Long gone are days when porn games used to revolve around animation or two. Old browser porn games were made in a rush and were meant to be played for a couple of minutes before reaching the end and enjoying a reward that was an illustration or a simple animation of questionable quality.
Nowadays, with titles like Pinup Space Pirates, the boundaries between mainstream, AAA titles, and high-quality adult games are getting blurred. While porn is still the ultimate goal and people are playing Pinup Space Pirates to see just how steamy things can get, there's still a narrative, mesmerizing graphics, and captivating gameplay to make your trip much more interesting.
Suddenly, the players don't feel as if completing a game is a chore that you need to finish to get to the end but are enjoying the process.
Pinup Space Pirates offers a ton of missions to explore
Pinup Space Pirates offers a ton of fun even if you disregard the adult aspect. The main campaign consists of 30 story missions and an additional 60 subplot ones.
Each one of the main story missions features three battles where you get to test your skills in this turn-based RPG set in space. The combat consists of small teams battling each other in a Final Fantasy-like approach.
And, once you immerse yourself into the story with Gods, men, Pirate King, Flying Harem, and other assets, characters, and places, you'll be hooked for good.
Charming graphics that fit the gameplay and adult theme
Currently, there are 14 pinup hotties in total, each prettier, sexier and dirtier than the next. Wait until they'll start undressing...
All of the girls are unique in every way. From dialogue and their personality to skills and traits, there's no recycled material and you can always expect new things when progressing the game.
Also, every pinup comes with her own CGI porn and animated scenes, making it worthwhile to play to the very end.
And even if you finish everything, go through all 15 of the colorful battlefields, and enjoy mecha fights to the fullest, you can continue playing knowing they constantly add more girls and spice things up with various timed events.
Small note: The game currently is still in beta, which means, a lot more content will be added very soon. That includes even more intergalactic eye candy to enjoy. That also means that this beta version might still contain a few bugs, that'll most likely all be fixed in the official public release.
Play Pinup Space Pirates