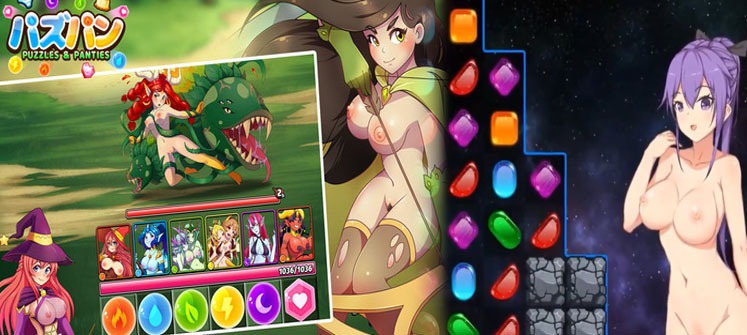 Porn games similar to Candy Crush and Bejeweled (adult match-3 games)
Looking for adult games that offer casual Match-3 gameplay in the style of Bejeweled or Candy Crush, but only this time a bit more kinky? We've found six erotic alternatives to those classic Match-3 video games you've always enjoyed playing. Time for some spicy tile-matching action!
From Bejeweled & Candy Crush to lewd games like HuniePop
Tile-matching games, you either love 'em or hate them. Some gamers may find these type of "casual" puzzle games a bit too simplistic in terms of game mechanics, personally, that's exactly why I love these games, it's what makes these type of games so relaxing to play. Add some stripping girls on top of that, and you'll get some of the most fun and addictive adult games you'll find online.
The game mechanics or concept of a match-3 game is quite simple - the player needs to switch certain tiles on a board (or grid) in a way so that (often three) similar tiles are matching in a row, as a result, removing that row (of matching tiles) and making free space for new tiles to be added to the board.
A brief history of tile-matching video games
Bejeweled (by PopCap) became a giant hit in the early 2000s, followed by the even more popular Candy Crush, which became a huge success as a free to play game on Facebook Games.
That being said, the concept of having to match tiles as the main game mechanic was invented years before those two mainstream titles got released. I mean, I assume everyone has played some version or clone of the good old "falling blocks game" from the 80s, known as Tetris.
Sure, while Tetris might be different, in essence, it's also a game in which you'll need to match tiles in a row (or more like blocks, in this case). But today, we'll only be focussing on Match-3 games that are basically porn clones of Candy Crush and Bejeweled. The first adult game that decided to combine those two elements - both erotic visuals with match-3 game mechanics was HuniePop!
HuniePop (2015)
HuniePop was the first of its kind, adding sexy characters, dating simulator mechanics and spicy visuals on top of the Bejeweled-style gameplay and well, fans loved it right away! The game was released in 2015 after being funded through a kickstarter campaign.
While HuniePop might be the oldest and most known adult video game title on this list, it's still worth playing today because it has all the ingredients that makes a game fun to play. Besides that, game critics in general gave the game a really positive review and high rating. However, be sure to pick up the uncensored version, as HuniePop originally was released on Steam but in a heavily censored way.
Play HuniePop ($9.99)
What can I say? HuniePop is just a really fun (and sexy) game to play. It simply brings two elements together that make the perfect combo! And because of the popularity it got, HuniePop in return spawned some porn game clones of its own as well.
Honey Crush (2018)
If you're a Candy Crush fan, then you'll be thrilled to learn there's a game that offers even more, called Honey Crush. With a similar, Match-3 gameplay style, you'll have a blast playing this title even before you get to the best bit which is all the hentai that you can handle. Honey Crush is an adult version of puzzle games but that's not all that this title has to offer. It also comes with a storyline and dating sim elements all packed in one neat experience.
The game begins with you being transported into a different, fantasy realm. There, your goal is to defeat a powerful but perverted wizard through a series of sex games. Fortunately, as you progress, you get to seduce plenty of hot babes to join your cause and increase your harem. Then, it's up to you to use them in any way you see fit.
With every level that you finish, you're one step closer to getting into the pants of a particular hottie. Also, there's this girl, Audrey, who is a mentor and a trusty sidekick. Her goal is to help the hero on his adventure and endeavors.
The simplicity of the gameplay and the fact that it's free is what gets people drawn to Honey Crush, but it is that animated storyline, beautiful chicks, and unique puzzles that get them to stay. By progressing through the game, the player gets to collect various lewd hentai pictures, upgrade their skills, and unlock bonuses, before finally defeating the powerful wizard.
Play Honey Crush (free)
Cosmic Shock League (2018)
You like the idea of mixing card battle mechanics with Match-3 gameplay, and got a thing for science fiction themed adult games as well? Cosmic Shock League is exactly that naughty puzzle game you've been looking for!
Play Cosmic Shock (free)
Puzzles and Panties (2019)
Puzzles and Panties? That sounds like quite a naughty title for a video game, don't you think? And well, it is! Puzzles and Panties has a rather self-explanatory name. Right off the bat, you realize you're playing a match-3-style game with naughty elements. However, what you can't immediately know is just how perverted this game tends to get.
With plenty of hot ladies losing their minds with horniness and continuously going down and dirty, you'll have a hard time focusing on the gameplay. Instead, you'll eagerly wait for the next scene where a curvy anime chick vigorously rides a throbbing boner. As with other games in the genre, the whole point of the gameplay is to be fun and engaging, yet not overly complicated. That is precisely what you get with Puzzles and Panties.
With RPG elements tossed into the mix, it's fun lining up the same elements together and then watching your enemies being defeated. The rewards are more than worth it as there are numerous hentai pics featuring chicks of all sorts. From busty and daring to shy and skinny, they all end up enjoying sloppy pussy licking or covered in loads of cum after rough pounding.
Additionally, Puzzles and Panties comes with visual novel elements where you get to participate in a compelling story, collect cards, take part in fierce combat, utilize the game's upgrading system, and more. The game is playable on both PC and on tablets or smartphones, meaning there's really no reason not to go for it. And, once you add the fact that it's absolutely free, the choice becomes clear.
Play Puzzles & Panties (free)
Pussy Saga (2017)
Arguably the most popular adult video game coming from the Hooligapps game development studio, years after its original release, Pussy Sage still has many active daily players, and for good reasons!
Pussy Saga is not your average Match-3 game. Instead, it is a full-blown dating sim where puzzle elements are just the way you get to meet and seduce all kinds of hot chicks. And, as a cherry on top, it is an adult game, meaning there's plenty of completely uncensored, hardcore action.
The gameplay is simple, yet interesting enough to keep you entertained as you progress further and unlock more stuff. The whole point is for the player to encounter a certain degree of difficulty to keep him engaged in the whole process, while not restricting him from completing levels at a comfortable pace.
One of the best things about Pussy Saga is that there are a ton of chicks. And, you don't even have to choose. Instead, slowly but surely, you start to build a big harem. Whether you're into voluptuous redheads with massive tits, exotic, tanned babes with luscious, dick sucking lips, dazzling blondes in pink lingerie, or skinny teens with small breasts, there's so much variety you'll have a blast going through everything. There's even a curvaceous elf with a pair of massive jugs who just can't wait to spread legs for you.
In between all the seduction and dirty action, you'll have a lovely time playing those matching games, going on dates, chatting girls up, and showering them with gifts. As a result, you'll get plenty of western-style drawn porn pictures and animations to enjoy, and all of it for free.
Play Pussy Saga (free)
Booty Calls (12017)
While Booty Calls is not an exact match in terms of gameplay compared to Bejeweled (or Candy Crush for that matter), but that's quite a good thing. Don't we all love a little twist?
When it comes to Bejeweled-like games there is one particularly interesting choice that, while not exactly the same, expands on the concept with interesting twists and turns, and that is Booty Calls. Being primarily an adult dating sim, this game puts you in the role of a womanizer who is on the quest to meet and seduce any girl he manages, creating his own, personal harem. However, the game comes with lots of fun mechanics and puzzle mini-games that will definitely keep you entertained long before those ladies start stripping.
While the name of the game pretty much tells you what to expect, you certainly won't be prepared for a luscious mermaid called Andriella who will recruit you for her naughty mission of collecting as much pussy juice as possible. As silly as that sounded, it is still a valid excuse to make you get into their panties and that is precisely what you'll do.
There is a ton of different chicks to meet and each is completely unique. There are skinny teens, curvy MILFs, and everything in between. What's even better is that the majority of them are dirty-minded and can't wait for your advances. The thoughtful balance between dating simulation and puzzle games ensures things always stay interesting.
The end result, however, is what everyone is here for. Whether you're on a phone, tablet, or PC, you'll love all those stunning hentai pictures and animations, especially considering the game is free to play.
Fun fact: Booty Calls also features characters which are based on real life pornstars, including the lovely asian porn starlet Asa Akira and busty blonde adult film actress Eva Elfie! What are you waiting for? It's play time!
Play Booty Calls (free)
With the six naughty adult video games listed above, you'll be busy for weeks to come. If it isn't for the addictive Match-3 gameplay, it's probably all the steaming hot hentai scenes these games allow you to unlock... Have fun!

Update 2021: Added 2 brand new adult Match-3 games!
Waifu Surprise (2021)
The new year has barely begun and the adult gaming website Nutaku already treats us on not one, but two brand new and steaming hot Match-3 games, with the first one being Waifu Surprise (developed by Correlon LLP).
Since this is the seventh tile matching game on this list, you'll probably get the drill by now. Match the identical gems and eventually, you'll might get "lucky" with one of the four busty beauties available in Waifu Surprise - Okunishi Kazadoka, Ohayama Asafumi, Kozuki Akichiko, Okibara Sawashi, and Ashichi Sumisuki. The most fun and addictive part of this brand new Hentai game is that it adds dating simulation elements on top of the Match-3 gameplay as it's up to the player to "score" a date.
There's also plenty of unlockable locations and of course, steamy (animated) Hentai scenes to unlock. But you really got to "earn" those by playing your "cards" right trying to seduce these four hot Waifus. All those hot unlockables will probably get you keep on playing for days and days to come. Gotta catch unlock, undress and shag 'em all, right?
Even more good news since Waifu Surprise is entirely free to play and works straight inside your browser and thus, on all devices. Ready for some naughty playtime with these horny Waifus over here? Go match those gems and get lucky!
Play Waifu Surprise (free)
Pussyland (2021)
The good folks over at Nutaku sure love a game of Match-3 as they've already released their second tile-matching title for adults right at the beginning of this new year. This one got developed by Dragon Powerhouse.
"If you match, they'll strip". Now that sounds pretty straightforward to me, don't you agree? Well, that's Pussyland for ya, and that's a good thing. What you see is what you get... And that's going to be a whole lot of big and juicy topless breasts bouncing up and down on your mobile screen. Sounds like the perfect way to start off the new year haha!
Play Pussyland (free)