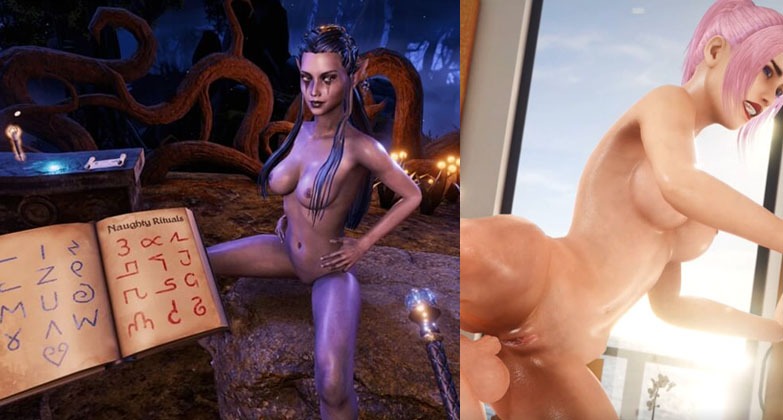 The best and most realistic VR porn games of 2020
Virtual Reality has been around for a while, and it's time you realized its true potential for giving you the best erotic experience of your life. You will no longer have to imagine what it would feel like to have the girl of your dreams do whatever you want her to - VR will give you the chance to experience like it's really happening. Of course, you won't actually feel anything on your body (besides your own hands), but who's to say that won't happen any time soon? I mean, the porn industry is kinda known for being highly innovative in terms of technology, so who knows?
In the meantime, why don't you let me show you which VR adult games you should try out?
Love Vibe Aria
Love Vibe Aria focuses on a single girl. She has the role of your girlfriend, and it's her job to satisfy you in every way possible. Sounds pretty good, right? Well, it is, especially thanks to its realistic visuals. The 3D models and different locations of Love Vibe Aria look pretty impressive!
The best part of all is that you get to choose what she looks like. You can modify her body, you can make her dance, strip, and tease you. You can also customize her clothes, and the developers made sure that she looks as realistic as possible!
And finally, you can do whatever you like with her - any sex position you can think of, dick her deep inside her pussy or even up her ass, bang her outdoors at the beach, get a handjob in the pool or fuck her against the wall in the living room, no matter what, your brand new VR girlfriend will do it all!
Play Love Vibe Aria ($15)
SinVR
When you first load up SinVR, it doesn't look very kinky or dark. However, if you are a fellow BDSM enthusiast, you'll be happy to know that this virtual reality game turns very erotic, very quickly.
The story premise is basically non-existent - your only mission in this game is finding as many babes as you can, followed by some very kinky action in your personal sex dungeon. You get to select the scenes you want to explore, then choose one of the eighteen girls on your menu, if you pay for the game. The animation is 3D, not very realistic, but good enough to get you into the proper headspace. Every scene happens in POV, and you can use the numerous buttons to select the options you like.
While SinVR doesn't really provide the greatest graphics compared to the other VR sex games on this list, it's a bit pixelated at times, but it's the only one that's free to play. So, you can always just check it out and if you like it, be sure to upgrade to some of the better looking adult VR games listed here!
Play SinVR (Free)
Elven Love: Naughty Rituals
Elven women are the most beautiful, angelic creatures to ever exist, and we all have the desire to explore their milky white bodies until the end of time. Elven Love is a game about ancient erotic rituals the elves performed, and you're taken right in the middle of the action.
Two races of elves exist within this world: Wood Elves and Moon Elves. They rarely have intercourse, but when they do, a special ritual must be performed, and you get to watch everything. The 3D models look mind-blowing, and you can customize them to your liking.
You will have to solve puzzles to get the girls to undress, and once you complete that, you can use magical sex toys and fuck them, of course. In essence, the game is a beautiful looking erotic RPG game set in a VR fantasy world. The game even gave me some serious flashbacks to the 90's classic adventure game "Myst", but this time a lot more spicier!
For fans of fantasy themed adult games, fans of sexy fantasy girls or VR porn, this game is a must-play and it gets better as "Elven Love" currently is on sale for just $15 (one time fee). Time to start playing, with your pants down, that is!
Play Elven Love ($15)
HoloDexxx
VR Porn games are amazing, but what if you want to have the biggest names in the porn industry fawn over you? Well, HoloDexxx is precisely what you're looking for! This game combines motion capture images of famous pornstars with AI chat technology, creating a very personal experience.
Some of the largest stars in the adult film industry are available in HoloDexxx and even more pornstars will be added in future updates. Some famous adult actresses include, but not limited to;
Riley Reid
Marley Brinx
Tori Black
Dani Jensen
Mia Malkova
Lexi Belle
Inside the game, you can move around freely, and everything was filmed in 360 degrees, so you will get the full, immersive and highly realistic experience, no matter what angle you'd like to watch your favourite naughty girl in the porn business go at it.
Always wanted a lap dance or a blowjob from one of your favourite girls in porn such as Riley Reid? HoloDexx offers the closest thing to "reality". If you want to support the creators, you can unlock plenty of features that regular users do not get, and your little sex kitten will develop her skills more and more until you've reached your own limits and she becomes "too hot to handle", hihi. Multiple orgasms guaranteed!
Play HoloDexxx ($15)
Custom Order Maid 2
If customization is your thing, then you won't be able to get enough of this game. The game begins by asking you to create your own character. You are a colored silhouette, but you can adjust your height, weight, hairstyle, and opacity. Then, you discover that you inherited an Empire led by your uncle where people come to have sex with maids.
Unlike most adult VR games on this list, instead of a realistic-approach, this game has hentai-style animation, and the game plays similar to a visual novel, with extra spicy content, and of course, offering a virtual reality experience instead of most regular 2D Games!
Once the business part is over, you get to customize your maids. They do come with a default appearance, but you can make them look however you want. You can customize their hair, their eyes, body proportions, boob physics, and even the pubes!
Custom Order Maid 2 ($45)
3DXChat
3DXChat is an excellent example of a multiplayer sex game done right. This online experience will have you chatting and interacting with the lively community like never before!
The sex scenes look incredible, because the developers used motion capture on actual people having sex. The animation is excellent as well, and you'll be able to customize your character however you like. You also have your home that you can decorate, or you can visit various clubs, yachts, bars, beaches, and places alike to meet interesting people. 3DXChat has a monthly membership that you will have to pay for, but this is arguably the best way to meet new, kinky people like yourself!
If you prefer and enjoy live interaction with other players or looking for a stunning looking MMORPG which can be played both as a regular 3D adult game or in virtual reality mode, 3DXChat might just be exactly what you're looking for. Time to meet other naughty folks in the virtual world of 3DXChat! Time to go play right away or check out our full review on 3DXChat.
Play 3DXChat
VR Katherine
VR Katherine is your new girlfriend that you can customize however you like! You live together in a huge mansion that you can explore together. Katherine is fun, creative, and wild, and she'll find multiple ways to surprise you. Besides having fuck fests with Katherine, you can also talk to her, kiss her, cuddle with her - basically, whatever you can do with a real girl, you can do with Katherine. Best part of it all? Katherine loves to please, so she'll make sure she will satisfy all your sexual cravings!
Play VR Katherine ($20)
VrXCity
VRXCity is the very first sex platform ever created, and in this online world, you will find over 700 pornstars that you'll get to fuck with in any wild way you desire.
All you need is your VR set and a good gamepad, and you're good to go! Have fun chasing around these seductive babes in nightclubs, beaches, bars, and other exotic locations. You can customize your own avatar, and you can even create (and record) your own kinky scenes! You can move the models around with your controller, change the camera angles, adjust the sex speed until finally letting your crew cum together.
Play VRXCity ($25)
Real Girl VR
Real Girl VR is an erotic game with constant updates that will keep you coming back for more. Real Girl offers 26 different girls for you to explore, and cool locations for your sexual escapades.
There's not much of a story here, as your only purpose is to fuck the babes however you like. The girls will dance for you, and every sexy scene between you happens from your point of view. The 3D animation is not the best, but it's detailed enough to keep you immersed in the experience.
Play Real Girl VR ($20)

Nympho Trainer VR
If you can't get enough of anime girls and want a waifu of your own, then Nympho Trainer is the perfect choice for you. Although it's called Nympho Trainer, it doesn't particularly explore anything more than a few simple concepts of the BDSM genre. You'll have your own "cat girl", and like with most VR sex games, you'll get to customize her to meet all of your wishes. As the game loads up, you will see your beloved kitten tied up with chains, and you can explore her body. There are multiple scenes where you have an arrangement of sex toys that you can use on the girl, like vibrators, gags, whips, chains, and so on.
There's also a dressing room where you can play with her features. The graphics are not too detailed, and it's obvious that they made the choice to make it feel like you're in an actual cartoon. But on the other hand, for the fans of hentai and anime, this game might just be the perfect fit!
Play Nympho Trainer ($35)
Mandy's Room
Mandy's Room is a very interesting take on VR sex games. You play as a teeny tiny little robot called Mr. Jenkins. Mandy is the girl that adopted you, and of course, she has an insatiable sexual appetite, masturbates almost non-stop, and gives you plenty of attention.
The robot, or you, eventually learns how to read Mandy's mind, and she has nothing but sex in her little horny mind. You can't interact with Mandy, you can only watch what she does. Sometimes she will talk to you, and you can respond by shaking your head or by nodding. Essentially, this game plays like a movie until you decide to buy Mandy a sex robot, after that, you'll be in full control on how she's getting her "fix".
Play Mandy's Room ($12.99)
SexBot (Quality Assurance Simulator)
Save the best for last? That's right! SexBot is a rare gem among VR adult games, simply because it has an actual story. Our beloved Earth was destroyed during a nuclear war, and as a result, there's not a lot of people left on the world.
So, the rest of humanity sets sail to a different world on a high-tech ark. The journey is long and tedious, and many scientists worked for a long time to develop the perfect artificial human able to satisfy their carnal needs. And this is where you come in - your job is to test these robots to ensure that they are not faulty! You have to treat them with respect, because they might act out and harm you and your crewmates. You can also run around the ship and find sex toys that you can try out on your bots (and measure the amount of pleasure, that rhymes).
The 3D graphics are smooth and realistic, and the voice acting was done by an erotic model to keep things as real as possible. Sexbot is the type of game that you'll just need to experience yourself, it's unique, looks amazing and overall, it's just one hell of a sexy experience. And for just a one time fee of only $20, that's 100% all worth it! Sexbot is also LGBTQ-friendly.
Play Sexbot ($20)