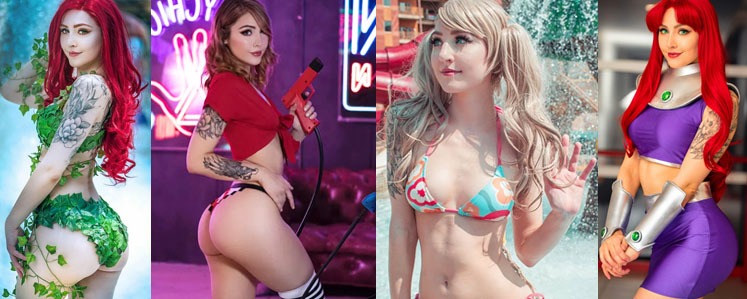 The cute and sexy Instagram cosplay model LuxloCosplay is a must follow (on social media)
Instagram is a truly wonderful place if you're looking to follow the daily adventures of some of the most hottest girls walking around on this planet of ours. Recently, we've stumbled upon a really fascinating and sexy model that goes by the username of LuxloCosplay.
However, her real name is actually Isabel and she is 25 years old. This young stunner is from Toronto, Canada. She is a geek with a passion for cosplay, modeling and especially boudoir photography.
Ready to find out more about this hot cosplayer model? And why you should be following this stunner on her Instagram page right away? In that case, read on!
Who is the sexy cosplayer that goes by the name of LuxloCosplay?
She started doing cosplay back in 2012 after her friends took her to a convention where she fell in love with dressing up in different characters. Isabel is really tall and when she was younger, she didn't have much confidence, as people would tease her because of her height and big eyebrows. Today, she is a successful cosplay model with a lot of confidence who inspires people around the world.
She was always indulged in art and creating. She has a lot of creativity and she sure knows how to implement her ideas. This attractive girl makes most of her costumes herself, along with the wigs, makeup and props. She learned all that after starting to make money by selling her prints. All her income comes from modeling and cosplay shootings.
She started sharing her ideas on Instagram back in 2016, and she quickly gained a lot of followers. That's when her rise to fame (as an Instagram star and cosplayer model) all started.
And well, it wasn't just her creative ideas and cosplaying photos that made her so popular so quick, I mean, have you seen her booty? Damn, that's one hell of an amazing massive juicy ass, if you'd ask me. J-Lo, ear your heart out!
Today, this "cutie with a sweet booty" has around 850K followers on her Instagram account - @LuxloCosplay. As you can see, it has grown in popularity quite a bit over the past few years.

Luxlo loves to cosplay her personal favorite video game characters
She started sharing her ideas on Instagram in 2016 and she quickly gained a lot of followers. Her favorite games are Dark Souls 3, Monster Hunter, Fire Emblem Echoes, Mario World, Donkey Kong and Sekiro. The fact that she's also quite the gamer geek really shows, since Luxlo's cosplays are often inspired by video games.
After watching the cosplay pictures above, don't you agree that this babe makes one hell of a hot (Final Fantasy character) Tifa Lockhart?
Luxlo's movie, anime and cartoon cosplay works
Besides cosplaying as video game characters, Luxlo also cosplays movies, anime and cartoons. Her sexy interpretation of Daphne from Scooby-Doo gathered her a lot of likes and moans. She channeled Daphne in a purple bra and lilac pantyhose.
Her provocative creations go from a half nude sexy maid and pretty Ariel to confident Tifa Lockhart or fiery Helga Hufflepuff.
Isabel is into so many diverse things. She is obsessed with dragons, fairies, goblins, and she likes to play Dungeons and Dragons and all kinds of board games. Her cosplays can vary, so may see her as a sweet Alice in Wonderland, and then she turns into a hot witch with ravens around her or a fiery warrior. There's plenty of her famous comic character cosplays to enjoy on her social media channels as well.
She sure entertains many people with different interests, as her creativity has no boundaries. Her posts are often provocative and tempting, so it isn't strange that she is very popular.
Check the photos above, now tell me LuxloCosplay over here isn't the hottest Officer Jenny (from Pokémon) you've ever seen?
LuxloCosplay [Wiki] and Fun Facts
LuxloCosplay was born in Canada, on January 18, 1995 (real name: Isabel).
The very first character Isabel has ever cosplayed was Marceline from the popular (and now ended) cartoon series - Adventure Time.
Luxlo names the Ghibli movie series, Gankutsuo, Death Note, Ajin, Fate Zero, Parasyte as some of her favorite animes.
Some of Luxlo's favorite movies of all-time include the Studio Ghibli anime films Spirited Away and Howl's Moving Castle, but also both classic Disney films - Hercules & The Lion King.
Isabel's taste in music varies from Blink 182 to ABBA. She also mentions Angels & Airwaves, Bayside and Silverstein as some of her favorite bands of all time.
LuxloCosplay has two tattoos, her first ink inspired by the video game "Monster Hunter" and her second being Maika, the protagonist of the "Monstress" comics.

LuxloCosplay can be found on other social media platforms too
Instagram isn't the only place online where you'll spot this cosplay hottie, as she's also active on other social media. For example, you can find her on Twitter and Facebook, where she also shares her creations.
In case you're hoping to catch this babe naked on your screen, I might have to disappoint you as she doesn't do explicit nude photography, but she is on OnlyFans as well. There, she shares a lot of extra photos you won't be able to find on her other social profiles.
Her profile is free to view, but as she earns her money through Patreon, she gives additional access and benefits for those who help her out there. You may find a lot of behind the scenes, personal selfies and some hot, exclusive photos.
This sexy geek has a great sense for fashion and her photos prove how many skills she really has. Who could ever remain numb to this seductive fairy?
List of all LuxloCosplay's social media accounts
You'll find all of Luxlo Cosplay's social media accounts below. Ready for some fantastic lewd cosplay candids and of course, that fine booty of hers on your screen? Don't miss out, and start following this babe right now.