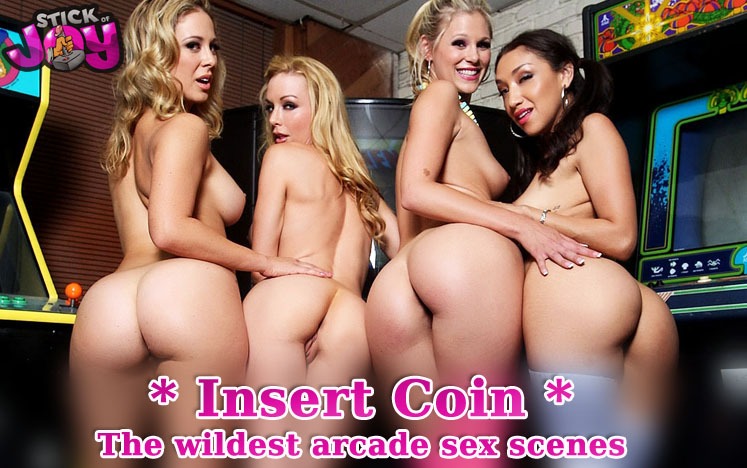 The Wildest Arcade Sex Scenes (Gamer Girl Porn Videos)
If you ever wanted to see something truly special (and arousing) on the internet, I'm willing to share my secret - 18+ naughty girls getting fucked while playing their favorite games. Sounds like a gamer's wet dream to you? I thought so! You've just found the sexiest teen gamer girls you could possibly find on the internet, thanks to our brand new article right here.
We've been digging through hundreds of adult websites just to find those hidden gems among the porn videos that mix the best of both worlds - the joy of good old fashioned arcade gaming and hotties getting banged while simultaneously aiming for a new "high score" playing retro 8-bit videogames.
To be honest, that actually requires quite some skill(s). Think about it, would you be able to reach a new high score at MS Pac-Man or Space Invaders, while at the same time, some wild slut happens to be sucking your white fluids straight out of your hard cock, like some sort of thirsty vampire? I don't think so, bud. It makes the game quite a lot more challenging. Also a lot more interesting.
Sex & Arcade Games? The Best Porn Vids!
The wild and geeky gamer chicks starring in this "top porn video list", sure love to play and control their favorite "joystick". Which one, you'd ask? Both! The hardware, as well as that other one made out of meat, that one which is the usual suspect as soon as orgasms come into play.
Time to smash those buttons, I mean, her nipples... Oh, and forget about Space Invaders for once. Instead, why not invade some horny, tight and soaking wet gamer girl's mushi, down at the arcade hall? Why not fuck her brains out while she's laying on top of an old-school arcade game cabinet, and essentially combining two of the most fun things in life? Sounds like gamer's heaven to me.
Let's find out how much hit-points these gamer girls can take once these lucky guys are all "powered-up"? Without further ado, here are the wildest arcade sex scenes on the internet! Just *insert a coin* to watch, fap and enjoy the full porn video play right on your device of choice. ;)
Three girls are willing to do everything just to play on his retro arcade machine
To give you a sweet taste of these tight 'n petite girl-gamer pussies, here are the BFF's Avery Moon, Evi Rei and their best friend Violet Myers. They will absolutely do everything just to play on his classic "joystick", even if that means they'll have to take care of a man's hard "stick" first.
One day, the trio best friends find out their neighbour owns a real classic 80's Arcade cabinet, filled with classic game titles such as Space Invaders. Exactly the type of arcade games, these three hot gals love to play.
For some reason, their neighbour doesn't seem to be in the mood for any retro videogames, something that becomes obvious from the minute these three sexy ladies came knocking on his door, completely uninvited. So he came up with a test for them instead. Once the slutty trio passes the test, they are allowed to play their hearts out on his retro arcade machine. But as you probably would suspect, their neighbour prefers his games a bit more dirty, instead of retro.
What starts out quite tame, with naughty bits like boobs-flashing fun and lots of girly giggles, quickly goes "next level" by transforming into a full-blown orgy.
What can I say? Sharing is caring, I guess? All hail the stick of joy! And well, that's exactly what these three naughty babes like to do... with their tongues, that is!
Soon after, the three naughty gamer girls in this video, will be taking turns playing and riding that "other joystick" instead. The premium adult site BBFs.com (by the famous Team Skeet adult film studio) proofs once again, that their adult films are always top notch, and somehow, they always seem to be able to discover and cast the cutest porn starlets in the business as well. Kudos!
From giving head to titty-fucking and balls-deep doggystyle pounding against the game cabinet. These girls will do anything to please and satisfy their neighbour as long as they'll get their own few minutes of play time, on his arcade hardware, that is. Damn, that dude is such a lucky "end boss".
Watch full porn video
Balls deep inside this cute & horny pinball player
Spotted a hottie trying to beat her own pinball highscore? Well, that means it's time to make your move... By going balls-deep, inside her, that is! Can you make her shake and go TILT?
When in search of hot gamer girls for candidates to ride and grind your dick, the best place for you to search is some sort of special gaming room (aka a man-cave). Once you'll get there, always look for the pinball machine because all the dirty teen sluts that are pinball-fanatics, usually are also the same types that are always in the mood for playing with a pair of "balls".
That's exactly what Scarlett Mae was trying to do when a lucky guy saw here playfully strutting her ass in tight blue shorts right in front of his eyes (as she continues playing on the pinball cabinet). Scarlett is such a dirty little tease!
This tight gamer teen jerked him off while she still managed to "kill it" during her pinball gameplay. When she finally won the highscore, that magical moment simply just had to be a celebrated with a "victory blowjob", right on the spot! Victory Royale, baby!
Our horny tender flower got on her knees and swallowed his enormous cock, even taking "it" deep down her throat. After his cock was as hard as it gets and all lubricated, this dirty gamer got bent over on top of the pinball machine and "scored" herself those hot and orgasmic pussy-pounding minutes of action, like a true winner deserves.
Watch her getting banged in every position you could imagine a pinball machine could handle! Eventually, the encounter with this steaming hot pinball wizard ends with an explosive creampie, ending with the final camera-shot of jizz dripping from her pussy and a smile of satisfaction appearing on her face as she reached her climax.
Addicted to balls? Go check out the full video and you'll find out how much this babe likes to play with balls...
Watch this porn video

Tiny spinner Vina Sky lets him use his joystick to pound her tight Asian pussy
There has always been sexy gamer girls that are quite skilled at playing videogames, but are likely to reach an even higher score when it comes down to bare-bones fucking on top of their arcade machines. The cream of the crop? Tiny Asian girls are simply the best at both of these things and we have found ourselves some proof! Who knew "evidence" could be so sexy, right?
As Vina Sky was in the middle of her game, she noticed a muscular guy walking in at the Arcade Room. As friendly as Vina is, even though she's being completely topless and all, she invited him to play the game together. Multiplayer is so much more fun compared to single player action, right? He quickly took the petite asian girl on her offer and took things a step further.
To quote (the famous comedian and actor) Will Ferrell - "Boy, that escalated quickly."
The big-dicked guy licked her up and down on the arcade machine and then bent her over the foosball table, completely turning her into his own little playtoy, ragdolling this cutie all across the gaming room. While showing her gratitude for his "pleasure stick", this petite and horny little spinner even likes to show off some of her own tricks by doing a headstand, allowing him to fuck her real deep, for good measure.
When their naughty little 2-player game was finally over, this little cock-craving Asian vixen told her fuck buddy how much she and her pussy enjoyed their naughty games together. But also, immediately demanding a proper rematch, right on the spot! That's exactly why Asian (female) game addicts are the best. Not convinced yet? Go watch this wild porn scene and you'll quickly be convinced as well, mark my words.
Watch this porn video
Roller Girl Gets Banged Roughly In The Arcade Room
There is never enough good gamer girl videos going around on the internet, and that is why we need hot arcade sex like this to ease our pain and bring us to a place of pure joy! This cute blonde girl called Lily Rader was up and ready to have some fun today, and that's why she brought her skates with her to her home arcade.
Skating, gaming and fucking? Sounds like the three perfect ingredients to double the amount of fun she's going to have today.
As often the case with the life of a true gamer girl, as soon as she starts playing her favorite videogames like Space Invaders, starts bending bend over a bit, having her tight ass out and offering the perfect view of her firm booty for perverts and peeping Toms, like we are... There's just always that one horny dude who decides to press the player two button and join in on the fun! But instead of inserting a coin, he has a different goal in mind.
Will he and his Willy reach the top of the leaderboard once again today and "score" all points with this petite stunner on roller blades? One way to found out and that's by watching this epic porn scene by Reality Kings.
Lily wiggled her ass a little and got on her knees swallowing his hard controller whole. And that's just the beginning of this steamy story.
They fucked like crazy and forgot about their "Ass Invaders" game entirely. I guess that means both of them truly enjoyed the wild sex they had! Watching Lily taking it from behind real fast as she starts moaning louder and louder, is just pure eye-candy and a treat to watch. What are you waiting for? Go save the galaxy and invade that ass!
Watch this porn video
Dirty games at the Arcade Hall? Alt-porn model Rizzo Ford is always in the mood for a BBC
Just when you thought that gamer girls can't get any hotter, you will find out some of the sluttiest teen girls skipping school and getting fucked hard while playing their favorite video games right here! This magnificent goth teen gamer girl called Rizzo Ford was one of those naughty girls that skipped school today and the hung arcade manager was telling her that he will be in big trouble if they were seen hanging out there while having to be at school.
The tight petite teen begged him for a coin to finish her game, and when she does she would leave. The BBC manager said he doesn't have enough quarters on him at the moment but instead, he could give her a hard throbbing joystick to play with. The little fuckthing didn't have much choice but too suck and fuck his big dick hard after a nice sloppy blowjob!
Watch this porn video
Stick it in her peach
When in dire need of watching some hot gamer girls gliding and sliding on big cocks while wanting to finish their favorite game in the arcade, we have a special gift just for you. It's in the form of a lovely teen girl called Coralee Summers and the only thing she wants more than to have a high score is to jump on a succulent hard pole and have all her worries be left behind!
Well, this wasn't a hard task for this lovely gamer girl, and with an ass like that it's no wonder that she got the attention of a big-dick stud while waving her tight behind in front of the whole arcade. She wasn't fazed when he put his enormous cock in her hand while she was gaming, and when that didn't mean anything to her the guy had to turn to some special measures and fuck her hard doggystyle to get her attention!
Watch this porn video
Cute videogame-nerd Aria loves to suck dick and play arcade games
In the world of video games there are always gamer girls that want to play just a bit more than they should, and when that happens there is always an arcade or two where they can put their hot teen ass down to get fucked real nice and hard! Guess what? That's exactly what happened to our petite game nerd Aria Lee over here when she turned her focus toward her friend, craving to play some naughty little one on one game, if you know what I mean.
Aria was playing a new game at her friend's home when she suddenly felt a huge urge for a bigger joystick to control. That is why it was perfect timing when her male friend came over and started grabbing her ass while she was still playing on the arcade machine. This made our little teen babe so horny, that she just had to stop playing, get on her knees and after a long period of quality cock-sucking time, eventually getting her brains fucked out by this big dick.
Even after the cum explosion and it was "Game Over" for him, she still wanted to continue the fun they were having while playing! Oh boy, gotta love those kinky gamer girls.
Watch full porn video
Arcade Diddle [Photo Gallery]
We've decided to add in some small, yet extremely hot bonus content for you guys. In the mood for some curves? Here's Akira Raine and her faptastic curvaceous body and even better big bubbly white booty. Akira Raine is about to strip bare naked for you guys in this highly arousing photo set by the popular alt-porn studio - Burning Angel.
Watch full gallery
Free to read Gamer erotica for even more horny adventures at the Arcade
Haven't been reading our 100% free "gamer erotica" web series, right here on StickofJoy.com? You've been missing out, especially if sex at the arcade hall is one of your kinks or wild fantasies. In that case, you'll be loving our exclusive erotica series called The Babe Arcade for sure!
The Babe Arcade follows the story of the wildest arcade hall during the 1980's, the place to be for all the cool kids in town, combining adult entertainment with arcade games. In essence, offering an arcade game hall mixed with a Hooters bar theme. Big boobies and old school videogames? Wohoo, count me in!
And of course, all set in an over the top 80's setting, meaning, prepare yourself for a lot of topless girls on roller blades, evil game cabinets, penis-shaped portals to another dimension, secret desires, girl on girl action, and let's not forget about all the steamy sex involved in the kinky and fun erotica series - The Babe Arcade. With currently 6 chapters published, it's time for you to treat yourself to a nice and naughty little read. ;)