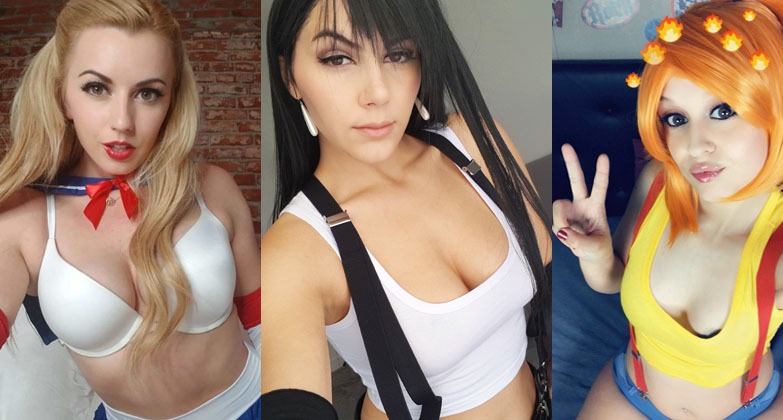 Wild webcam girls that cosplay video game characters (during live sex shows)
From (Street Fighter's) Chun-Li to Fornite, Mortal Kombat and Overwatch characters, you're about to witness your favourite female video game characters live on webcam in a way you've never seen them before! Ready to find out which hot and wild erocosplayers like to do some role-playing of their favourite video game characters during their live sex webcam shows?
Cosplay has been around for ages, and the reason why is simple - people love to show their appreciation for their favorite TV or video game characters. However, some girls take cosplaying up a notch by making it erotic (so called "erocosplayers"), and we're here today to witness their beauty. This list will show you what we believe are the sexiest female cosplayers around today which all love to cosplay popular video game characters. This list contains both amateur models, as well as famous adult film stars.

Time for some kinky cosplay webcam action!
Private Skype video chat with erocosplayer CandyStart
CandyStart is the kind of girl that changes her hair colors faster then you can jerk-off. So, it's always a big surprise to find out what kind of crazy hairstyle she appears with (live) in front of her camera lens this time. The same can be said about her outfits. CandyStart isn't particularly a one trick pony and she likes to shake things up every once and a while. And in return, that makes her cam shows even more exciting since you'll never know what to expect next!
One time she can turn on her webcam for you and you'll get to see and enjoy her while being dressed as Pokémon's very own ginger chick "Misty", while the other day she might be looking all hot and horny while cosplaying D.Va (complete with one of the best Ahegao faces I've ever seen).
Got special wishes for this kinky girl? Don't be shy as CandyStart loves to try everything. You can schedule a private (1 on 1) Skype call with her via the SkyPrivate platform. Go have some kinky fun time with this amazing and extremely naughty erotic cosplayer!
Skype Chat with Candy
Lana Rain as Chun-Li (from Street Fighter) live on webcam
Lana is a perverted 25-year-old that's really into anime and gaming. She's got a beautiful pussy, like literally, as her cat often makes a special appearance during her live videos. Something cat owners will probably all understand. So if you're a cat person you'll probably love Lana straight away! And well, if you love wet pussy, you'll be enjoying Lana over here just as much.
Lana loves to cosplay as popular anime characters, like Asuka from Neon Genesis Evangelion. Sometimes she wears buttplugs with tails, sometimes she cosplays as a maid, and sometimes she likes to pretend that she's a bunny or an adorable kitten.
Besides bunnies and kittens, Lana Rain also enjoys role-playing as her favourite video game babes, including Chun-Li from the classic Street Fighter games. And she does it all while teasing you! And don't worry, she'll take off everything in the end, just to make sure you'll get your "happy ending". Just tip her the right amount of tokens and she will be willing to do almost everything you're craving for.
Watch Lana's Cam Shows

Cosplay babe & cam girl Sabrina Nichole has boobs you'll easily fall in love with
Sabrina Nichole has made a name for herself both as an erocosplayer as well as a so called "cam girl". Guess where she's most famous for? Her gigantic titties. Just look at her mesmerizing 32F cup size breasts on the photos below, I'd bet you'd instantly fall in love with those knockers as well. Hell, thanks to those amazing melons, she even became Playboy's Cyber Girl of the Month (back in April of 2015).
From stripping nude on webcam as Paya (Breath of the Wild) from Zelda to Bowsette from Nintendo's Super Mario franchise, this busty blonde does it all. Hell, you even get to enjoy her cosplaying the geeky Velma character from Scooby Doo. What can I say? After watching Velma like this, you'll never ask for Daphne ever again. Velma's boobies are stealing the show and you sure don't want to miss out on any of it, trust me, those big juicy knockers are priceless!
A small bonus note; you can even watch some clips for free on her Camsoda profile page (or click the button below).
Watch Sabrina's Cam Shows
Aria, the cutest and most naughty gamer girl on Skype
Try not to fall in love with this tiny, cute and naughty gamer girl; Aria. She's the nerdy type that enjoys listening to 80s music, watch anime and enjoys to cosplay classic video game characters such as everyone's favourite Italian plumber, the one and only Nintendo Mascot: Super Mario. But we got to admit, she looks even cuter while wearing her bright yellow Pikachu onesie.
The 23 year old little Aria over here might look ultra cute, but don't let her looks fool you. This anime fan likes to get really dirty when she's on a Skype video chat with you.
From dirty talk to masturbating together, sexy dances, playing with her dildo (and other sex toys) or even some anal fingering and ass play. You can schedule a private Skype call with Aria on the SkyPrivate website. What are you waiting for? Go get down and dirty live on Skype!
Skype Chat with Aria
Who knew the Italian stunner (and pornstar) Valentina Nappi was into erocosplay?
I got to be honest with you, I've wasted quite a large amount of jizz while watching the many porn movies this lovely Italian stunner Valentina Nappi can be seen in. She's just such a natural beauty queen and her tits are simply fantastic. Or should we say; fap-tastic?
However, I never knew she had a thing for video games and cosplay and that she even likes to show her geeky side to the world (as she can even be found playing video games live on Twitch).
And boy, does this busty dark haired pornstar steaming hot while cosplaying either Tifa Lockhart from Final Fantasy or Teknique from Fortnite. Best part of it all? She even likes cosplaying while broadcasting
live on Camsoda
.
Watching Valentina Nappi masturbating, having so much fun while pleasuring her dripping wet pussy with her favourite sex toys while interacting with her fans in the chat, is just pure eye candy to enjoy!
Valentina's Cam Shows
Aurora Cameron's erotic Overwatch themed live webcam streams
Aurora greets us with an image that will stick with you no matter how hard you try to shake it off - her pink and black hair framing a face contorted in pleasure, what's also known as ahegao. The 21-year-old comes from Poland, and her style seems to be simply pink. Everything about her is pink; her clothes, her hair, and even her kinky toys and her collar.
Aurora likes to cosplay all sorts of characters, ranging from a sexy maid to dressing up as an elf, even wearing ear prosthetics to make it look more real. Lately, chances are quite big you'll catch Cameron streaming live on her webcam feed while dressed as D.Va from the popular Overwatch video game. And man, she's rocking that outfit big time! Her tight body seems like a perfect match for her D.Va costume and to be honest, it's quite the turn on.
If you love girls in pastel pink that surprise with their kinkiness, or if you're into cuties that like to dress up as an elf or video game babes like D.Va, then you really can't go wrong with a total cutie like Aurora over here... Go watch her free cam shows right now at Chaturbate!
Watch Aurora's Cam Shows
Petite famous blonde pornstar Lexi Belle cosplaying Super Mario's Bowsette (live on cam)
If you thought the petite and blonde porn starlet Lexi Belle looks hot in one of the many porn flicks she's starring in, wait until you've seen Lexi Belle while soaking wet, live in action in front of her webcam. Especially, during one of her Sailor Moon or Bowsette cosplay cam shows.
But then again, what do you expect with a total hottie like Lexi over here?
If I had to choose between her porn scenes or her cam shows, I'd choose to watch her live in action, without a doubt. I mean, just look at this blonde bomshell, I could simply masturbate to that amazing naked body of hers all day long. Lexi knows exactly how to steal the show, and she keeps on doing so, time after time!
Watch Lexi's Cam Shows

Chloe Keller does sexy Mortal Kombat cosplay on webcam
The Australian born beauty Chloe Keller is no stranger in the world of adult webcamming. In fact, far from it as she even won the "Cam/Gamer Girl of the Year" award at the Cammy Awards once. Being an award-winning cam girl must mean she's quite the talented entertainer during her live streams, right? Well, just watch any of her shows and you'll see why this babe is an award-winning cam girl. She's always killing it!
Besides her regular naughty live shows, Chloe Keller is into cosplay too. What about video game characters, you're probably wondering, right?
Well, how does Sonya Blade from the (infamous and brutal) Mortal Kombat fighting game series sound? Sounds hot to me and of course, a talented chick like Chloe can easily make that work! Watching Chloe Keller as Sonya Blade is like the perfect jerk-off material.
Besides Mortal Kombat, Chloe is known for cosplaying a lot of iconic horror characters, including the killer doll "Chucky", amongst others.
Watch Chloe's Cam Shows
Speaking of Mortal Kombat, this makes the perfect opportunity for a little cheap plug of our own. Have you seen our Mortal Kombat inspired; "Finish Her" and "Finish Him" merchandise already? We've got laptop bags, face masks, stickers, t-shirts, sweaters, buttons, posters, metal prints, pillows and so much more. Go check out our official Stick Of Joy merch at our Redbubble store!

If you've ever played any of the Mortal Kombat games, doesn't matter if you've played the original classic in the arcade halls or on your Nintendo, Sega Megadrive, or modern day gaming console, all titles in the MK-series contain the (in)famous phrase "Finish Him"... But remember, don't forget to "Finish Her" as well. She likes a little action down her panties too, you know. Enjoy our merchandise!

Visit our Merch store