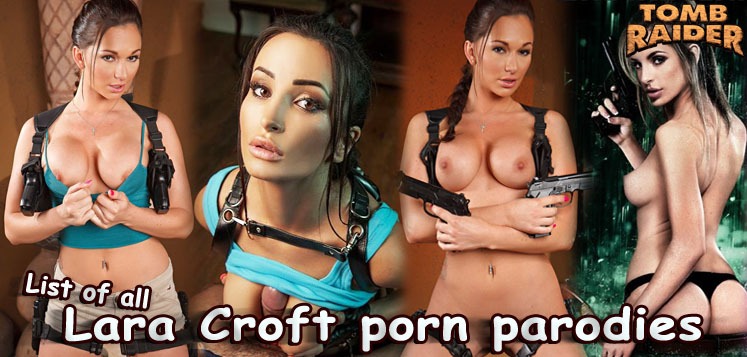 All Lara Croft cosplay porn (Tomb Raider porn parodies)
Forget about Debbie does Dallas, we've got something far more exciting - Lara Croft does porn! Time for some fantastic (video game based) porn parody entertainment starring one of the most iconic video game characters in history, the star of the Tomb Raider-franchise; the busty Lara Croft!
If she isn't on some heroic adventure, Lara still manages to find time to get herself some sexual satisfaction too. Oh, and while writing this article, we noticed that she's a real "pleaser" herself as well. She's as good with shooting her guns as using her hands and mouth to satisfy a hard rod. In other words - a cum-lovin', adventurous lady, she is. A babe with many talents, to say the least. No wonder Lara Croft and the Tomb Raider games became so popular over the years.
The popular and busty video game protagonist Lara Croft is known for being a "tough chick", shooting away with her "big guns", solving puzzles, never avoiding any of her dangerous missions trying to uncover missing old relics. Turns out, even tough chicks need some "love" sometimes, as all the hot content on this list of cosplay and porn parodies based on the Tomb Raider game franchise, proofs just that.
Lara Croft - Video game heroine and sex-symbol
Who didn't play the classic Tomb Raider game which was developed by Core Design (and published by Eidos Interactive) back in the day? from the inception of the first Tomb Raider game back in 1996, Lara Croft was marked as THE heroine of 90's video games, and her status as a busty puzzle solver, adventurous and a tough chick, in combination with the (during that time) amazing looking 3D environment of the first Tomb Raider game was deemed pretty revolutionary.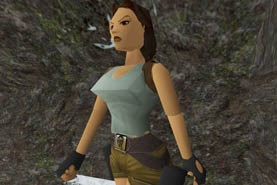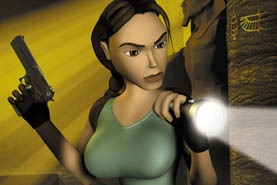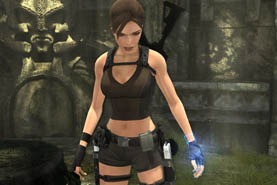 Although "some critics" claimed the depiction of her curves being sexist, complaining why a video game character needed such a big pair of knockers. Well, why not? Considering the vast majority of gamers being male, even more so during the early days of PC-gaming. I think about 99% of the gamers during that era didn't mind Lara Croft's "special looks" at all. Maybe that was even her "selling point" to begin with?
I guess the world wasn't ready for "strong female characters" back then. Funny how times can change, right?
Facts about Lara Croft and the Tomb Raider video game series:
There are 12 official Tomb Raider games released between 1996 and 2018 (not counting expansion packs).
There are also 13 spin-off games starring Lara Croft (such as mobile games, releases for Gameboy Color, GB Advance and more gaming consoles).
There are 3 Tomb Raider motion picture titles (a fourth film currently being in production).
Fifty comic book issues were released from 1999 to 2005, followed by a re-boot comic series in 2014. Lara Croft also made various cameos in other comics.
Six official Tomb Raider novels were released between 2003 and 2018.
It didn't take long for such a character to take off in a blaze of glory, quickly turning into a sex symbol, and with the advanced technology which could depict her more realistically, she has cemented her place in our hearts, especially after the movie release starring the bombshell Hollywood actress Angelina Jolie.
I have to admit, the first Tomb Raider motion picture feature is actually a movie which I quite enjoyed watching, not necessary because of the storyline, but for the most part, all thanks to Angelina Jolie's fantastic juicy boobies bouncing up and down. And well, bouncy hooters are exactly that kind of entertainment which I adore most! And like you would expect from an article featuring Lara Croft, we're about to see plenty of massive boobs today, starting with Angelina Jolie.
Even though the Hollywood star Angelina Jolie looks absolutely amazing (and quite a turn-on) in the role of Lara Croft, especially while wearing her tight swimsuit, sadly though, she doesn't flaunt any skin nor melons in front of the camera-lens, at least not for the Tomb Raider movie.
That being said, there's no reason to feel disappointed, as you can still find plenty of other topless and nude scenes starring the sizzling hot celebrity Angelina Jolie at the largest nude movie scenes and TV series archive on the internet - MrSkin.com, helping you skip right to the "good parts" since 1999.
Are there any Lara Croft & Tomb Raider porn movies?
Does Rule 34 ring any bells? There's a porn of everything, according to the infamous internet rule number 34. Well, I guess that's good news for the fans of Lara Croft!
The popularity and sex-appeal of Lara Croft (as well as the Tomb Raider video games in general) has sprung the character even in animated movies and comic books, everybody was demanding to see more of this spicy female character known as Lara Croft (and her gigantic knockers).
The next step? You've guessed it! It was only a matter of time when she was going to appear in a porn movie. So without further ado, here are the best 7 parodies of Lara Croft to knock your socks off. As a little bonus, we've even includes some nude patches for the Tomb Raider games (so you'll get to play and control Lara Croft while she's stripped down bare naked).
Womb Raider [2013] (by Brazzers)
Destiny Dixon definitely fits nicely into the role of our beloved Lara Croft, I'd bet you can guess which two similarities pornstar Destiny Dixon has compared to Lara Croft. Now that's Oscar-worthy movie casting, if you'd ask me. Destiny Dixon's big and juicy fun-bags are just pure eye-candy.
Opposite of her stars Mick Blue as the evil villain. Or should we say; rock-hard villain, in today's case? The lucky bastard manages to snatch the relic moments before Lara arrives, and gets to harness all the powers just by holding it, and that's just the start of this wild and "wet" adventure because that sure ain't the only "relic" he gets to investigate balls-deep.
The majority of the magical powers unleashed by this mysterious relic gets streamlined straight into his dick, which grew so firm that it probes his pants. Lara gasps, confused by the sheer size of that friendly-looking humongous "thing", and suddenly forgets all about her mission, she's got only one thing on her mind and completely laser-focused on his cock. Destiny Dixon (or Lara Croft) can no longer resist herself as she's craving for a good taste of hid hard rod. Soon after, she starts blowing it in full force.
You can bet her soaking wet pussy got smashed real hard too, and boy, you can tell by that horny look on her face that she is enjoying every second of his dick pounding her pussy. Like every other quality movie, it all ends with a real happy ending. All over her face, that is. Oh, you dirty Lara!
Time to check out this Womb Raider adult parody film by the famous premium porn website - Brazzers.
Watch at Brazzers

Cara Loft - Cock Raider [2018] (by Xvirtual)
How to make watching porn flicks even more exciting? By watching kinky adult films using your VR Headgear (or even your own smart-phone). That's right, we sure didn't forgot about you virtual reality porn fans out there! Lara Croft, *cough* excuse me, I mean; Cara Loft (played by Ornella Morgan) fucking and sucking in VR? Sounds fine by me!
What happens when Lara gets soaking wet during a raid? She points her iconic dual-wielding guns at you and takes control of that dick, which is the most sacred of artifacts. The immersive VR technology will put you in a position of a guy, who is helplessly laying on his back, while Lara takes the matters into her hands.
Or rather, her mouth, she kneels, starts blowing the meaty cock, while her signature couple of locks of hair tickle his six-pack. She has even got her knees all dirty, but who cares, it's time she hops on that prick and takes a bumpy ride.
Watch at SexLikeReal
Mummy Raider [2002] (by Seduction Cinema)
If you are familiar with the erotic B-movies (late-night cable television productions) by Seduction Cinema, you'll know what to expect; a cheesy storyline, awful acting and a lot of topless boobies, and of course, Seduction Cinema's biggest star Misty Mundae has joined the cast once again for this erotic hybrid between "The Mummy" and "Tomb Raider".
Thanks to her all natural (girl next door) looks and her many roles in the sexy low-budget flicks by Seduction Cinema, Misty Mundae managed to grow a lot of sausages quite the cult fan-following during the early 2000s. While the erotic films by Seduction Cinema are as cheesy as it gets, I do have to admit though, they are also pretty charming for some strange reason.
Feel like watching Misty Mundae waving around her guns while flaunting her cute small breasts? Here's your chance, thanks to the 2002 film - Mummy Raider.
Want to learn more about Misty Mundae or Seduction Cinema, here's a more in-depth article covering the softcore parodies by Seduction Cinema, from Planet of the Play-Mates to Bikini Girls on Dinosaur Planet or Spider-Babe. It's about to get real campy, folks! Just wanna skip right to the "good parts", watch all the nude scenes starring Misty Mundae at MrSkin.com.
Watch at HotMovies.com

Poon Raider [2018] (by Digital Playground)
Digital Playground studios don't mess around, except when it's required. This parody is quite well crafted, starting with a strong backstory involving the death of Lara's father, her return to the Croft Manor, some shooting (With real guns, the skin pistols get whipped out a bit later), and finally her evil stepmom. Well, evil? More like pussy-addicted stepmom (played by the boner-inducing babe; Tina Kate).
Lara will have to fuck her way through the Manor after being kidnapped in order to destroy the stolen artifact, involving nasty threesome scenes, kinky bathtub action with the stepmom, and a hell of a lot more.
It gets even better! Porn starlet Kimmy Granger is taking on the role of Lara Croft, you simply can't go wrong with a sizzling hot babe like Ms Granger. Prefer a bit more of an exotic type? Lucky you, as the cute Asian pornstar Rina Ellis is starring in Poon Raider as well. And let's not forget about the highly arousing porn starlet Tina Kay.
From straight scenes to threesomes and plenty of lesbian fun. It's all included in the 2018 porn parody - Poon Raider, by Digital Playground. Ready for some action?
Watch at DP
Tomb Raider A XXX Parody [2018] (by VrCosplayX)
Being a game character has its perks, but our Lara has got tired of running, jumping, and hunting for artifacts. She will break the third wall and interact with you, the one playing the game, and make you drop that controller so she can have some fun.
Look at that, Lara Croft finally has found the greatest artifact of all time, and it's the one she's been craving for the most. This Lara (played by the gorgeous stunner Alyssia Kent) sure has a hunger that needs to be sated, and she will do it all to satisfy her own desires and urges. From a blowjob, titjob, to riding your cock, and even going for the doggystyle.
While the VR makes for a realistic experience, the loud moans she releases and her amazing natural beauty, really top it off. And ok, fair is fair, the fact she has such an amazing pair makes this VR porn parody even more of a treat to watch.
Cosplay VR porn as it should be, a must watch for fans of adult films in VR (or fans of our beloved video game character - Lara Croft herself, of course).
Watch at SexLikeReal
Lara Croft as stripper (by iStripper)
Like the concept or idea of strippers dancing around on your computer screen while going through your daily routine of boring tasks on your PC. Sounds fun, right? Here's your chance to watch Lara Croft reveal her amazing rack, thanks to the iStripper software for Windows PC.
Considering all the mediums Lara Croft appears in, it isn't surprising at all that she shows up as a piece of software. Now you can work from home and have her welcome you on your desktop, appearing as a stripper right above the taskbar.
The honour goes to the busty (Czech) adult model Lucy Li taking on the role of the stripper alter-ego of Lara Croft, complete with wearing the well-known outfit, braider hair, the guns and sexy shorts, all while teasing you with those massive jugs of Lucy Li.
You will see her strip every bit of equipment, leaving only the boots on while fondling the tits and kneeling to highlight her tight bunghole and pussy. Now that's arousing! God bless those DD's...
Curious about various other striptease shows based on video game characters which you'll get to watch by installing iStripper onto your PC? Here's a list of all video game cosplay stripper shows.
Get iStripper (PC) free
Lara Croft and her redhead BFF in a lesbian strapon adventure [2016] (by VirtualRealPassion)
Being an archaeologist and all, it should be obvious that Lara Croft always loves to explore new and unknown territories, even if that includes sliding into a dark and wet cave... with her tongue.
What starts off with just a passionate kiss between Lara Croft (pornstar Onix Babe) and her hot redhead BFF (Amarna Miller), quickly escalated into a wild and especially wet adventure which involved a lot of pussy eating and even some kinky fun with a strapon. In the mood for more virtual reality porn and prefer girl on girl sex scenes? This one's for you!
Watch at SexLikeReal

Tomb Raider XXX [2012] (by Exquisite Films)
Tomb Raider XXX from 2012, one of the earliest adult parodies on this list, but still quite a steamy parody we'd enjoyed to watch (and fap to). Then again, what did you expect from this all-star cast; Chanel Preston, Kagney Linn Karter, Dani Daniels, Nicole Aniston, Gracie Glam, Lea Lexis, Evan Stone, Danny Mountain, Lee Stone, Anthony Rosano, Derrick Pierce.
Another longer story that could easily fit into the meta storyline with all the dialogue, action, and characters included. This one starts with our heroine making a deal with a sexy guy for a large sum of money, Lara Croft sure likes her money, but she will seal the deal the traditional way, by getting her pussy plowed. It turns out he wanted not only to fuck her, but to fuck her over, which ends in a gunfight, and Lara easily wins it but ends up in a prison cell.
Luckily, her horny friend is there to tame the guards, while Lara makes the run for it. Exhausted, she passes out in the desert, but gets saved by two mysterious babes, and brought back to their sanctuary. They even invigorate Lara back on her feet with their pussy juice, before she heads off to fight the final boss.
Watch at HotMovies.com
Lara Croft naked in the Tomb Raider games? (Nude Mods)
Not really in the mood for watching adult parody films or cosplay porn scenes? Rather feel like playing some naughty video games instead? While we couldn't find a decent porn game based on Tomb Raider, there is still an option left for you to enjoy a bare naked Lara Croft on your computer screen. How? By installing a nude mod for your personal favorite game in the Tomb Raider series. Let's face it, watching Lara from behind while she's jumping and climbing up without wearing any clothing, sure makes these games a lot more "interesting".
You can download nude skins for Lara (for all the titles in the Tomb Raider series, including the originals) from a German website called ChrissyX.com, and the best part of it all? Lara Croft's nude patches can be downloaded completely free of charge.
Tomb Raider Nude Mods
Summary
Even after 25 years, we still can't get enough of our beloved and busty adventurer! Ever since her (pixelated) triangle tits days, Lara Croft was in our minds, and she continues to be a wet dream with each new rendition. You will love these depictions because they keep the spirit of the original, with an erotic twist, the kind of Lara we didn't have the pleasure of seeing so far.
Now we can watch her do all the nasty stuff, no need to imagine it, especially if you've got a VR set to enjoy it all up close, and experience Lara riding your dick like a nasty little minx.
One last bonus? Ok, here we go! Time to check out some spicy Lara Croft cosplay, shall we?
Meet the sexy and curvy fitness and cosplay model Ashley Nocera. As you can see, Ashley makes quite a sizzling hot Lara Croft during one of her many cosplay photoshoots. Be sure to check out her Instagram profile for more lewd cosplay photo series. This babe is real goddess as soon as she shows off her sweet curvy body and bubbly booty.

Thank you Instagram for providing us with daily lewds, and thank you Lara Croft for entertaining us for over 25 years now... You go, girl!