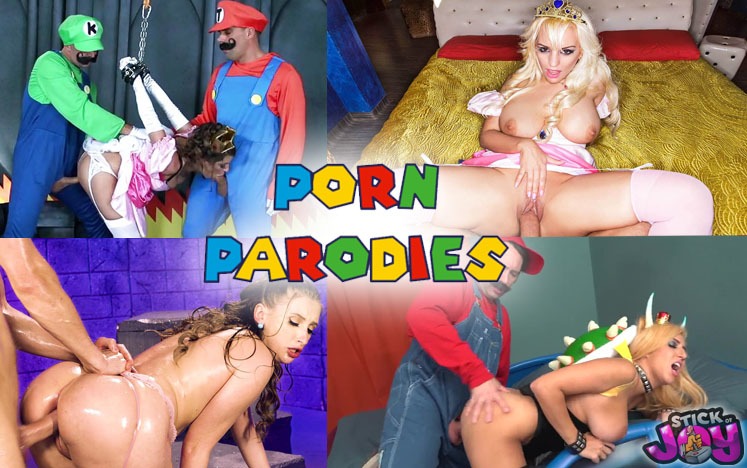 All porn parodies and cosplay sex scenes starring Super Mario characters
There's not a single person alive that hasn't heard of Super Mario Bros, the adventures of two plumber brothers, and the rest of their crew - the Toads, Bowser, Princess Peach and all the rest! Well, it turns out that our beloved 8bit video game brothers, as well as their friends have been having some pretty crazy (and horny) adventures lately.
That also includes all the immense popular characters from the Nintendo-universe which we've gotten introduced to later on. Think of characters such as Bowsette.
In today's article we will show you every porn parody and erotic cosplay scenes based on the popular Super Mario franchise. We must warn you though, your dick is about to level up (in size, that is).
Before we dive right into today's list and uncover all the dirty secrets that happened at Mushroom Kingdom, let's have a quick look at the masterminds behind the two famous plumber brothers, the Japanese video game console developers - the one and only; Nintendo!
Not so family-friendly entertainment by Nintendo?
Everybody probably knows that the Nintendo brand is all about producing family-friendly entertainment, meaning, all the games released on any of the gaming consoles by Nintendo need to go through a review process first. If the game contains any nudity, or simply too much violence, chances are highly likely that "they" simply won't allow that game to be released on any of their hardware.
So it's pretty obvious that Nintendo didn't endorse any of the porn parody films or adult cosplay works we're about to mention on this list.
Nintendo really hates to see these naughty versions based on their own trademarked franchise, and that's quite an understatement! Just look at the most recent example, in which a (free to play) adult Super Mario parody fan game got a DMCA takedown claim from our friends over at Japan.
This naughty little fan game by developer Ivan Aedler, which is called Peach's Untold Tale, is a hentai-style adult game starring all of our favorite buddies from Mushroom Kingdom in a way we've never got to "play" with them before. The game was available for free on the Github website since 2012, however, that page and all the download links have been taken offline ever since the DMCA claim was made by Nintendo.
Enough about Nintendo and its hatred against boobs and nudity... Are you guys ready to dig down deep into some dirty old "pipes", to unravel all the dirty and juicy secrets that lay underneath the surface of Mushroom Kingdom?
1. The Princess's Peach: A XXX Parody (2017) by Brazzers
In this hardcore parody, the focus is all on Princess Peach and well... her juicy peach! In this fantastic production by the famous Brazzers studio, the Princess is portrayed by Harley Jade. Great news for the fans of big boobs and big asses because Harley Jade delivers on both.
Mario rescues Peach from the castle, finally, and Peach has to find a way to reward his valiant effort. And what's the best way to make a man happy? Give him all of your holes so he can do whatever he wants with you!
The princess bends over and shows Mario her titillating big ass - she jiggles it, she spreads it, she bounces, she does everything right to make Mario as happy as a clam. Finally, she slides down the top of her dress to reveal her tits, and she removes her panties to continue teasing even more.
While doing "research" and first discovered the title of this porn parody, I was a bit afraid that I was going to get "Rickrolled" with some message telling me that "the Princess would be in another castle". Luckily, that's not the case here and we've got to enjoy and watch the more dirty hidden side of Princess Peach's personality for once.
As this adult film further progresses, our beloved Princess then gives the lucky plumber Mario a handjob, a blowjob, and spends the rest of that faithful day taking it up the ass, over and over again. Props to porn starlet Harley Jade (in the role of Peach) for being such an anal lovin' freak.
Watch at Brazzers

2. The Bowsette Porn Parody (2018) by WoodRocket
Bowsette is just a gender-swapped Bowser, but her version is much hotter and much more open to devious adventures! Pornstar April O'Neil took it upon herself to do her best impression of Bowsette, and she did an excellent job. In this wonderful parody, the whole crew is there to entertain each other, just like with pretty much all of the fun, yet sexy, WoodRocket porn parodies.
The movie begins with Bowser and Mario discussing who Princess Peach will fuck. Once she appears, however, she chooses neither of them and goes with Toad! Mario then rants about how his sex life is bland and boring, despite his numerous abilities and his job. He then gets the brilliant idea to put the gender-swapping crown on Bowser, turning him into Bowsette.
Mario drinks a Super Mario Boner Pill in the shape of the iconic invincibility star and takes Bowsette onto a Mario Kart where his sex life turns out to be anything but boring! Mario's lesser popular brother Luigi doesn't "score" any pussy in this porn flick. Man, it must really suck to be Luigi as nobody ever wants to "play" with him. Good news is, like many of the porn movies produced by WoodRocket, The Bowsette Porn Parody can be watched entirely for free at Pornhub, so why not give it a shot, right?
Watch at Pornhub (Free)
In case you've got somehow intrigued by the lovely adult film actress April O' Neil or these WoodRocket productions, be sure to check out some of their other fun and ridiculously wild parody films. These guys can literally turn anything into a porn. And yes, that includes other video game "adaptations" such as Fortnite, and even porn versions of classic Disney films.
Moving on to the next title on this kinky list of "alternative" Super Mario movies. Think you can handle another horny Bowsette? There's plenty more to cum since she's actually quite the cock-addict!
3. Bowsette A XXX Parody [VR] (2020) by VRCosplayX
This brilliant VR parody can be found on SexLifeReal.com, so grab your best VR equipment and get ready to have your mind blown! Of course, Bowsette is the main attraction again, and this time she's portrayed by the deliciously curvy Angel Wicky. This one's not a parody per se, because there aren't that many hilarious scenes and instead, is more of a cosplay focused Bowsette porn video (in VR, that is).
But damn, this kinky version of Bowsette sure knows how to tease and please a man. Just watch this VR point of view porn scene yourself, and you'll find out exactly what I mean.
She begins by dropping down on her knees and sucking your cock. After that, miss Bowsette turns around and shows you her glorious ass and the silly little turtle shell as she bounces on your cock.
No VR scene would be complete without a close-shot of some pussy playing, and you'll get to see Bowsette spread her legs open and run her fingers all over her pink lips. Bowsette has more tricks up her sleeves, so be sure to check this out!
Watch at SexLikeReal
4. Princess Peach's Royal Cream [VR] (2020) by VRFanService
For the fans of virtual reality porn that were already disappointed that their favorite 8bit video game Princess hadn't appeared in any spicy VR scene yet so far, well, thank you for being patient but you really don't have to worry here because now, it's your turn to get your kicks off!
LumLuxx does an amazing job of making all of our fantasies come true - what does Princess Peach do to get herself off? In this amazing VR scene, you'll get to see Peach ride the waves of pleasure until she cums. Princess Peach has a petite body, and she is strapped to her bed, begging for help. Once she is free, she starts stripping naked and grabs the biggest dildo from her array of toys.
Her tiny hole couldn't possibly stretch that much, but the Princess is magical, and she works it in. However, she deepthroats the massive dildo before that, and her struggles only make the scene hotter. Peach lays on her back and pushes the dildo inside, and after that, you get a better view of the action as she kneels and rides the dildo with her amazing ass up in the air.
Watch at SexLikeReal

5. The Parodies 4: Laying Pipes With The Bros (2014)
The naughty producers at Brazzers sure seem to be fans of the classic Nintendo franchise as they didn't just decide to create one Mario porn parody, but they even produced two. This is the one that started it all, the 2014 release - The Parodies 4: Laying Pipes With The Bros.
If you were still sad about that poor brother of Mario, don't be, because finally the day has arrived in which even Luigi get lucky. Or even better, both "Bros" get to share some fine piece of meat. Sharing is caring, and these brothers understand that completely. Such a role models, aren't they?
This movie is just one of the many featured in this wonderful porn parody compilation. Princess Peach is the main star here, portrayed by Brooklyn Chase, a true fan-favorite in the adult film industry.
Peach shares some very interesting moments with the brothers, and they have a threesome so no one feels left out. The princess deliberately gets herself in curious situations so Bowser can kidnap her and have some intense fuck sessions with her. But she doesn't get to enjoy it for long this time, as Mario and Luigi arrive to save the day.
Once the bros find her trapped in the castle, she tells them to forget about their quest - she's got a much better idea of what they can do instead of running around like headless chickens. Both Luigi and Mario get to ride Peach, and they don't have to wait for their turn!
Watch at Brazzers
6. Super Mario Cum [VR] (2017) by VRCosplayX
I admit, while not being the greatest or most funny spoof title, however, "Super Mario Cum" from 2017 will still satisfy most, if not all, fans of adult VR cosplay entertainment.
Pornstar Blondie Fesser is Princess Peach in this seductive VR porn parody of Super Mario. This time, Princess Peach was blessed with a spectacular pair of big tits, and of course, thanks to VR, you'll get to enjoy and see those huge and juicy royal knockers all up close. Now I don't know about you, but I don't often get to watch and jerk off to Princess boobs of this size... Yummy!
The Princess is very happy to see Mario, and she shows him her peach and just how juicy it is. She rubs her fingers all over and teases him, but he has different ideas and shows her his thick, throbbing cock. The Princess knows her way around cocks, sucking like she was born to do it. One thing leads to another, and suddenly Peach is on her back, her tits bouncing in rhythm with his thrusting.
Mario wants a ride between her tits though, and that's exactly what he gets. Peach then climbs on top of him and rides him while her big boobs smother his face. Her tits are too much for him to handle, and he gives Peach a beautiful pearl necklace as a reward.
Watch at SexLikeReal

Lexi Belle does Bowsette while streaming live on webcam
Tadááá! There's a sweet and sexy bonus for you guys. So far we've only mentioned all the adult films, but what about live webcam streams? Turns out, there are plenty of pornstars that like to cosplay video game characters on webcam, one of them being; Lexi Belle, who is both a pornstar and a popular cam model. Quite the entertainer, indeed!
And surprise, surprise... She also likes to put a shell on her back and get dirty with her fans in the chat, all while dressed up like Bowsette. Go watch any of her steaming hot webcam shows or re-watch some of her previous ones at Camsoda.
Watch Lexi's Cam Shows
Gotta catch 'em all
So far, so good. Let's see if we encountered all of our beloved Super Mario video game characters in all the adult films mentioned in this article. Ok, here we go:
Mario & Luigi
Princess Peach
Toad (in non-fucking action)
Bowser & Bowsette
Yup, looks like we've got them all, right there. Oh shit! Wait.... I think we've forgot one character though! I mean...
What about Yoshi? How did we forget about poor little Yoshi?
Yoshi, you know, that cute green buddy of Mario! Sadly, he doesn't get his share in on any of the naughty fun. Damnit, even freaking Toad got laid! Oh well... Maybe one day you'll get lucky with the ladies too, Yoshi. Just maybe.
Or maybe we'll just have to provide a "helping hand" and be the ones to make that phone call to either Brazzers or the folks at Wood Rocket and ask them to come and help our buddy out? A fundraiser, perhaps? Desperate times call for desperate measures, right? Justice for Yoshi, that's the only thing that matters!
Time to make Yoshi famous!