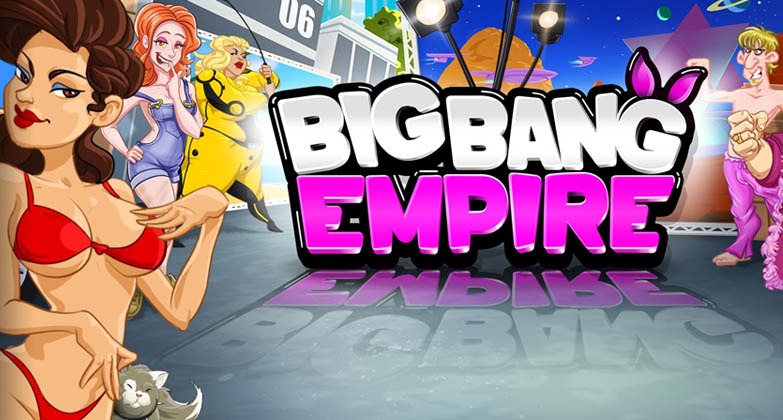 Big Bang Empire - Banging your way to the top of the adult film industry (Adult Game Review)
Have you ever wanted to find out just how fun and exciting the life of a pornstar truly is? Of course, you have. No reason to deny it, I mean, haven't we all at least once thought to ourselves, how awesome would it be to be continuously surrounded with gorgeous, naked ladies while going down and dirty in unimaginable ways?
Well, Big Bang Empire allows its players to do just that. How about that?
Inspired by The Sexy Empire?
The combination of strategical resource management and sex simulation makes this title a joy to play. You finally have an opportunity to see the glamorous life of a pornstar behind a curtain. Hell, you'd might even learn a thing or two about the adult film industry.
Not only that, but you'll actively participate, make choices, interact with some of the hottest cartoon chicks you've ever seen and, naturally, go wild with them.
For those that are closely following our website, and have been reading our recent article on the history of the Lula video game franchise, chances are big you're probably thinking exactly the same. This all sounds a bit too familiar. Those game mechanics actually sound a lot like the classic retro erotic game "Lula: The Sexy Empire" from 1997.
I'd think it's almost impossible to deny that the developers (European Games Group AG) of Big Bang Empire didn't somehow were inspired by this 90s Lula game, in which the player also has the task the "dirty job" to build and grow his own little adult business, find new models, record porn flicks, and makes as much profit as possible in the exciting world of adult entertainment.
While the developers most likely got inspired by The Sexy Empire, in comparison, Big Bang Empire is a gigantic improvement in every single aspect.
Big Bang Empire can be played on multiple devices
The fun with this game starts right off the bat. The moment you finish a quick and free sign up procedure, you're off to the races. The game begins immediately loading right there in your browser. There's no need to download any resources or keep anything on your PC. Any time you want to play it, you can just go back to the site and continue where you've left off.
Download the free Android app
And that's not even the best part. Apart from being a browser-friendly game, the site also allows you to download an app (APK file) directly to your Android phone or tablet.
In case you're wondering why you can't seem to find Big Bang Empire in the Google Play store? Well, that's because of all the "ass and titties", which goes against their "no-nudity policy". So instead, simply grab the Android App directly from the official Nutaku website.
Oh and by the way, did I forgot to mention the game is even completely free to play?
Might be an odd choice, considering the game being a browser based game, but somehow Big Bang Empire did got its own official German release on CD-ROM for Windows PC, back in 2014.
Perhaps a nice collectors item for the die-hard fan or those who rather collect physical discs of adult video games. Noticed a few copies for sale on Ebay, for those interested.

Easy to learn and extremely fun to explore
The first thing you get to do when the game loads is to create your avatar. Comparable to many other, much larger, and more expensive video game titles, you're presented with a ton of customization options.
For starters, you can choose between being a guy or a girl. Naturally, the majority of players opt for being a girl. A good thing to note is that you'll continue interacting with other chicks regardless of the sex of your character.
And as for fine-tuning that character's appearance, you can spend as much time on it as you want. From face-shapes, hairdos, hair colors, eyes and nose, to skin color, tattoos, and accessories, you can genuinely create an avatar that will leave you breathless.
After completing that mini-game, you're off experience the real deal. You're immediately greeted by a striking brunette wearing the sexiest outfit. She's here to introduce the main character to the game and act as a guide down the road. Through a short but practical tutorial, the luscious brunette explains everything necessary to play the game properly.
Simple gameplay quickly evolves into something much more as the player starts managing cash, diamonds, and energy.
The gameplay revolves around completing time and skill missions, which grant you more resources and skill points. Those can then be used to improve your character, buy different, erotic outfits, accessories, or sex toys, shoot films, stream online, create your studio, and so much more.
Even though the initial release of the game was back in 2014, four years later, the first ever Big Bang Empire server went online, finally adding multiplayer support to the game as well.
You can battle other players, add friends, send messages, complete missions together, and so on.
Mesmerizing graphics complement captivating gameplay
When it comes to porn games, regardless of how good playing it feels, graphics are still one of the most important factors. After all, you want those horny babes to look good when dicked down.
Grow your dirty business and get rewarded with nudity
Fortunately, Big Bang Empire has it all. With its unique, both hentai (screenshot below) and cartoonish approach to design (screenshot above), the developers team have created quite an unique little masterpiece.
Every change you make on your avatar completely revamps its appearance. There's a ton of kinky clothing to try on, and each girl you meet is hotter than the next.
Also, by progressing the game, the player gradually unlocks high-quality hentai artwork featuring the steamiest and naughtiest action there is. That gives yet another incentive to progress further.
Another nifty thing regarding the visual appearance of the game is that everything is light on your PC, and the game is fast to load. Once the initial loading finishes, there will be no interruptions.
Looking to play a fun, addictive and naughty simulator game aimed at adults? Big Bang Empire is like that perfect game for when you're in a mellow mood. No hardcore gaming skills are required at all, making it a perfect match for casual gamers too. Just sit back, relax, start playing and enjoy your "naked rewards". Let's find out how big your dick your adult business can grow, shall we?
Big Bang Empire's large online community and fan base
Solo is fine and all but it gets so much better as soon as you'll start playing online with others. It increases the fun by having some good (and hot) times with strangers that also like to enjoy themselves by playing "spicy games" like these.
Big Bang Empire is the type of game that's highly appealing to a wide audience of mostly casual gamers, both male and female. In terms of numbers, the game has quite a large fan base of current active players. There are even plenty of wiki pages and message boards, all fully dedicated to the Big Bang Empire game. On these message boards, active players and fans are discussing recent updates, patches, as well as new missions or upgrades.
And don't get me started about cheaters... If there's one thing these loyal fans really can't stand, it's cheaters!
I just love to see how dedicated the community of Big Bang Empire actually is, something you'll notice right away by browsing through their forums and fan websites. Even a few years after the game got its official release, the fans are all still there, and very much actively playing.
It's not just a bunch people playing solo, it's a real community, something a lot of people probably wouldn't necessarily suspect of an "erotic adult game", in the first place.
Having such a large and loyal fan club, actually says a lot about the game itself as well. For example, that it's extremely well made and might even get you hooked (just like them) for the following years to "cum".
Ready to play this adult business sim game?
Big Bang Empire is free to play on all devices. Sure, there are some ways to spend real cash in-game, but it's all completely optional, and in the end, I just can't think of any reason why you shouldn't give this game a try.
I think it's safe to say that Big Bang Empire is the best and most entertaining "adult business simulator" game we've seen so far.
Ready to become the biggest rising star in the porn business? Try your luck with Big Bang Empire, either on mobile or desktop PC.
Play Big Bang Empire