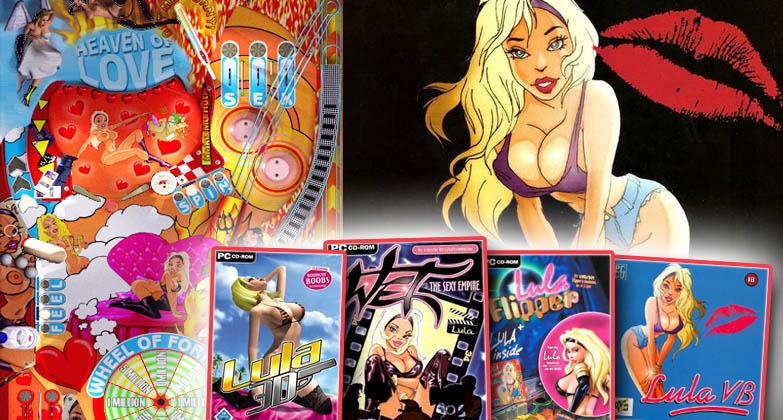 The history of Lula - The erotic video games franchise
Who doesn't remember the spicy video game character Lula? The iconic busty blonde Barbie Doll Lula was beloved by many adult gamers in Europe during the 90's, and not quite so popular in the United States, even causing some controversy (and we'll get to that in a second).
Alongside other female game characters like Lara Croft from the popular Tomb Raider series, Lula was also one of those so called "sexy video game babes" that saw the light of day, during the 90's.
While Lara Croft might have more mainstream fame and is most likely to be far more known in the US, Lula however, seems to have gained more of a "cult classic" status, especially in Europe.
Lula gained such a dedicated cult following, that even a few die hard Lula-fans tried to port the soure code of the original Lula video game over to retro game consoles such as the Atari ST. Don't shoot the messenger, but it appears they weren't able to successfully "finish the job".
Table of Contents
In this article, we'll be covering all the erotic video games in the Lula series, as well as two knock-off pinball games (from Belgium) based on Lula Pinball:
Lula: The Sexy Empire (aka Wet: The Sexy Empire, 1997)
Lula Inside (aka Lula Virtual Babe, 1998)
Wet Attack: The Empire Cums Back (1999)
Lula Pinball (aka Lula Flipper, 1999)
Passion Pinball 1 & 2 (Dutch Lula Pinball knock-offs)
Lula 3D (2005)
Lula's Wet Pack - Collection (2001)
Lula Strip Poker
Lula Online (2005)
So what's all the fuss about this Lula character?
The Lula character herself was the brainchild of German illustrator Carsten Wieland.
Lula is known for her big pair of knockers, long blonde curly hair, bright blue eyes and always showing off as much cleavage as possible by either wearing some sexy lingerie or a bikini. Or even better, in case the player is "good enough", Lula even likes to reward you by slowly and sensually stripping out off her clothes.
I almost forgot about Lula's gigantic big bubble butt, a sweet big round booty that would even make pornstar Alexis Texas jealous. Yup, she's not only has some big juicy melons, she's also quite the virtual PAWG!
Lula deemed to be too hot for the United States?
Back in the 90's, the people weren't really ready yet for these naughty type of video games, at least not in the US. Because of the sexual and erotic themes of the Lula video game series, the state of California even banned the Lula games from being distributed.
Somehow back in the day, edgy TV show such as the Jerry Springer Show or MTV's Jackass we're all fine, but a bunch of cartoon titties apparently were deemed to be too obscene for the American citizens.
Europe Loves Lula (and her video games)
In Europe on the other hand, of course "we" (like the bunch of perverts we are) were totally ready for this digital blonde bomshell, as we sure enjoyed playing those games! Nostalgia, indeed (even though some of the Lula games didn't quite age that well).
Still remember all seven of these classic adult titles? Let's start our journey into the world of Lula, for that, we must go back to the year 1997, the day Lula got introduced to the world. Let's have a look at the naughty Lula (aka Wet) video game franchise, shall we?

Lula: The Sexy Empire (1997)
Ready to start your own porn empire? Ready to learn and develop all the skills necessary to get to the top of the adult film industry? Time to start and grow your penis your own sexy empire... Lights, camera, action!
Meet "Lula: The Sexy Empire", the PC game that started the entire franchise. Developed by Interactive Strip and published by Take-Two Interactive. For unknown reasons, the game was also released as "Wet: The Sexy Empire".
Oh and by the way, it weren't just the PC gamers that got lucky with some cartoon smut on their computer screen this time, as the game also got released for Amiga OS (in Europe) on the first of January, back in 1998.
If you were born after the 80's, you'll probably have no clue what the hell Amiga OS is. Well, it's pretty much is an old school alternative operating system and used to be a competitor to Microsoft Windows, while running on its own hardware.
The Amiga version of the game was released by the company; Fun Time Worlds.
Rise to the top of the adult film industry (business simulator game)
The first Lula game is an adult business simulator, think of it as classics such Theme Park World, Roller Coaster Tycoon and Sim City, only this time you'll get to build your own multimillion-dollar business in the sex industry. That sounds quite a bit more exciting now, doesn't it?
Lula is loved for her comic style drawings
The game really has its charm, mostly because of all the comic style drawings and animations starring sexy babes such as Lula herself. The game also features plenty of sleazy little jokes. As far as comedy and bad jokes goes, this game offers plenty. That is, if you got a bad taste like me and find diarrhea jokes to be amusing.
Not everyone can handle bad fart jokes...
While doing research, I even stumbled upon some reviews from game critics that more recently played the game, and of course, these snowflake-types just had to complain about things like; "the game being smut for the sake of being smut" and "how bad it is to receive sex as an award".
Chill folks, it's just a cartoonish video game that doesn't take itself seriously and well, neither should you! When modern day video game critics write stuff like that and take the entire game way too seriously, you'll know it's probably a game worth checking out haha.
What about the gameplay of this adult simulator game?
Besides the fun visuals, the first Lula game also offers some decent gameplay (even though you can't really lose within the game). Could've been better but it's decent, and should keep you entertained for at least a couple of hours.
As the game starts, the main character (you, the player) is a criminal with barely any money, which also happens to be on the FBI most wanted list. How are you going to survive from there on out? By making lots of cash, of course! Best way to do so? You've guessed it... Shoot a bunch of porn flicks!
Work your way to the top of the adult film industry
Just like when working at McDonalds, you'll need to start at the bottom. But first things first, somehow the player needs to make a quick buck (real fast) to get yourself a new fake identity. And that's exactly the moment you'll meet the lovely busty blonde Lula to offer you a "helping hand".
I've got the brains, you've got the looks... Let's make lots of money!



Petshop Boys

Lyrics from the song; Opportunities
Chances are quite big that you're familiar with those famous Petshop Boys lyrics. Well, that's kinda how the storyline of this game starts. But to make it to the top, you'll have to work your butt off. While working in the adult film industry might sounds easy, it's going to take a lot of work to climb all the way to the top (even more while holding your own dick in your hand).
Pretty much anything can happen while playing this game. For example, the (porn)stars of your naughty film productions can get diarrhea while recording the anal sex scenes, no shit (pun intended). Hell, they might even break a tooth while giving head. Being a porn kingpin is hard, is definitely one thing you'll learn from playing this adult business simulator.
The final goal to win "The Sexy Empire"
The player's task is to get filthy rich by taking care of every aspect of running your own sex empire. Ranging from the casting as in; finding new girls to join the business and turn "them" into famous pornstars, to shooting new adult films in your sound and recording studios.
It's a dirty job, but someone's gotta do it!
You'll also need some powerful equipment for the cutting and editing of your brand new spicy film productions. And of course, let's not forget about the marketing... I mean, you've got to sell those tapes somewhere, right? What do you do? Buy magazine ads? It's all up to you from now on.
The ultimate goal of the game? Earn enough cash to shoot a Lula television satellite into space. Oh well, I guess it's a dirty job, but someone's gotta to do it!
Lula: The Sexy Empire is an entertaining little adult simulator game, thanks to the hand-drawn (comic book style) animations, characters, scenery and the comedy parts, it really has its charm. Just don't expect any real explicit images, it's quite tame overall, yet it has its few "sexy" on-screen moments.

Lula Inside (aka Lula Virtual Babe, 1998)
The second installment of the Lula franchise was "Lula Inside", released in the same year (1998) and was developed by the same team (renamed to CDV Software Entertainment) and published (once again) by Take-Two Interactive. The game was also released with the title; Lula Virtual Babe.
Oh boy, another one of those crazy hypes during the 90's? Virtual pets!
I remember playing and messing around with virtual pet games for Windows 3.1, such as Catz and Dogz, which would allow you to have your own little pet on your very own computer screen. Back in the day, that truly felt like something special.
The biggest hype amongst virtual pets? That's got to be the Japanese kids toy; Tamagotchi! Ring any bells?
The Tamagotchi and virtual pets craze of 1996 and 1997
The Tamagotchi was a tiny digital toy by Bandai and caused a worldwide hype back in 1996 and 1997. The egg-shaped toy had a little LCD screen and contained a very simplistic game in which you had to take care of your own virtual pet.
You'll start off with just an egg, and your only goal is not to get your brand new pixelated pet to die, often caused by not giving "him" any rest nor sleep or by forgetting to feed your little buddy. I guess we all need a juicy burger every once and a while, even your virtual pets...
Lula, the hottest virtual pet in town
In total, over 40 million copies of the Tamagotchi toy were sold worldwide. That bring us to the second game of the Lula adult video game franchise.
Since this second part was released just one year after the huge Tamagotchi hype, it isn't really that surprising that this game is in fact a "virtual pet" style video game. If you take care of Lula, she might take care of you in return. ;)
While Lula Inside might be a bit simplistic, especially compared to the first game, it might still offer a good laugh for about 30 minutes or so. You'll get to feed Lula, ranging from gummi bears to wine, hotdogs and even beer or cigarettes.
The player also needs to please her a bit, get her in the mood by offering her cuddles and kisses, and in the end; satisfy all her sexual needs.
When Lula's finally ready to go, full of lust and 100% cock hungry, you'll have to make sure she's enjoying the steaming sex as well... Play with her nipples, give her a foot massage or go ahead and spank her booty right away? Gamers, this is your chance to show off your skills... in bed.
It's all up to you! Can you make Lula scream from pleasure or live up to her expectations? The only way to find out is by playing "Lula Inside".
Oh, I almost forgot! Don't forget to sleep after hours and hours of wild and intense exercise, because just like in the original Tamagotchi toy, without any sleep, your lovely busty blonde pet, suddenly might just drop dead... That rhymes!

Wet Attack: The Empire Cums Back (1999)
Just like the original Star Wars trilogy, a third instalment was something we'd simply all needed! Well, I guess our voices were heard as here's part three for ya, with the brilliant (Star Wars parody) title of "Wet Attack: The Empire Cums Back" (from 1999).
Developed by Interactive Strip and published by CDV Software Entertainment.
Are you up for some intergalactic sexual encounters? Things are about to get weird, real quick. Let's check out The Empire Cums Back!
What about this new visual style? Is it hot or not?
Upon launching the game, we're treated on a low resolution 3D animated intro sequence. Hold on to your titties, I guess it's time to go on yet another adventure with Lula (in deep space).
Only this time, for some sad reason, they've decided to go from the awesome cartoon style to those typical early 3D graphics from the 90's, or in this case, more of a 2.5D style with a few extremely low polly 3D rendered models.
Those type of ugly 90's "3D rendered" graphics that didn't age that well... at all. And quite frankly, are even pretty damn painful to watch, so many years later. You know, the cock-shrinking kind of low resolution (butt-ugly) sprites. I know this style used to be "a thing" back then, but man, does it look awful.
I still remember how all of the sudden, everything just had to be in "3D" and every single popular video game character from that era, suddenly made the transition from 2D to 3D, resulting in mixed results. Sure, some of them we're simply great, think of Maria 64 and Duke Nukem 3D! However, a lot of those early 3D game titles we're pretty bad.
Not to mention the fact, that these style of graphics are anything but sexy or arousing. Let me check one more time... Nope, doesn't make my balls tingle, not even a tiny bit and well, isn't that kinda the purpose of an adult game? To be sexy?
Space pirates, hookers and intergalactic gigolos
Anyway, let's move on; our beloved Lula is lost in space and it's up to the player to start a rescue search. Your first goal is to steal your spaceship (called The Tit), which will allow you to travel between planets, searching for clues along the way that may help you solve Lula's location. The player can collect cargo to sell for a profit.
Of course, just like a pirate ship, a space ship needs to have it's own crew as well... an all female crew, that is!
And that's where things might get a little tricky, as it's up to you to keep each of your "crew members" fully "satisfied". And nope, these "space girls" ain't looking for your money! These girls are demanding your meat, as they'll only settle for sexual pleasure. Are you that hero that's up for the task?
Don't worry though, you won't have to do everything by yourself. In case you've made enough profit, you also have the option to hire (up to 3) intergalactic gigolos to do all the "dirty work" for you. But remember, whatever you choose to do, you must keep your employees happy at all cost. Now who said life in outer space was easy, ha?
To make this naughty space adventure even worse, you'd might even encounter some space pirates from time to time, which will try to steal your cargo, or worse; steal one of your "girls".
Each time you'll dock your spaceship at any of the planets, "The Tit" becomes a brothel (whorehouse, or whatever you'd like to call it), and it's the task of the player to make sure every customer gets his well deserved "happy ending".
The final goal of the game
The goal of the game is to discover Lula's whereabouts. To do so, you'll need to buy upgrades for your spaceship, ranging from a blazing fast engine for your ship, special weapon upgrades, futuristic protection shields, satellites to spy on your enemies and to keep an eye out for those evil space pirates and much more.
Eventually, you've earned enough money to even purchase a second spaceship, which will double the size of "The Tit", allowing you to make a lot more cash, a lot faster. And in the end; you'd even might end up saving Lula and her gigantic fun bags!
Sounds like quite a game, ha? Well, that's the thing, it really is. While the graphics may be quite disappointing to say the least, on the other hand, the gameplay actually is pretty damn fun and probably keeps you entertained for plenty of hours, mostly because of the sleazy humour, which will definitely make any social justice warrior burst out in tears.
The game offers enough variety and has plenty fun things and elements to explore, which keeps things fresh while playing. I kept wanting to explore more of the galaxy, as you'll never know what to expect next. I mean, I can't think of any other video game out there, which allows me to hire gigolos from outer space to provide orgasms for my female employees, now can you?
If you have a bad taste in comedy and like old school strategy games, you'll probably enjoy playing this third entry in the Lula franchise.

Lula Pinball (aka Lula Flipper, 1999)
Time to release and shoot up our blue balls silver balls and try to hit as many of our targets as possible. Targets include vibrators and other sex toys, bananas, dwarfs with camera's, BDSM whips to lingerie sets. Let's not forget about hitting targets with "our balls" to make words like "sex" and "feel" appear on our NSFW pinball table!
Lula Pinball aka Lula Flipper is the fourth game of the franchise, and like the title suggest; it's a virtual pinball game, released in 1999 for Windows PC's.
This game was developed by a different team; Independent Arts Software, while CDV Software Entertainment being the publisher instead of developer for this third Lula game title.
The plot of the game; "Lula kidnaps you and forces you to travel with her to 4 locations. After arriving, you'll find a different game table to play as sexy Lula looks on".
We get it, Lula got her own pinball game! Now how does it play?
Whenever I think of 90's pinball games (on Windows or MS-DOS machines), I'd think of one title, and one game title only, and that's; Epic Pinball by Epic Mega Games. To be honest, that game was so great, it's really hard to compete with a pinball game that's so addictive and was just such a blast to play, even for hours and hours straight.
Like you've probably would expect, in terms of gameplay, this Lula game doesn't even come close in comparison. But then again, like I've mentioned before, it's extremely hard to beat a real classic retro pinball game like Epic Pinball (1993).
While I've played plenty of game titles with far worse pinball table mechanics throughout the years, however, I should notice that the controls for Lula Pinball, do feel a bit sloppy and a bit off. Sadly, that actually really spoils all the fun. That's a big missed opportunity considering the sexy, colourful and attractive visual appeal of the game.
Lula Pinball is visually highly pleasing
I do really love the graphics and art style of the pinball tables. Cute and cartoony, bright colors, high contrast, and not to mention; the sexy cartoon babes, all very visually pleasing. Overall, well designed game sprites, textures, combined with a nice and neat graphical user interface.
I'd just love the art work on Lula Pinball. Man, If only the gameplay was just as good...
Lula Pinball offers multiple playable pinball tables; Photo Shooting, Space Bordello, Lula Lover and Playbear: Pleasure World.

Passion Pinball 1 & 2 (Lula Pinball knock-offs)
Two pinball video game titles in Dutch language, called Pinball Passion 1 & 2, had a very similar looking blonde cartoon babe (again with a huge pair of knockers) as their game mascot, probably trying to cash in on the whole Lula franchise hype.
The blonde babe on the box cover was drawn by Gursel, a well known Belgium comic artist, most known for his works such as Rooie Oortjes, a popular and long-running erotic comic book series (in Dutch language), which I've een been collecting for quite some years now.
In 2001, both Passion Pinball and the sequel got an European CD-ROM release for Windows PC's (in Germany, Belgium, France and The Netherlands). Both titles were developed by the Belgium based company; CherrySoft. Also, both the first and the second version are limited to one table only.
As a Lula fan myself, I even own a copy (from back in the day) of the first Passion Pinball game on CD-ROM.
Passion Pinball offers an isometric camera angle
The thing is, I might even have to admit that the graphics of the pinball table itself are actually really nicely done, a lot better then you'd might suspect, and probably even an improvement over Lula Pinball, offering more of an isometric (semi 3D) camera angle, instead of the top down (2D) table view as used in the Lula Pinball game.
Get rewarded with girls stripping on your computer screen
If the player scores enough points, you'll be treated on some naughty low resolution video footage of models stripping naked, woohoo! The adult video footage is another neat little bonus which Lula Pinball didn't offer (as far as I'm aware of). The video content was licensed from Flash Model Agency.
How to cheat the system?
If you suck at winning at pinball games, just click any of the folders on the CD-ROM disc and you'll discover the video files are available as plain video files, fully unencrypted. Simply click any of the AVI files to play the striptease footage and enjoy the show. All without playing or having to reach a high score first.
Cheating? Yes, no, maybe... I don't know. But at least I should get away with it since I had to do it all in the name of "research". I sacrificed myself for all of you, dammit!

Lula does Dallas? Nah, Lula does 3D (Lula 3D, 2005)
It's 2005 and Lula finally made her full transition from being a 2D (comic) handdrawn-style "blonde sex bomb" to becoming a fully 3D rendered pornstar. The transition you knew had to cum come, sooner or later.
Lula 3D got both developed and published by CDV Software Entertainment and got released on June 22, 2005 in Europe, with the exception of the United Kingdom (February 10, 2006).
The game was build using the Vulpine Vision Game Engine by Havok. Other notable games using that same engine are "Tom Clancy's Rainbow Six: Lockdown", the remake of the classic Giana Sisters game (Twisted Dreams) and about forty more video game titles.
Bouncin' Boobs Technology (Motion Capturing Real Breasts)
The game used the term "Bouncin' Boobs Technology" as a selling point on the box art, referring to the fact that the developers used motion capture technology to capture realistic movements of actors such as jumping, walking, running and apply those to the 3D game characters.
But most important, to capture and re-create real life breast physics (or in other words; titties bouncing up and down). "Real life breast physics", that sure sounds like some fine "state of the art" piece of technology to me!
Negative reviews for Lula 3D and the Bouncing Boobs Technology
Turns out not everyone was a big fan of this "brand new" and highly advanced technology called "Bouncing Boobs Technology", as many video game critics called it unrealistic and childish for a mature game.
Man, these "critics" take these kind of naughty adult games way too seriously, we're talking about video game cartoon titties over here. Besides that, it's a Lula game, of course it's childish. The same thing happens with games like Leisure Suit Larry as well.
Fair is fair, other bad parts these reviewers pointed out were right, Luna 3D has indeed quite a large amount of glitches, weird bugs and crashes quite often for unknown reasons.
3D is the new "cool" and spicy cut scenes
While in "Wet Attack: The Empire Cums Back" the brains behind the franchise already started to tease this new 3D version of Lula, however, in this game we've finally got to play a real 3D (third person style) video game starring Lula.
Luckily, this 3D version of Lula is a huge improvement (not quite in terms of modern day graphics). Not only that, it's also the most explicit title in the series, as there are plenty of animated cut scenes which shows scenes starring Lula playing with her sex toys, pole dancing, showing off her body and knockers in a striptease show, Lula skinny dippin' in the pool, rubbing her own juggs or getting bare naked during for a photoshoot, just to name a few.
This amount of explicit nudity or animated sex sequences is something we didn't got to see in any of the previous Lula games! Lula is going next level, Lula is going hardcore baby!
Lula 3D ain't quite Tomb Raider
You can compare Lula 3D with other third person action adventure games such as Tomb Raider but with crappier controls and this time with less action (well, sorta).
Compared to Tomb Raider, there's a a lot less jumping, shooting and climbing, but instead, a whole lot more slowly bending over while wearing a way too short skirt, and of course, all from a third person perspective camera angle.
You're pretty much staring at Lula's butt cheeks for a few hours straight while playing Lula 3D, and to be honest, that's not even something to complain about. It makes up for the poor gameplay, just a tiny bit.
Arguably, this is the one of the more "raw and dirty" or most "hardcore" titles in the franchise so far (in terms of visuals) as you'll get to see in-game characters actually having sex and not just in animated cut scenes.
The storyline and gameplay of Lula 3D
The storyline in short: "Lula, an adult film actress who must save her kidnapped co-stars (three pornstar triplets, to be precise) to shoot her next erotic movie". Now I don't know about you, but that sounds like Oscar-worthy script writing to me!
The game's objective is to find certain missing objects, interact with other in-game characters for more clues and a lot of puzzle solving. Before you can proceed with the game's storyline, you'll have to complete the puzzle(s).
For example, your first objective is to find your car keys.
Spoiler alert: turns out you've had your keys in your own pocket, the entire time. Women, eh?
To be honest, the gameplay gets boring real fast and doesn't really offer anything special. A bunch of 3D animated boobs aren't enough to make up for that. Most of the time you're just wandering around the maps, having pointless conversations with other characters such as strippers, hookers or even Marilyn Monroe herself, all while trying to figure out how to proceed to the next area.
I had the exact same feeling while playing the Magna Cum Laude (2004), the first 3D game in the infamous Leisure Suit Larry adult video game series, which also got me quite disappointed.
Both these two adult games had a sort of similar gameplay style involving boring puzzle solving elements. But at least, Magna Cum Laude had the famous pornstar Ron Jeremy playing a character known as "The Porn Fairy". You just can't beat that!
Fun Fact: Fans have been making updates and patches to improve the Lula 3D game, even just recently. Want to play this retro 2005 game with your VR headset on? Just get this Lula 3D VR patch. Want Lula to be buck naked full time? Download Lula's nude patch right here.
For the die-hard Lula fans (Lula's Wet Pack Collection, 2001)
Lula's Wet Pack was a bundle featuring 3 previously released Lula games. The package contained; The Sexy Empire, Lula Inside und Lula Pinball.
The Lula's Wet Pack collection was released on CD-ROM for Windows XP computers, back in 2001.
Lula Strip Poker (The mysterious one)
If there's one type of gaming genre, that's highly popular amongst erotic and video games aimed at an adult audience, it's got to be strip poker based games.
Erotic entertainment in the shape of naughty poker video game titles have been around since the 80's, and widely available on multiple gaming consoles.
And guess what? Surprise, surprise! Lula got her very own strip poker game as well! This one seems to be really rare as there's almost no info to be found online. The same goes for screenshots.
Lula Strip Poker, where are thou?
After digging even deeper, as far as I could tell, Lula Strip Poker was a browser based game (hosted on www.elkware.de) and with the official website being offline for quite a few years now, the "Lula Strip Poker" game itself, along side all the information and screenshots, kinda all went down with it. Pretty much erasing the entire game from history.
One thing I did learn from using the Wayback Machine, is that Lula Strip Poker was being advertised as; "Lula Strip Poker, den Star aus Lula 3D", translated from German to English; "Lula Strip Poker with the star of Lula 3D".
Which would indicate this video game title was released after "Lula 3D". The actual weird part is the publication date of that article, which was in 2004, While Lula 3D was released in Germany in 2005, and one year later in other European countries.
Would love to check out this mysterious Lula title. If someone still has some screenshots or maybe even a digital copy of the game, hit me up!
Don't worry though, this isn't the final chapter in the Luna chronicles just yet!
Lula does the web? (Lula Online, 2005)
Lula Online is more or less a more modern approach and browser based remake to the original "Lula: The Sexy Empire". While it isn't an exact remake of the original, it does have very similar gameplay elements, which basically allows you to grow and build your own porn empire.
Lula's going full circle by going back to its roots?
Lula's final game is going back to its (or her) roots of being an erotic business simulator game.
To quote the official Lula Online website; "Produce erotic photos, steamy live chats, and positively filthy film productions that will really rake in the cash. Get the hottest babes in the world and start your career as an erotic producer, and build your own erotic empire".
Lula Online should be renamed to Lula Offline
The final game in the series (till date) was developed by Lula Online GmbH. Sadly, we can no longer build our own sexy empire as Lula Online seems to be no longer "online".
The company behind the game decided to pull the plug and take the servers out of the air (back in 2018). Since I've never played Lula Online, I can't tell if it's any good or not. I guess we'll just have to do with a couple of screenshots.
However, from the looks of it, the graphics and visuals seem to have much improved in terms of a higher resolution, compared to the 1997 version. They did drop the comic style drawing though, which I think is quite a shame. That's exactly what made the original game stand out.
The final chapter for Lula and her sexy adventures in cyber space?
And now the end is near, and so I face the final curtain.



Frank Sinatra

Lyrics from the song; My Way
Will this be the final chapter of this digital blonde babe? Or will Lula return for a "cumback" eventually? Will there be more sleazy (and sometimes cheesy) digital eye candy to enjoy some day? Only time will tell. But for now, our article on all the naughty adult games in the famous Lula franchise ends here.
But wait, there's more!
Turns out the original founders (and developers) of the Interactive Strip company (Carsten Wieland and Carsten Korte) started another company called Redfire Software, short after the release of the Lula-games.
Redfire Software ended up releasing 9 more erotic video games with epic titles such as "Ibiza Babewatch: Special-Hardcore-Edition" and "Erotica Island"... Now that sounds interesting to me! Maybe a bit cheap too, but hey, that's probably exactly the kind of trash, I'd be enjoying.
That's a story we'll be diving into some other time, I've seen more then enough pixel titties a human is able to handle on a single day.
The saga continues... Edit: part two is here, let's check out all the erotic video game titles by Redfire Software.