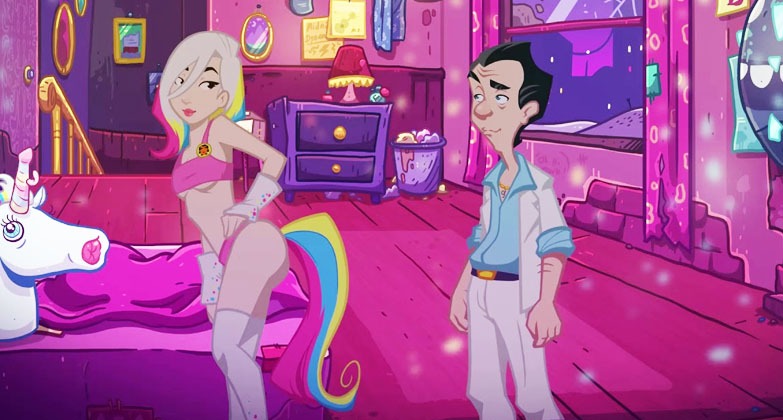 List and overview of all Leisure Suit Larry adult adventure games (1987 - 2020)
A brand new installment (known as; Wet Dreams Dry Twice) of the infamous Leisure Suit Larry video game series is going to be released on 15 Oct, 2020. Before its release, we figured this would be a perfect time for a retrospective and overview of all previously released titles full of sex-filled and wild adventures starring the fan-favorite virgin protagonist named Larry Laffer, who once again is ready to embark on another crazy journey, which probably involves a lot of bikini babes and chicks wearing lingerie.
The Larry-series started all the way back in 1987. So, get ready as we're about to reveal all of uncle Larry Laffer's dirty adventures so far, before he's making his comeback later this year to flirt with even more hot and horny bikini girls, in his latest video game title by Assemble Entertainment.
Trust me, Larry has been on quite some steaming hot adventures throughout the years. From being abducted by topless lesbian cannibals to getting lucky in a hot tub, trying to get laid at the local bar and even "shooting a porn", Larry's life is full of surprises... and a whole lot of eye candy!
Table of Contents
In this article, we'll be covering all the erotic adventure games in the Leisure Suit Larry-series:
Leisure Suit Larry in the Land of the Lounge Lizards (1987)
Leisure Suit Larry Goes Looking for Love (In Several Wrong Places) (1988)
Leisure Suit Larry 3: Passionate Patti in Pursuit of the Pulsating Pectorals (1989)
Leisure Suit Larry in the Land of the Lounge Lizards (VGA remake, 1991)
Leisure Suit Larry 5: Passionate Patti Does a Little Undercover Work (1991)
Leisure Suit Larry's Casino (1992)
Leisure Suit Larry 6: Shape Up or Slip Out! (1993)
Leisure Suit Larry 7: Love for Sail! (1996)
Leisure Suit Larry's Casino (1998)
Leisure Suit Larry: Kühle Drinks und heiße Girls (2004)
Leisure Suit Larry: Magna Cum Laude (2004)
Leisure Suit Larry: Box Office Bust (2009)
Leisure Suit Larry: Reloaded (Remake, 2013)
Leisure Suit Larry: Wet Dreams Don't Dry (2018)
Leisure Suit Larry: Wet Dreams Don't Dry Twice (2020)
History of the Leisure Suit Larry Adult Video Game Series
Leisure Suit Larry series brings you to adult-themed adventures developed by AI Lowe and published by Sierra from 1987 to 2009. Codemasters distributed the games worldwide from 2009. The first six titles, including Magna Cum Laude and Love for Sail Mobile were sold by Vivendi Games, also known as Activision Blizzard.
The series revolves around the protagonist (a virgin) named Larry Laffer, who is a 40-year-old blading and leisure suit-wearing man ready to do an unsuccessful attempt to seduce beautiful ladies on his sex-filled adventures.

Moreover, the series involves you attempting to seduce attractive women using a point-and-click interface. Leisure Suit Larry series is heavily inspired by Softporn Adventure (Text-based Adventure) released by Sierra Entertainment.
In the very first title, the developers reused most of the story and basic structure of the Softporn Adventure game for the first Leisure Suit Larry game. Over the years, the Leisure Suit Larry series quickly became one of the most famous titles released by Sierra during the heyday of the adventure game genre.
Generally, all games follow the escapades of the protagonist named Larry Laffer, who attempts to persuade women with the intention of sleeping with him. One thing's for sure, Larry can't accomplish that without you (the player's) help.
List of all Games in the Series/Franchise
The series contains more than fifteen titles, and each one brings a brand-new adventure and a lot of new content to explore. From the first title (released in 1987) to the upcoming latest title (scheduled to release on 15 Oct 2020), we have compiled an overview of each title for you to discover.
Let's get started with the original game, the one that started this long-lasting (and fan favourite) video game franchise aimed at an adult audience.
Leisure Suit Larry in the Land of the Lounge Lizards (1987)
Leisure Suit Larry in the Land of the Lounge Lizards" is a graphical adventure video game developed by Sierra On-Line for multiple platforms, including MS-DOS, Apple II, and Color Computer 3. The game was released in 1987. Feeling old already?
The first entry in the Leisure Suit Larry series is a text based adventure game, which means, the player has to type in commands to solve all the puzzles, hitting on the ladies and advance in the storyline of the game.
The Leisure Suit Larry franchise follows the main "hero" Larry Laffer, who is a middle-aged male virgin character. Sounds like quite the hero, right? The game (and pretty much the entire series) is all about sex-filled adventures, where the player tries to "get lucky" with the sexy ladies in the fictional city of America, known as Lost Wages.
At the time of release, the protagonist was 38-year-old, living in the basement of his mother, and hasn't lost his virginity. Having grown along with his loneliness, he decides to visit a resort situated in Lost Wages with the intention of finally experiencing "that thing" he'd never experienced yet, and hopefully to find the woman of his dream as well.
Larry starts his journey with pretty much nothing except for his outdated style of 70s disco-era leisure suit, and a few bucks in his pocket. The first epic quest involves four beautiful ladies:
A Nameless Babe
A Seedy-Looking Sex Worker
Fawn
Faith
Goal - The ultimate goal of Larry Laffer is to get inside the panties of a receptionist who seems to be faithful to her boyfriend. Sounds like quite a hard task, but maybe all we need is to have some "faith" in our virgin hero Larry and give him a "helping hand" (by solving all the in-game puzzles).
Leisure Suit Larry Goes Looking for Love (In Several Wrong Places) (1988)
The 2nd installment to the series of Leisure Suit Larry. Sierra On-Line developed the game back in 1988, and similar to its predecessor, it is available on multiple platforms. This game brings 16-bit EGA graphics and a point-and-click interface for character movement to the series, instead of the text based style gameplay of the previous game.
The storyline starts with the protagonist getting stranded on a tropical island during one of his infamous and legendary holiday trips. So far, that doesn't sound that bad actually.
"Leisure Suit Larry Goes Looking for Love" introduces linear storyline progression, unlike its original title, but similar and something fans of all the other adventure games published by Sierra Entertainment would definitely recognise. Think of highly popular point and click game series such as King's Quest or Monkey Island.
The evolution of controls was warmly welcomed by players, as they could control the movement via the mouse or even the joystick.
The story continues right after his sexual encounter from the ending of the last release, implying the pair who have remained together. Continuing the story of the previous title, the virgin Larry finally has found his true love and now seems to be living happily ever after with her... Just kidding, that didn't actually happen.
If life was only that easy, right? Sadly, that's not the case for our beloved buddy Larry, because once again, he gets thrown out by his great love, becoming a "single" man again, who's ready and eager to go on a date.

Leisure Suit Larry 3: Passionate Patti in Pursuit of the Pulsating Pectorals (1989)
Similar to its predecessor, the third release is yet again a graphical adventure game full of sex-jokes and naughty quests to complete. It brings a lot of graphical changes and several modifications. As prior, the plot centers around the protagonist, who is in search of true love while navigating a tropical resort.
Next to that, he encounters the latest woman of his dreams; Passionate Patti. One night, Larry disappears into the wilderness, from what it appears, Larry got abducted by a group of topless women lesbian cannibals.
After that, the player takes control of Patti to find him. The series had started to Sierra's Creative Interpreter engine since 2nd release, featuring 16-color EGA Graphics and a mouse-based interface to provide users quality gameplay and easy navigation of the main character(s). And when you're not exploring all locations, you'll get to interact with NPC (non-playable character) women that will supply you with more pieces of the puzzle and hints on how to progress.
This time, the game takes Larry Laffer on Nontoonyt Island, a tropical location that has turned into a resort. Similar to the city of the previous title, the island contains different areas to navigate and explore.
The plot is set after the events of the previous release, and revolves around the transformation of the island into a resort, where Larry finally has settled for a job, and started living in a luxurious house with his wife. After enjoying the marital bliss for a few years, the union of Larry suddenly comes to an end when his wife dumps him. Soon, he gets fired from his job as well. So much for your happy ending, right? Poor Larry.
Leisure Suit Larry in the Land of the Lounge Lizards (VGA remake, 1991)
The VGA remake version of the first release, introducing a perfect blend of highly improved Graphics, and of course with all the other adventure, puzzle, adult comedy and all the other familiar game elements all still left intact. This VGA version of the original game was released in 1991.
This remake uses the point-and-click interface, and thus, replacing the old text-based gameplay of its original release back in 1988.
The introduction of the new (point and click) interface was warmly welcomed by players, enabling them to perform actions by merely selecting icons, instead of typing commands. Play the game with 256-color VGA graphics, and experience the same adventure that appeared in the original title while controlling our middle-aged virgin hero, the man, the myth, the legend; Larry Laffer.
As compared to the previous title, the remake version also brings more music to the table, and it supports more advanced (higher quality) sound formats. Overall, a huge improvement in all aspects of the game.
Besides the MS-DOS PC release, Sierra On-Line also developed the remake version for Amiga and Macintosh computers.
Leisure Suit Larry 4: The Missing Floppies
You might know the Larry series originally being planned as a trilogy, and if you had experienced the ending of the third title, then you'd know that it was suppose to be the final entry in the series.
Even the creator of Larry-games (AI Lowe) had confirmed that he was fed up with the creation of Larry, and no Larry 4 would be released. However, due to popularity, the original plans changed, and Al Lowe decided to continue the series by offering new episodes. But just like he promised and wanting to stick to his own words, he refused to introduce a 4th title. Therefore, the next adventure was the fifth game, completely skipping part four.
Leisure Suit Larry 5: Passionate Patti Does a Little Undercover Work (1991)
"Passionate Patti Does a Little Undercover Work" was released by Sierra On-Line in 1991, the fourth title in the series of Leisure Suit Larry has introduced 256-color graphics to the series, as well as a fully icon-based interface.
Being the indirect sequel to the third release, its title is misleading, as the Leisure Suit Larry 4 doesn't exist. The fourth title has expanded the multi-character feature borrowed from the previous title, with the control that passes between the protagonists' Larry, as well as Patti.
The addition of Zipper Icon lets the player perform an erotic action. Exactly the kind of in-game feature we all enjoy, right?
The fourth installment starts with Julius Biggs, who has stolen the missing floppies and caused the protagonist to become amnesiac. Now, the character has joined the adult film industry, working for a porn studio called; PornProdCorp. After joining, the boss sends Larry Laffer across the US to scout for fresh faces and brand new models, and convince them that they'll become huge stars after starring in "The Most Sexiest Home Videos of America".
Scouting and casting brand new porn stars... It's a dirty job but someone's gotta do it. Sounds like the perfect job for our Larry! Well, Ok, maybe not...
At the same time, Patti has joined the FBI to find clues regarding two companies suspected of hiding subliminal messages in their songs. Soon, Larry finds himself involved in a near airplane accident, but luckily for Larry (and us), he still managed to provide a safe landing for that airplane. As a result, Larry is being welcomed as a hero upon arrival.

Crazy Nick's Software Picks: Leisure Suit Larry's Casino (1992)
Leisure Suit Larry's Casino introduces you to a mix of Casino, Gambling, and Cards game elements. Again, developed by Sierra On-Line, Inc. The game got a release for DOS in 1992 and is serving as one of the five "Crazy Nick's Software Picks" titles distributed by Sierra.
The game includes a total of three casino-based mini-games, such as:
Slot Machine
BlackJack
Black Poker
At the very start, you are given approximately $100 to be spend on gambling inside one of the three mini games. Upon losing everything in the casino, an option for a loan is available. In the game, you are supposed to play with the hand of Larry and operate the buttons.
While playing the game, more information in regards to your bets and odds will be displayed in a text window, making the game a lot easier to understand for players that aren't necessary familiar with poker or casino-based games (yet).
Leisure Suit Larry 6: Shape Up or Slip Out! (1993)
In the fifth entry, our beloved middle-aged man (Larry) is ready to embark yet another a sex-filled adventure, and this time, the game brings revamped graphics in SVGA resolution, as well as voice acting for the first time in the series.
There are two different versions of "Shape Up or Slip Out", the first one is released for MS-DOS on floppy disks, while the second version got a CD-ROM release, one year later.
Similar to other Sierra On-Line games, both versions introduce an icon interface, but with the icon bar being visible at all times, unlike many other Sierra adventure games of that time-era. The same title was re-released on the Steam platform for Microsoft Windows, in 2017.
The storyline starts with the series' main protagonist, who has recently won a free trip to a luxurious health spa full of women. Sounds like a great start of an exciting new adventure, now doesn't it?
Once again, poor Larry has been left alone by his (ex)girlfriend Patti, who seems to be too busy with her own personal life. The fifth title shows you the story of Larry Laffer competing against other contestants on a dating TV show called "Stallions".
After losing the "date", he gets on an expansive paid trip to La Costa Lotta, a health spa. The staff's behaviour were all quite rude to our protagonist, and they even gave him the very worst room La Costa Lotta has to offer. To make things worse, not even a single woman seems to want anything to do with Larry.
However, it's up to the player to make these girls change their mind. A small hint; their minds may be changed after receiving gifts and a little sweet talk.
Leisure Suit Larry 7: Love for Sail! (1996)
Larry returns in another sex-filled adventure with tons of puzzles to solve for the player. Love for Sail would be the last game in the series of Leisure Suit Larry that's written by creator Al Lowe, and the last introducing original protagonist Larry Laffer as the primary character, until the release of Wet Dreams Don't Dry released in 2018, more than 2 decades later.
This is the sixth marvellous release in the series, and is introducing a bit more risqué (and spicy sexual themed) content compared to previous titles in the franchise.
Love for Sail also introduced a more modern fleshed out cartoonish-style of graphics and visuals, and thus, replacing the pixel art-style of the previous titles in the series. Similar to its predecessor, Love for Sail also comes with voice acting. Besides the updated graphics and animation, the concept, gameplay and interface remain unchanged.
Of course, it all starts again with Larry who just got dumped by his woman. The main twist of the story is that this time around, Larry is a passenger on a cruise ship full of famous celebrities. The game involves the player attempting to win a weekly contest held on the ship by a gorgeous blonde. The contest includes a variety of fun-filled games, ranging from sports to sexual prowess and yes, even strip poker.
The ultimate goal is to play games and win amazing prizes. Of course, our stylish friend Larry wins the "best-dressed man" competition thanks to his awesome suit.

Leisure Suit Larry's Casino (1998)
Welcome to Larry Laffer's very own casino, the main protagonist of the Leisure Suit Larry Adventure game series. This is an updated and more modern version of the 1992 casino game of the same title.
The game was released by Sierra On-Line, and this time, there are five casino games to play, along with the following things; such as 3 party games, many surprises, 3 different bars to explore, a gift shop, as well as 3 restaurants. While the 1992 version of the casino game only included three mini games in total.
Leisure Suit Larry: Kühle Drinks und heiße Girls (2004)
Kühle Drinks und heiße Girls (translates to; "cool drinks and hot girls") only got a release in Germany (by Rondomedia Marketing and Vertriebs GmbH) for Microsoft Windows PC's, back in 2004.
The game mainly serves as a promotional title for the upcoming "Magna Cum Laude" game (that was released short after this title) and offers a compilation of three sexy mini-games:
Bar Wars – When playing the game, your goal is to earn points by serving drinks all good looking women in the bar, and avoid not so good looking women surrounding you.
Nightwatch – It is the 2nd mini-game that will teach you how to be a watchman of a building full of beautiful ladies.
Babewatch – The third mini-game is about a "babewatch", also known as lifeguard working on a beach which is of course, packed with steaming hot babes in bikini.
Leisure Suit Larry: Magna Cum Laude (2004)
Magna Cum Laude is the 7th installment in the series of Leisure Suit Larry, introducing a whole new style of gameplay, as the point and click-system got replaced by a third person view exploration-style gameplay. It's the first game in the series to contain 3D graphics.
The premise of the game is to control a student, named Larry Lovage, a "look-a-like" and nephew of Larry Laffer. It serves as the first official title released without any involvement of its original series creator Al Lowe, and the final game to be released by Sierra On-Line. The game was developed by High Voltage Software.
The main purpose of the protagonist is to get access to a dating TV Show, known as Swingles. However, the hostess of that dating show, won't let Larry Lovage participate on the show until he will prove his seductive wits by achieving tokens of affections, which can be obtained through solving puzzles and playing naughty mini games.
Larry Laffer provides his "love-making" advice to his nephew while making a cameo appearance at a local bar.
Leisure Suit Larry: Box Office Bust (2009)
Leisure Suit Larry: Box Office Bust is an Action-Adventure, Exploration, Puzzle, and 3D Platform video game developed by Team17 and published by Codemaster.
The game supports both single-player and multiplayer options, and it is available to play on PC, Xbox 360, and PlayStation 3. It serves as the 8th installment in the long-running series of Leisure Suit Larry video games, released for 7th generation consoles.
Just like 2014's Magna Cum Laude, this game is also staring Larry Lovage – the nephew of Larry Laffer. The story follows the protagonist, whose uncle Larry Laffer calls him to assist at his movie studio by doing odd jobs and trying to find and catch the mole that's been trying to sabotage Laffer's film Studio for the past few weeks.
It is the first title in the series to introduce an open-world sandbox environment, along with a mix of Racing, Puzzle-solving, Platforming, and Exploration game elements. Similar to other titles, it brings adult humour, beautiful ladies, and sexual themes to the series. However, that's all highly suggestive as the game doesn't feature any on-screen nudity, despite the series being targeted at an adult audience.
So if you're hoping to enjoy a bunch of topless boobies in "Box Office Bust", you're going to be quite disappointed.
Leisure Suit Larry: Reloaded (2013)
Leisure Suit Larry: Reloaded is closely based on the main theme of the original version, and extends to the time of the setting, which takes place in the 1980s. Having grown weary of his lonely life, the 40-year-old protagonist Larry, just like in the original 1988 game, is looking to lose his virginity and to find his true love. Even the brain behind the series, the original creator Al Lowe helped crafting this modern day remake.
Technically, "Reloaded" is the second enhanced remake of the first Leisure Suit Larry game. This game also employs the point-and-click interface over the text parser, just like in the 1991 VGA remake.
After dropping the point and click-interface and gameplay in Magna Cum Laude and Box Office Bust, fans of the Larry-franchise were all glad this new team of developers decided to take the series back to its roots. Which also explains their successful Kickstarter campaign. That's right, this remake got crowd-funded by all the loyal fans of the series.
The game has a series of challenging puzzles, which you can solve by looking at, picking up items, interacting, and/or using items or by talking to all the in-game characters, as they'll provide you with plenty of hints and tips. The majority of characters were replaced or improved; however, some were removed from the entire game as well. The pixel art has been replaced by a much higher resolution and cartoonish (comic) graphics.
While most things in this remake stay true to the original, that even includes the age verification at the start of the game, complete with the original cheat code to bypass that age restriction screen. That being said, the game does have an alternative ending compared to the 1988 release and puzzles were redesigned so that the game would be a challenge even for those who had already beaten the classic version from from 1987.
The game is available for Windows PC and Android devices, which makes this title one of the very few that can be played directly on your mobile phone.

Leisure Suit Larry: Wet Dreams Don't Dry (2018)
Once again, Larry Laffer makes his return for a brand new naughty adventure. Wet Dreams Don't Dry was released in 2019 for PlayStation 4, PC, macOS, and Nintendo Switch. It's available on Steam. The game supports only single-player and retains the adventure-style game genre, following the footsteps of its predecessor and the original titles in the series. This game offers by far the best (and highest resolution) graphics and animation of all games in the series so far.
Unlike 2013's "Reloaded", this game takes place in the modern era, and the plot follows the protagonist navigating the world of online dating with high hopes for finding his dream girl(s). That's right, we finally got the 21st century sequel we all were waiting for. And it turned out to become one of my personal favourite games in the franchise.
The story starts with Larry finding himself standing in a dark room with no memory of what happened to him. Oh well, I guess that kinda thing happens to the best of us, doesn't it? Soon after, he leaves the dark room using the elevator that places him at Lefty, Larry's favourite local bar. However, he feels that the vibes at Lefty's bar have changed dramatically.
After some exploration, Larry discovers a mysterious phone in the toilet, which reveals that it is an experimental prototype, and he has to return the phone to Bill Jobs at Prune headquarters. Spoilet Alert: The ending of the story reveals our protagonist escaping, after blowing up the mansion by accident.
Oh well, what can I say? After playing so many Larry games, that doesn't surprises us one bit. I mean, Larry isn't exactly known as being the smartest peanut in the turd, right?
Leisure Suit Larry: Wet Dreams Don't Dry Twice (2020)
The latest title of Leisure Suit Larry is about to land, and that's pretty much the reason we're sharing this article today. Are we excited? Damn right! We are ready for a new point-and-click adventure and a ton of bad taste jokes. We'd say; bring it on, it's time to get wet again.
The story reveals that Larry Laffer has left Lost Wages, and somehow now got stranded in Cancun, where he had planned to marry the love of his life named Faith (remember her?).
But you've guessed it, something went terribly wrong, and both characters got separated again. Faith finds herself in some famous and beautiful archipelago of Kalau, while Larry needs to find her before it's too late. The protagonist needs to go on a journey once more, but we got a feeling no hurdle and obstacle will keep him away from his beloved partner (with some help from you).
CrazyBunch, the team of developers behind this game have relevealed the game will contain 50 locations throughout the Kalau'a archipelago to explore, that there will be over 40 both old familiar friends and enemies, as well as some brand new characters.
Like you would expect of a point-and-click adventure game, there will be plenty of puzzles to solve as well, and we're being promised that some of them are going to be quite erotic.
Update 2021: Leisure Suit Larry: Wet Dreams Don't Dry Twice has been released on Steam on 15 October 2020.
Rare Leisure Suit Larry titles?
A non-official remake of Leisure Suit Larry has been released on the ZX Spectrum Next hardware, for the die-hard Larry-fans that are still craving for more adventures starring our beloved anti-hero; Larry Laffer.
A lesser known and often forgotten entry would be the J2ME mobile game (for Nokia, Blackberry phones etc) from back in the day. This game shares the same title with the PC release of Love for Sail, but was developed only many years after the PC release.
However, it's very much an entirely different and completely unique game on its own. Besides the same title, it doesn't share any similarities with the PC CD-ROM release of Love for Sail.
Especially fans of retro pixel-art will love the 2007 mobile adventure game Leisure Suit Larry: Love for Sail (2007), go check it out!