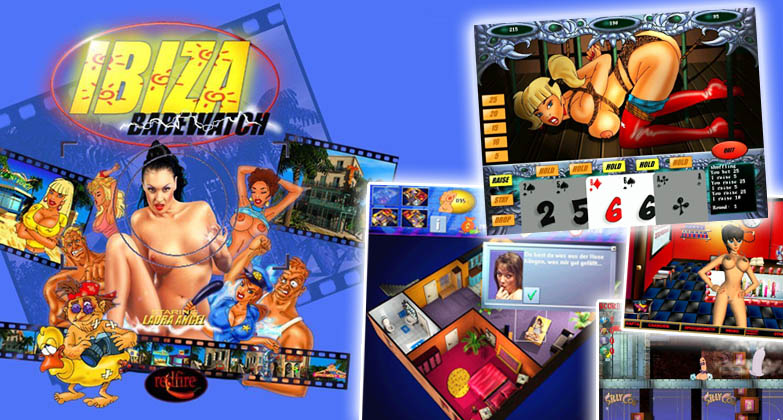 Full list of erotic games by adult game studio Redfire Software (Carsten Wieland and Carsten Korte)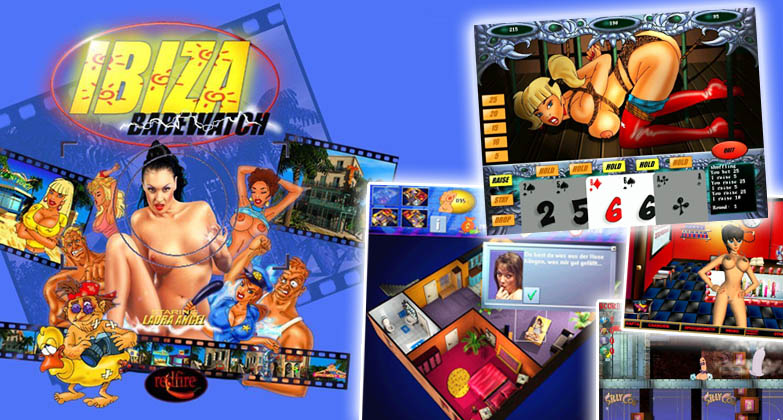 Do video games like Terror in Titfield, Patti Pain's Bondage Poker, Airline 69 or Adolf's Pussies, ring any bells? Well, these are just a few titles developed and distributed by the Germany based game studio Redfire Software, founded by Carsten Wieland and Carsten Korte.
In this article we'll be digging deep into the company's somewhat confusing past and we'll be listing every single erotic game that either has been developed or published by Redfire Software, between the years 2000 and 2005.
On the photo above, you'll see "the man, the myth, the legend" Carsten Wieland, one of the two evil geniuses founders of Redfire Software. Photo courtesy of © Miguel Ferraz.
Table of Contents
In this article, we'll start off with a brief history of Redfire Software and its two founders, before moving on to listing all of the company's erotic games, either released on CD-ROM or as digital download:
Ibiza Comic Poker (1999)
Patti Pain's Bondage Poker (2000)
Inside Chessie: Desktop Babe (2000)
Ibiza Babewatch (2001)
Ibiza Babewatch: Special-Hardcore-Edition (2001)
Erotica Island (2001)
Watch Me in My House (2002)
Airline 69: Return to Casablanca (2003)
Faq Dodgers (2003)
Babes & Balls: Xtreme Beach Soccer & Volleyball (2003)
The Heirs to St.Pauli - The Reeperbahn Game (2003)
Gotcha Babes X-Treme (2004)
Dick Sucks: Terror in Titfield (2004)
Slut Machine (2004)
Dick Sucks: Juicy Pussy Club (2005)
Airline 69 II: Krasser's Revenge (2005)
Airline 69: Casablanca Porno Poker (2005)
Castle Knatterfels: Curse of the Zombie Krauts (2006)
Castle Knatterfels: 3DD Strip Poker (2006)
Sudoku Bondage: Tied Up & Bound (2007)
Curse of the Carribean Pirate Queen (2008)
Cherrie Moon - Boobs4Brain (2010)

Adult games by Redfire Software with an unknown release date:

The Puzzle Hustle Trilogy
Drunken lil' Bitch
Bitch Train - Adolf's Pussies
Fanzar - Schlong of the Jungle Vol.1
Naked Memories Vol.1 - A Night with Natalie Night




Carsten and Carsten (and the confusing history of Redfire Software)




Meet Carsten Wieland and Carsten Korte, the two heroes from the land of the "bratwurst" that kept us entertained for over a decade (for good and bad reasons) by developing and publishing a ton of sleazy digital entertainment on CD-ROM.

The two partners in crime, decided to leave their current employer Starbyte, to start their own venture into the video game business by founding their new born company; "New Generation Software".

In 1995, New Generation Software started development of several video game titles for MS-DOS and Amiga PC's. Between 1995 and 1999 they would produce a couple of games. "Chewy: Esc from F5" and "Clif Danger", being the most popular titles.

Up until now, all games produced by Carsten and Carsten didn't contain any nudity or adult content, just yet. That being said, it was quite obvious that this duo always had a little fascination with busty video game characters.

Carsten and Carsten's early works, from left to right; Chewy: Esc from F5, Clif Danger and Chartbuster.

Clearly, these two shared the same love for busty babes, and thus, in 1998, the duo decided to (once again) launch a new video game studio. This time strictly focussing on productions aimed at adults. As both had realized, their games were missing something... that one spicy and important ingredient.

The start of their successful erotic video game business




Well, that missing ingredient turned out to be boobies! Under their new "Interactive Strip" brand, Carsten and Carsten would develop and release the famous and successful Lula series, better known as "Wet" in Europe.




Titles range from; The Sexy Empire to Lula 3D, Lula Inside and Lula Pinball. Several titles were released, all featuring Interactive Strip's very own busty blonde mascot; Lula. For more in-depth details, check out our article on the history of the Lula video game franchise.




2000, the year Redfire Software was born




Right after the final chapter in the official Lula franchise got released (Lula 3D), for some unknown reasons, the duo decided to abandon their current "Interactive Strip" company, to start over from scratch with their "freshly squeezed" and brand new erotic gaming studio named; Redfire Software.

With the help of online public video game databases such as MobyGames and rawg.io, I managed to find about half of all the titles the company had released in the past.

By using a time machine the Wayback Machine, a service which archives websites, allowed me to still read all information on the defunct (offline) domains; redfiregames.com, redfire-software.com and redfirehard.com.

Thanks to those archived versions of the Redfire Software related domains, I still managed to collect the final missing pieces of the puzzle. And even discovering Redfire Software used to sell porn movies as a digital download on their website as well.

Epic adult film titles such as Graf Dracula's bissige Saftfotzen, which translates to "Count Dracula's snappy juice cunts". At first I thought Carsten and Carsten should have won a freakin' Oscar for their "art", but then I figured out they didn't actually produce these videos themselves (as Herzog Video did) and they were just resellers.

A complete list of video game titles by Redfire Software


Nevertheless, after days of research with my Sherlock Holmes hat on and my dick magnifying glass in hand, eventually, as far as I'm aware, I collected all the data and the list of game titles below is now 100% complete.

Finally, it's time to check out "the good, the bad, and the ugly" from the Redfire Software studio. And man, they sure have produced a large collection of smut over the years. Let's kick things off with the very first naughty video game production by Redfire Software; Ibiza Comic Poker.




Ibiza Comic Poker & Patti Pain's Bondage Poker




The first game on the list, of course just had to be a poker game! Without a doubt, the most popular and over saturated genre when it comes to adult video games, it's (strip) poker games.

OK, fair is fair, maybe the amount of strip poker games on the market wasn't as gigantic back in 1999 (the year Ibiza Comic Poker got released) compared to today's numbers. But still, Redfire Software sure weren't the first developers to publish an adult strip poker video game.

Sorry guys, you're not getting a big phat "10" for creativity for this one...




One year later, Ibiza Comic Poker got followed up with Patti Pain's Bondage Poker, their second official release. And you've guessed it! Yet again, another adult oriented poker game. While the gameplay is very similar, this game is more aimed at a fetish audience.




For the most part, like the title of the game suggests, the main theme of Patti Pain's Bondage Poker involves a lot of BDSM and bondage action. The removal of clothing, like in a regular game of strip poker, has now been replaced with a more bounded position of (one of the three) girls available in the game.

The players gets to pick 1 out of 3 slave girls, which he'd like to challenge to a game of poker. Play your cards right and those ropes will get pulled tight. That rhymes.

In 2010, Redfire announced the official return of Patti Pain herself and that the company, after almost an entire decade, finally started working on a sequel entitled; "Patti Pain - Back for Revenge". Fans of Patti might be disappointed as Redfire Software went out of business before the product was finished.




Inside Chessie: Desktop Babe (2000)




Inside Chessie was clearly inspired by their earlier released Tamagotchi style game; Lula Inside. Just like the original Tamagotchi toy, which was a huge hype back in the 90s, you'll need to feed your "virtual pet", as well as take care of her in every other aspect.




From exercise to allowing your new blonde pet Chessie to get enough sleep, but also in terms of seducing her! You'll get to buy her presents, give her hugs and kisses and most importantly, you'll need to make sure Chessie gets 100% satisfaction between the bed sheets.

From titty-fuckin' to oral sex and even anal. Yes, Chessie is the kind of wild babe that doesn't mind getting a big joystick up straight up the tightest hole in her body. Unlike its predecessor (Lula Inside), this game actually does feature hardcore animated sex sequences.




"Inside Chessie: Desktop Babe" is a mix between virtual pet-style gameplay and a dating simulator. The game was released back in 2000 on CD-Rom.




Ibiza Babewatch (2001)


The type of game you didn't know you'd needed, but when you think about, it suddenly makes all the sense in the world. I mean, who doesn't enjoy peaking at the topless tanning cute girls at the beach during the hot summer days, right? That's right, Ibiza Babewatch is a "beach voyeur simulator" game, probably a brand new genre of its own.

Equipt with your fancy videocamera, the player gets to sneak around at the beach, waiting for that lucky moments to capture some sweaty juicy pair of topless hooters. Watch out though, you don't want to get caught by either the pool attendant, one of the bodyguards, nor the police! By the way, even real busty ladies seem to be working as a cop in this game.




The goal in Ibiza Babewatch is to take as many snaps of hot naked beach babes and sell that footage for cash. You can reinvest your well-earned money, for example, by upgrading your camera gear or buying a membership card that grants access to the VIP beaches, and that's where the real beauty queens like to chill while enjoying the summer weather.




Ibiza Babewatch features pornstar Laura Angel




Just like all the previous releases by Redfire Software, Ibiza Babewatch still maintains that same style hand-drawn (cartoon) graphics and visuals where Redfire Software is known for.

However, the game also features live action (green screen) captured footage of (Czech Republic-born) pornstar Laura Angel, mixed in between. The player gets to win rewards, either with animated sex clips or footage starring Laura Angel.

And yes, the famous pornstar Laura Angel does strip nude, like in all the way... Well, not all in cases! Only if you were lucky enough to own the "Special Hardcore Edition" of the game back in the day, as the regular version didn't exactly reveal all the "good stuff".




Feel like having some naughty fun at the beach spotting all these hot chicks? In the mood for some (old school and highly pixelated low resolution) animated and live action softcore video scenes? Go play Ibiza Babewatch and have yourself a laugh due to the outdated visuals. Besides that, the game is actually kinda entertaining to play.

This 2001 adult video game allows you to become a voyeur completely legally, and even better, without the huge risk of getting caught and becoming known as "that perverted guy"... Like I am.




Erotica Island (2001)




For the first time Redfire Software dropped their sweet hand-drawn art and did a 360 by replacing them with low polly 2.5 sprites and pre-rendered 3D backgrounds.

Quite shame, just look at the screenshots and be your own judge. Personally, I find these awful 90s style "semi 3D" graphics pretty damn ugly. Oh well, back in the day it was probably considered to be "cool".




Erotica Island was supposed to be released on Valentines Day (February 2001) but due to unknown reasons, the game's release got delayed to March (that same year). In general, the game got poor reviews, some even calling the game; "a perverted and poor attempt".

The player takes on the role of Reggie Rich, not to be confused with Richie Rich, even though both persons turned out to be filthy rich.

Anyway, Reggie is a real playboy and loves to hang around as much ladies as possible. One day, poor Reggie crashes on Erotica Island. Reggie asks for help after meeting a local fisherman, who promises to take Reggie home with his boat, but only after he successfully managed to seduce all the wet and horny, big titted, bikini wearing, gorgeous island girls. Now that doesn't sounds like a real punishment to me... at all.




Erotica Island is a point-and-click adventure game, a genre that had it's biggest peak in popularity during the good old 90s, I mean who didn't remember or play any of the "Monkey Island" games, Day of the Tentacle or even one of the adult "Leisure Suit Larry" video game franchise? The last one was even named as Redfire Software's biggest inspiration for Erotica Island.

A lot of these point-and-click adventure video game titles were developed, distributed, or often both, by Sierra Entertainment. I can tell you one thing up front, Erotica Island doesn't even come anywhere near close to the quality of those popular Sierra adventure games from the 90s.




Ain't no penis-shaped totem poles or big pair of double D's are going to make much of a difference in terms of gameplay. Fair is fair... While I must admit, that penis-shaped totem pole did make me giggle just a tiny bit. Well then, moving on!




Watch Me in My House (2002)




I guess Ibiza Babewatch wasn't enough for Carsten and Carsten as they decided to develop yet again a voyeurism-themed erotic video game. Meet "Watch Me in My House", which was released by distributor "CDV Software", back in 2002.




While I really tried my best to find out more about this game, the sad news is, I couldn't find any information regarding "Watch Me in My House", besides it being released in 2002 and being a Redfire Software production. The only thing I did manage to find are these still images of the actual gameplay.

Even by using the Wayback Machine, fetching any kind of data that might help was simply impossible due to the official website not even listing this title. While one video game database website did list the game, they also didn't provide any info at all. Sounds like quite the mystery ha? But yeah, this is indeed a pretty rare game.




By looking at the screenshots, it seems pretty obvious it's a simulator game. According to the second screen capture, it looks like there's plenty of hardcore video footage for the player to enjoy as well.

The Carsten duo really had discovered sex sells, and by adding real life pornstar video footage onto their game CD-ROM's would help improve sales, as they would continue that trend with a lot of their future adult game productions.




Airline 69: Return to Casablanca (2003)




Arguably one of the most popular and well known games by Redfire Software, a simulation and strategy game with plenty of erotic elements; Airline 69. And the best part, finally Redfire Software decided to return to their classic cartoon-style graphics.




The game uses the same style gameplay of their previous science fiction themed game "Wet Attack: The Empire Cums Back", while still working at their former game development studio; Interactive Strip. While "Wet Attack" had a futuristic theme, complete with an all female spaceship crew, intergalactic gigolos and even space brothels, while Airline 69 on the other hand, uses more of a historic theme since the game's storyline is set in 1942.




Things get pretty "romantic" quite fast in Airline 69 as the player's aircraft (with the main star of the game being pilot Wayne) gets shot out of the air while flying over Casablanca. Wayne somehow survives and that's where he meets the new love of his life, a real sexy secret agent named Chou-Chou, who happened to be hiding in his aircraft the entire time.




To finish the game, you'll need to do two things. For starters, make sure you'll keep your brand new lover Chou-Chou happy at all costs. Second, you'll need to make as much money so you'll be able to get a license to start your own airline.

To earn cash, the player needs to buy and sell items, make trades, keep Chou-Chou happy by buying her presents and solve various mini sex games. Think of mini games such as a simple memory card game or even an orgasm simulator (what sex toy will make Chou-Chou scream from pleasure the most) etc.




The player can only purchase one item (for trading) at the time. In order to find the right buyer, you'll get to travel to all sorts of different locations using the world map. Besides buying trade-able items, you'll also need to buy information from your clients in order to progress and to find out which location to travel to next.




Airline 69: Return to Casablance is by far the most interesting game on this list and will keep you occupied for plenty of hours, all thanks to its interesting gameplay (and OK, the many busty babes and on-screen sex might be playing an important factor too). There's just a ton of things to explore inside the game, characters to meet and talk to and the many different locations keep things refreshing while playing.

There's also a lot of spicy animations to enjoy, and again, a couple of live action sequences can be found inside the game too. Airline 69 was released in 2003.




Faq Dodgers (2003)




Faq Dodger is a sci-fi themed space shooter filled with naked chicks and even includes an on-screen meter that shows your current piss-power. That's right, you'll get to piss those evil space whores right out of the sky with your very own "meat rocket"... Duke Nukem, eat your heart out!




Seems like I have to correct myself for a bit here, as this 2003 adult game labels it selves as a virtual fucking AND shooting-game. Virtual fucking meaning, Faq Dodgers also offers sex simulation-style gameplay between all the shooting action. And like you've probably guessed by now, animation cut-scenes are present here as well, only this time containing 3D animated on-screen sex.

Redfire Software named their flashy new modern sex simulation game engine; "Virtual Lubrication", which allowed them to provide all of this interactive fucking-pleasure. Pussy- and anal-fucking till super-orgasm... And yes, that's in fact a quote.

The player has to overcome tons of deadly all-female enemies and somehow survive all 10 different worlds in order to finish this game.




The best part of it all? Hold on to your balls (real tight) as you'd better prepare yourself for the story that's about to come. The amazing story of the Faq Dodgers video game, that is!

"After the red killer-bitches from planet Rectal 6 kidnapped LongDong´s pleasure slaves, our hero FAQ DODGERS is asked for help to rescue the hostages and to fuck all the holes of the red killer-bitches. This is the only way to deal with the dangerous creatures: FAQ has to fuck them without mercy and to screw them from behind."



Faq Dodgers (2003)

Storyline of the game

But wait... There's more! If you thought that was all of the story, man, this epic tale of futuristic weirdness continues below...

"His sperm shows proverbial explosive effects on the alien babes. But before he can penetrate the killer-bitches he has to eliminate their dangerous probes. He has to free the floating female prisoners from the libido-absorbing brain-suckers. To shake off the brain-suckers from the girls heads, he has to use his prick once again."

Well, that's got to be the best storytelling in the history of video games. Congratulations on that!




In 2010, Redfire published an article in the form of a sneak preview for their upcoming games, which included; Faq Dodgers - Episode 1: Doom of the Spacezombies. See promo material above.

There's a really big but(t) coming up, because I hate to disappoint you, but we'd never got to witness any of those "space zombies", as the company discontinued all of their works that same year.




Xtreme Beach Soccer & Volleyball (2003)




"Babes & Balls: Xtreme Beach Soccer" and the second game "Babes & Balls: Xtreme Beach Volleyball", are the actual full titles for these two naughty beach-themed 3D games.

The only game titles on this list, that weren't developed by Redfire Software themselves, but instead, they'd only published the games under their own brand.




Both titles were developed by a game studio called Summitsoft Entertainment, and in fact, are only a slightly modified version of their original games; Beach Soccer & Volleyball, which Summitsoft released in March of 2003.

The only difference between the originals and this so-called "Xtreme" edition that got distributed by Redfire Software a few months later, in September of 2003? The answer is simply! In the original games, the team players actually wear clothing. And well, in this "special version" by Redfire Software, everyone is doing sports... in their Eve-costume.

So basically, the only thing that's changed in Redfire's edition are the skins of the players on the "field", or more like "on the sand", in this actual case.




Even for 2003's standard, the 3D graphics are piss-poor. You can barely tell whether your looking at a bunch of boobs or just sand. I assume, they probably didn't had to pay a whole lot of money to buy the source code from Summitsoft, as it sure as hell isn't really good, and that's an understatement. Turns out, these 2 games were the only ones Summitsoft has ever created.




The Heirs to St.Pauli - The Reeperbahn Game




The long awaited "Run your own redlight district game" has finally arrived. Who else but Redfire Software could pull this one off? Here's the 2003 adult business management game "The Heirs to St.Pauli - The Reeperbahn Game".

Now who ever claimed running a large scale whorehouse or peep-show club would be an easy task ha? Try The Reeperbahn game over here, and you'll find out for yourself that life as a big pimp ain't that easy as it looks.




When the game starts, you are about about one step away from becoming the lucky new owner of a peepshow club. While Amsterdam (The Netherlands) is quite famous amongst tourists for its red light district, however, lesser people are aware of the fact that Germany has it's very own red light district as well. Where? Well, right in the heart of St.Pauli, you know, the red light district in Hamburg!

While your brand new club looks all good at the beginning, the player quickly discovers that his club isn't exactly as good as it appears to be. Upon closer inspection, it reveals that its a run-down wreck of a place, and it's actually keeping all the customers away. It's the player's task to fix all of that by slowly climbing up the ladder and turning this awful peep-show club into an erotic paradise packed with happy guests. To do so, you'll have to manage every tiny little aspect of the business and that includes sponsorships and your own personal wealth and status.




Like virtual pimpin', ha? Check out the following article for a list of a bit more modern adult business simulator games.




Gotcha Babes X-Treme (2004)




Gotcha Babes X-Treme got released on June 1, 2004. Both being developed and published by Redfire Software.

Babes 'n Balls Vol.3: Gotcha Babes X-Treme, is the official alternative title of the game, even though I seriously have no clue what the hell this game has to do with balls? I mean, sure I get the whole "balls" title thingy, when for example, used previously with the "Xtreme Beach Soccer & Volleyball" games, but in this particularly case, it doesn't really make any sense. It's a damn first person shooter. What's up with the balls? Besides that, the game also isn't as "extreme" as the title would like you to believe.




This first person paintball shooter offers 5 different game types; Arcade, Capture the flag, Assassin mode, Attack and Defend and even a "Free for all" mode, which can be played in multiplayer.

You'd might be asking yourself right now, but what exactly is sexy or arousing about a FPS game? Well, nothing that much really. Of course, all the in-game characters are busty women, there's that. But the sexiest part of the game, are of course the cut scenes, starring real life actresses flaunting skin in front of the camera lens.




The sad news, the in-game video footage is interlaced, causing those annoying horizontal lines to become visible (during video playback). And well, that really ruins the fun of the video parts. Gotcha Babes X-Treme is the only FPS shooter game released by Redfire Software.




Dick Sucks: Terror in Titfield (2004)




Meet your new favourite video game character called "Dick Sicks", the hero on two balls on a journey to complete all 30 levels in order to save his home town.

One of my favourite game genres while growing up as a kid, were platformers. I played Sonic the Hedgehog on the Sega Megadrive for years, the same goes for the classic MS-DOS platform games such as Commander Keen and Rayman.

Also a huge fan of platform games? I guess you're a lucky bastard today, as we've got another platform game for ya, a slightly different one! A platformer aimed at adults and features a jumping (or more like a; balls bouncing) penis as the main protagonist, that somehow must overcome all the dangerous boobies-shaped enemies (which are raising hell in Titfield).




Forget about Nintendo's mascot "Super Mario", I mean, come on... A twin plumber? nobody thinks plumbers are cool anyway. Ok, maybe except pornstars since from what I've seen, they really don't seem to be able to keep their hands off plumbers, nor their "wood".




It's time for a change, let's drop Mario and Luigi as video gaming mascots, and while we're at it, fuck Sonic and Tails too. I'd like to vote for the perfect new candidate and what most likely would become the coolest mascot in the entire history of video gaming, the one and only... Dick Suck!

But yeah, that never really happened. Because, well, you know... Nintendo and its family friendly entertainment policy and all. A heroic penis with big balls, isn't considered to be just that.




Slut Machine (2004)




Because there wasn't any public video game database that actually had "Slut Machine" listed on their website, I'd still managed to get all the information by using the Wayback Machine to browse the official website slut-machine.de, which is no longer "in the air" by now.

The first archive of the website was scraped by the Wayback Machine in July of 2004. It's safe to assume that the game got released around the same time the website got registered.




Like the name of the game suggests, Slut Machine is a slot machine (casino) game, but a lot spicier and with pretty wild live action footage thrown in. The video's are starring the "Venus award winning" model Juicy Lucy, amongst others, both male and female. The video footage included on the CD-ROM contain solo, lesbian and even hardcore BG and threesome scenes.

"Ejaculation guaranteed", according to their website! Well, from what I suspect, it all looks a bit like a "let's make a quick buck" kinda game to me. But then again, I never played the game, so who knows, right? Could be the best game on the planet after all. Never judge a book by its cover.




Dick Sucks: Juicy Pussy Club (2005)




Aah, finally the long-awaited sequel to the Dick Sucks: Terror in Titfield game has arrived. But then it turned out to be not quite really a sequel to the original game, after all. Besides using the same name, that is.




Juicy Pussy Club is an interactive dating simulator game, featuring a pretty damn sexy blonde teen named Steffi. Or to be a bit more precise, the original (dick-sucks.com) website refers to her as "Juicy Steffi - The Kitchen Slut". Yeah... well, I don't make this up.

Treat this beauty like a real queen, be gentle and show her your tenderness, be sweet to her and spoil her a bit every once and a while, and one day you and the "almighty sword" hiding in your pants, might actually get lucky when Steffi decides to "open herself up a bit". Hell, she'd might even let you use her favourite toys on her. Hooray for Steffi. Now she really became our "favourite kitchen slut".

The game offers 25 different levels to complete and even better, 25 hot and horny live action video-sequences, all of them starring this cute and stunning blonde teen (with an incredible pair of hooters). There's even a "special hardcore edition", which truly makes the game "level up", in terms of spicy sex scenes.




Airline 69 II: Krasser's Revenge (2005)




Two years after the release of the original Airline 69 adult game, Redfire Software decided it was time for a well-deserved sequel. If there's indeed one title in Redfire's video game catalogue that was worthy of a sequel, I totally agree, it's definitely part two of Airline 69. More cartoon sex and strategy gameplay, cummin' up!

Airline 69 II: Krasser's Revenge picks off right where we left after the first adventure of pilot Wayne and his new girlfriend, the hot and busty secret agent Chou-Chou.




The story begins with a character called Major Krasser, who has just found the three special artefacts, which together make a key to open a tomb. The builders of the tomb had placed some good old fashioned booby-traps (not to be confused with boobies), these traps were awaiting Major Krasser's arrival. After going in, Krasser got set on fire as a result of one of those traps. Major Krasser miraculously managed to survive the fireball incident... barely!

After Wayne and Chou-Chou had been shaggin' for a few hours straight in the whirlpool, Chou-Chou leaves the tub to have herself a quick smoke. While our favourite pilot Wayne's still relaxing and enjoying the water bubbles, a trio of big titted assassins (of course they had big knockers, what else did you expect?) named "the Killer Pussies", manage to kidnap Chou-Chou, with Wayne being unaware of the entire thing.




At that moment, Wayne gets a call and when he picks up, the voice of the evil Major Krasser tells him; "If you want your girlfriend to stay alive, you'll do exactly as I tell you".

Your first mission is to steal a painting for Major Krasser, quickly after that, pilot Wayne finds a way out of this mess by teaming up with a financial struggling street gang. What do these thugs want? Money! Sounds familiar?




This second part of the Airline 69 saga follows the same protagonists and the same interesting puzzle solving and strategy (almost business simulator) type of gameplay, which involves finding and trading (or even stealing) objects in order to earn as much money as possible.

New features has been added to the sequel, as you no longer are only limited to trading items, you'll also get to earn cash by taking pictures in your studio and sell these pin-up candids for profit.

In order to make any progress, the player needs to visit all sorts of locations, communicate with all the in-game characters, run different business opportunities and somehow try to glue all the pieces of the puzzle together. And in the end, hopefully, get that well deserved "happy ending", probably at the hands of Chou-Chou (quite literally) after you've saved her.




And just like in the original Airline 69 game, the sexual mini games and numerous spicy cut-scenes remain intact, even adding a bit more. Cut-scenes being both animated or are starring real life pornstars (masturbating in front of the camera lens). If you enjoyed the first one, you'll be loving this sequel too.




Airline 69: Casablanca Porno Poker (2005)




Like expected, Refire Software also wanted to make an extra quick buck. I totally get it, producing a strategy game like Airline 69 and its sequel, really is time consuming. Especially when compared to making a tiny cheap adult poker game. I mean, they already had the engine build, used by their earlier game releases such as; Patti Pain's Bondage Poker.




What can we say? It's another small poker title, this time trying to cash in on the Airline 69 franchise. Or maybe to make up for the long production time of those two games. Anyway, in this 2005 adult poker game, the player needs to take on adult models; La Luna Love, Vanilla Blonde, Sheyla Sunshine and Letitia Lust, amongst others in a game of (strip) poker.

Be prepared for a lot of lesbian kissing and more steaming on-screen fucking in Airline 69: Casablance Porno Poker (from 2005). In total, the game has 3 different play modes, 5 different girls to play poker with, and a total of 8 levels to complete.

When you win, you'll be rewarded with some steaming hot hardcore videos. The game includes 7 porn scenes per "poker game" and a sexy intro video as a bonus. Experienced poker players might change the game's difficulty settings to either normal or hard mode, in case they prefer a bit more of a challenge.




Castle Knatterfels: Curse of the Zombie Krauts


The plot of the game; "A fuse blows out during a photo session in eerie Castle Knatterfels - and an old research laboratory in the subterranean castle depths suddenly starts running again. Knatterfels is now infested with newly-created zombies - merciless creatures that have only one thing in mind - to kill the sexy supermodels and ruin the player´s gameplan! An unbelievable mix of horror and powerful eroticism".

Now that does sounds kinda exciting, doesn't it? Like a few of the previous released adult games by Redfire Software, this title was also released as a normal (softer) version as well as a special edition called "Castle Knatterfels Special Hardcore Edition", and like the title suggest, the second one features more hardcore adult content, something we obviously highly enjoy. While the original version only shows a lot of 3D animated boobs in bikini and a ton of skeleton monsters, the "Special Hardcore Edition" adds live action (uncensored) porn footage in the mix.




The players gets inside the role of a porn photographer called Huge Beefner, who happens to visit a haunted mansion (a reference to the Playboy Mansion, probably) to take a couple of candids of bikini models, upon arrival you quickly discover the place is actually haunted. With a total of 10 different weapons to choose from, all with various "powers of penetration", you'll have to shoot your way out of this mess, kill all the zombies and monsters and of course, save all those 3D rendered bikini babes in the process.




Luckily for us, we still get to enjoy some mild eye candy and skin because somehow in between all the zombie-slayin' action, we've still managed to find ourselves a little bit of time for a bunch of photo shoots with the bikini girls we've previously saved.




Sadly, the gameplay and graphics are really poor, especially considering this is a 2006 video game. The quality of the titles by Redfire Software seem to go rapidly down the hill from here on out. "They" all look as if they were made just to make a quick buck, and my bet, that's exactly why they were made. What happened to their earlier (and charming) cartoon titles? Apparently, a sequel was in the making (Castle Knatterfels - A Night at the Cemetery) before the company bankrupted. Oh well, moving on!




Castle Knatterfels: 3DD Strip Poker (2006)




3DD? Aaaah, I see what you did there. Remember that remake of the classic horror movie; Piranha? They pulled off the same joke with the sequel, which was called "Piranha 3DD". That being said, you've got to give Redfire Software credit for making that joke first, even though I doubt they were the first to make the double D's joke anyway.

Bring on those double D's, let's play some strip poker... once again. Oh well, what can I say? It's a strip poker game based on the previous Castle Knatterfels franchise... Moving on!




Sudoku Bondage: Tied Up & Bound (2007)




A puzzle style we haven't seen so far, and well, when I think about it, I believe I've never played an erotic Sudoku-style game in my entire life before.




Anyway, for the fans of Sudoku puzzles that also happen to have a bondage or BDSM fetish, this 2007 adult video game title, might actually be that one hidden gem you've been looking for your entire life. Nothing much to say about this title, I mean, it's Sudoku... But with kinky 3D rendered bondage images.




Curse of the Caribbean Pirate Queen (2008)




Aye Matey! Forget about Pirates of the Caribbean, here's Curse of the Caribbean Pirate Queen and it's way better because unlike that boring version starring Johnny Depp, this one actually does have a ton of female pirate "fun bags" in it...

All hands on deck as we're about to go sailing for pussy and while we're at it, we might as well go on a treasure hunt for some fine and juicy pirate meat! Hooray for butts & hooters! Ready for the wild adventures of captain Parrow?




"Can he resist the erotic charms of the Pirate Queen, free his crew and discover the fabulous lost treasure?" - Is what Redfire Software asks us on their website.

It's up to the player (in the role of Captain Parrow, not to be confused with Sparrow) of the game, to free his kidnapped crew at the hands of the erotic pirate queen. But be very careful, while following the pirate queen onto a mysterious island, you'll soon learn that this island is packed with hordes of zombie pirates, crocodiles and other mythical sea creatures.




Curse of the Caribbean Pirate Queen is an adult action game with a top-view style graphics and gameplay. While its labeled an adult game, besides a few awful 3D animated cut-scenes, there isn't much "adult content" to enjoy.

According to the archived version of the official Redfire Software website, the game also features a grooving soundtrack by non other than the "Swingin Scullies", which I seriously never heard of in my life before.




Chessie Moon - Boobs4Brain (2010)




Here's "Boobs4Brain" for ya, released in 2010, which also brings us at the final chapter of the Redfire Software-saga. Man, it feels as if I've been writing a 500 page novel. Why the hell did you guys had to produce such a large amount of naughty video games? You guys sure kept me busy... Yes, I'm looking at you, Carsten and Carsten!

This is the very last game ever to be listed on the Redfire Software website before the entire company website got pulled offline and faded to black, back in 2011. While I couldn't find any screenshots of the actual gameplay, I did find a minimum amount of info on the official website about their very last adult game release ever, before also deciding to "pull the plug" on the entire company itself as well.

This was also the very first time I've entered a search term in google, which gave me zero results. Try Googling for the keywords; "Chessie Moon Boobs4Brain" yourself and you'll see, there really isn't much known about this little adult gaming title at all. Could that mean it's some sort of "hidden gem" amongst sexy video games? Far from it!

Sadly, the final product by Redfire Software doesn't sound that thrilling to be honest, as the game labels itself as an "all new sexy IQ workout game box". You know what that means? We'll be treated on some fast produced, cheap, and highly simplistic gameplay in the shape of jigsaw, hidden object and crosswords-like puzzles. Ok, all the boobies mixed in might help improve such game, but yeah, it very likely still going to end up being a boring puzzle game.

In total, Boobs4Brain starring Chessie Moon, features 8 different IQ-games. Train your brain while enjoying some sweet 'n sexy boobs simultaneously.

When you put it that way, that doesn't even sound as such a bad idea at all... on paper, at least. Oh well, guess we won't be able to find out without a copy of the game? Unless someone actually still owns an actual copy of the discs, probably covered in dust (or man-juices) and feels like donating it to us. *hint* *hint*




Titles with an unknown release date




We couldn't figure out the release date of the following erotic games developed by the Redfire Software studio (see games below).




There isn't that much known about the Puzzle Hustle trilogy, besides the fact that these are erotic puzzle games. A sliding puzzle to be more precisely. Besides the puzzle elements, there's plenty of 3D animations of busty and topless girls (while fighting) to enjoy.

Puzzle Hustle Vol.1: Catfight Dungeon (also known as; Catfight Dungeon Puzzle)
Puzzle Hustle Vol.2: Foxy Sin Exposed
Puzzle Hustle Vol.3: Baby Dangerous

The original title of the first game was Catfight Dungeon Puzzle, before Redfire Software decided to change these into a three part series.




Drunken lil' Bitch & Bitch Train - Adolf's Pussies




This is the part where Will Ferrell would say; "Boy, that escalated quickly".




Now we're really going down the rabbit hole, Redfire Software's hidden gem "Drunken Lil' Bitch session 1: Bottles and Buttholes", allows us to put beer bottles inside a virtual 3D babe and well, speaking of smut, here's some smut for ya. Or better yet, some good old fashioned nazi exploitation. Forget about "Ilsa, She Wolf of the SS", forget about "Love Camp 7" and "Gestapo's Last Orgy", it's time for you to meet Redfire's most controversial game on this list; "Bitch Train - Adolf's Pussies".

"Hi, I am Lil Bitch! You wanna fuck my ass? No problem, but at first I need some drinks to get hot. Put a bottle in my ass and I get hotter. If you make it the best way, I will show you some hardcore videos - so you will get a strong penis!".



Drunken Lil' Bitch session 1: Bottles and Buttholes

Quote

Ladies and gentlemen, now that quote right there, that is what I like to call some fine piece of poetry. Anyway, so about the gameplay, you'd might ask? Let me ask you pal... Do you even really want to know? Let me just say that it involves bottles and buttholes, just like the title suggests.




What's next? Oh yeah, the Bitch Train game. Turns out, it's a locomotive simulator mixed with live action porn scenes. Let me sum it all up for you; a locomotive sim game that has Adolf's Pussies in its title, showcases a lot of porn sequences, while the in-game story takes place during WW2. We don't make this stuff up.




Fanzar - Schlong of the Jungle Volume 1: Tic Tac Fuck




There's only one team of developers on this planet that could come up with the idea of turning an innocent family-friendly game like the classic "Tic Tac Toe" and turn it into a full-blown porn game called Fanzar - Schlong of the Jungle Vol.1: Tic Tac Fuck, which involves a couple banging in the jungle while a horny ape is watching them get into action.




Since the title contains "Volume 1", I can only assume this was going to be turned into a multi-part game series. However, a second volume never got to see the day of light. I'm just doing a wild guess here, but maybe, just maybe, it's because Tic Tac Toe isn't exactly the most exciting thing in the world in terms of gameplay.




Naked Memories Vol.1 - A Night with Natalie Night




Natalie Night used to be a famous model and pornstar from Germany. Not to be confused with the US pornstar Natalie Knight.

Besides starring in adult films, the German porn starlet Natalie Night also appeared in Naked Memories, a memory card game for adults. Who thought only kids wanted to play a game of memory cards? Not gonna lie, with a hot babe like Natalie Night in it, I don't mind playing one or two rounds. But that's exactly the thing, it just becomes really boring, like real quick.




Let's just say, this game exists and it's out there, and that's pretty much all I have to say about it. I mean, it's an adult memory card game, and that's all it is. Ok fair is fair, the CD-ROM also contains some spicy adult scenes starring Natalie Night riding a hard rod and flaunting her tight and petite body.




The end of today's list?




Trust me, we're almost there, now don't you worry! While pretty much all products from Redfire Software were marketed towards mature audiences, they did actually develop a handful of non-erotic video games or games that only contained an extremely limited amount of "mild" mature content. We've listed those few non-erotic video games below.

Caveman Zac (2004)
Stoneage Foolympics (2004)
Wardoves: Secret Weapon of World War I (2001)
Chicken Farm (2001)




How to play these old erotic games on a modern Windows PC?




Windows 7:
Let's say you'd like to try some of these classic adult games by Redfire Software, for example, take one of there best titles, the point and click adventure game "Airline 69". Games like Airline 69 run just fine on Windows 7 (64 bit). If you you're getting a "media seeking interface" error, be sure to set the compatibility mode of the game's executable to; Windows XP SP3.

Windows 10:
To play older adult game titles like Airline 69 on Windows 10, you'll need to use the experimental ddraw.dll file called DDrawCompat. Just copy and paste it in the root folder with the *.exe file of the game you'd like to play. And don't forget to turn on compatibility mode to Windows XP SP3 (for the main executable file) before launching the game.




In just 5 years, Redfire Software managed to develop and distribute a ton of adult video games, a lot of them turned out to be just straight up awful. But actually, there were a few hidden gems amongst their releases, such as the two Airline 69 games.

Hopefully you've had yourself a quick laugh thanks to some of the bizarre titles listed in here. Anyway, that's really it for today folks, enjoy!