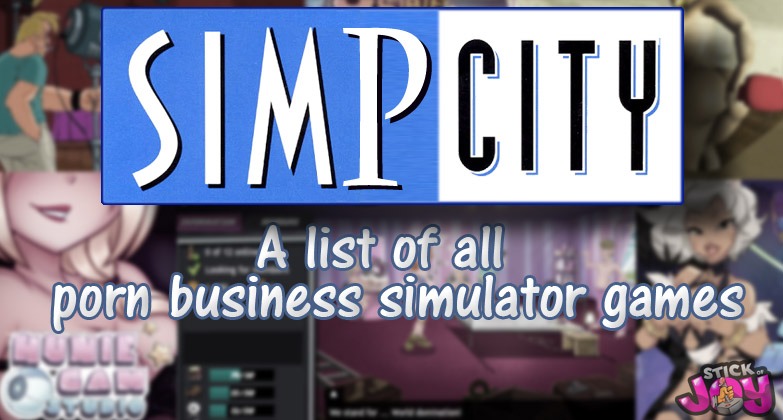 List of all porn business simulator video games (build your own porn empire)
Have you ever wanted to run your own porn empire but never had the means to do so? Well, we've decided to search for every game that revolves around creating your own porn business and running it, all for your (gaming) pleasure. The following 11 games that we've compiled into this handy list offer you just that, so just scroll down, discover the adult video game title you like and get down to "business". The dirty business, that is!
Build your own porn empire with these 11 adult video games
Forget about building roller coasters in games such as Theme Park World or Roller Coaster Tycoon. Forget about building and running complete cities like in Sim City... Today we're about to check out the adult alternatives, so instead of Sim City, we'll go for "Simp City". As today, we're going to grow our penis our own sex industry business. From running your own adult film studio to selling sex toys at your very own intergalactic sex shop.
Let's get started by running our own naughty webcam studio with the very first adult game on today's list; Huniecam Studio!
Huniecam Studio (2018)
HunieCam is a game all about having your own cam girl studio, and your main task is managing the girls that work there. HunieCam has a very charming design, with bright colors and adorable girls.
The game works like any tycoon game - you have a little empire that you have to upgrade, rebuild, and manage, but you'll have to wait around until those tasks are finished. You will also have to improve the style and talents of the girls that work for you. There's a store where they can buy drugs and (sex) toys, you'd also have to supply alcohol and cigarettes to make sure your "employees" are happy and satisfied.
The game also features a fun hotel which allows you to give your "girls" a try-out. But be aware, there's always the risk of catching a STD.
HunieCam is developed by the same team behind the highly addictive and popular match-3 game for adults called HuniePop.
With the awesome and sexy (and also, quite the fan-favourite) HuniePop game in mind, you'll know the gameplay of HunieCam Studio will be a lots of fun to play as well! Give HunieCam a try if you want to manage these adorable sex kittens, and even though this title is one of the few on the list that ain't free to play, it's still something we highly recommend.
Play Huniecam Studio ($6.99)
Busty Biz (2020)
Busty Biz is an idle RPG game where you inherit an old porn empire from your ancestors, and it's your job to rebuild and bring it back into its old glory days.
As you earn more money, you'll be able to hire more and more steamy girls to help you with your luxury villa. You can chat with them to improve your relationship, and once you reach a certain level, you get access to their steamy pictures and three animated sexy scenes that you'll be able to modify! This is a cool game that will drag you in with its simple yet captivating gameplay spiced up with lusty (and like the title suggests; busty) babes.
Busty Biz is free to play and can be played directly in your browser or download the APK (app) for Android devices.
Play Busty Biz for free
Big Bang Empire (2017)
Have you ever wanted to experience the thrill of climbing up the ladder in the world of show business? Big Bang Empire lets you do just that, but instead of being a regular actor, you'll be a star of adult films.
You'll begin as a simple amateur shooting perverted scenes in a dirty motel room, and gradually work your way up to become the king or queen by gaining more followers. This is achieved by changing your style, enhancing your attributes, and choosing the right accessories to get noticed. Big Bang Empire has PvP and PvE elements, along with cool character customization and everything else that makes up a good RPG game.
We've posted a full review on Big Bang Empire prior to this article, go check that one out if you'd like to learn more about this adult video game title.
Play Big Bang Empire for free
Lula: The Sexy Empire (1997)
Lula: The Sexy Empire is the very first game ever released that focused on every aspect of building your own adult entertainment industry. It came out in the 90s, so don't expect over the top high resolution graphics. However, the early games in the Lula franchise (known as "Wet" in the US) do have their charm, thanks to their unique cartoon-style visuals.
You start out with your girlfriend, Lula, situated in a dirty motel room. To make matters worse, you're chased by the FBI!
The game tasks you with taking dirty pictures of your girlfriend and selling them online. But your equipment is poor, so the next logical step is a strip club where your girl will dance to earn more money. The character design is exaggerated, and there's plenty of nudity you'll be able to enjoy.
Curious about more? We've published an article covering all the game titles in the Lula-series. Or go download the game right away, since it's considered abandonware these days, you'll get to download the game free of charge. You do need an emulator to play an old game like this on a modern PC.
Download Lula for free

Fake Lay (2017)
This game revolves around your story, and all you need to do to progress is click. But of course, it's up to you to make the "right" clicks in order to get to watch and enjoy all the eye candy on your screen!
You are a respectable businessman that decided to revolutionize the Fake Taxi genre. Sounds familiar right? Oh yeah, the real adult film studio called FakeHub already did that!
If you're a porn watcher, you've must have seen at least a couple of their porn scenes, or at least viewed a few teaser trailers. Think of highly popular adult film-series such as Fake Taxi, Fake Agent, Fake Hospital and Fake Hostel, just to name a few. All these porn scenes are from the same studio, namely; FakeHub.com.
Back on topic!

Your task as the player is to find a whole bunch of girls willing to let you film them doing all kinds of dirty things in a cab (just like in the Fake Taxi adult films). Once you get the movies, you will have to sell them, and use that money to create even better videos.
Pimping the girls will require clicking on them until they're in the mood, slashing curse words to keep them in your business, and keeping them happy. Once they reach level 10, new positions are unlocked, you can give them some porn to watch to improve their techniques, and even take them to blowjob tournaments!
Play Fake Lay for free
Pleasure Inc (2020)
Pleasure Inc. is a tycoon game centered around a sex toy empire. It's an idle tycoon type of game, so you'll have to do a lot of clicking and waiting around until you collect enough resources.
And what are those resources for, you're wondering? Well, you'll get to spend them by hiring new sexy managers, improving your buildings, constructing new stores, and even building a time machine so you can go back and do an even better job. Yeah, I don't make this stuff up.
The atmosphere of the game creates a neon synthwave feel, complete with the music from this 80s genre. Click your way to the top of the sex toy empires! For fans of clicker-style games, you'll probably be enjoying this naughty game title.
Play Pleasure Inc for free
XXX Factory (2019)
XXX Factory is also a game about creating a sex toy empire. However, unlike Pleasure Inc, XXX Factory will task you to create new and improved sex toys! Ready to find out what works best? Dinosaur penis-shaped dildo's? Think you got the skills to design a brand new toy that will provide ultimate pleasure to soaking wet girls? Are you the mad scientist that will invent the new and improved line of Hitachi Magic Wand vibrators?
XXX Factory is the only 3D game on this list, as all other mentioned adult business simulators offer a more 2D or isometric-view graphics. That being said, these 3D graphics aren't that pretty to be honest, as they look as if they were made somewhere in the early 90s, and didn't quite age that well. Luckily, the interesting simulation-style gameplay does make up for all of that.
While playing the game and trying to complete your ultimate goal of crafting "the perfect dildo", you'll have to hire an engineer to help you out, plus some promiscuous sex workers with whom you will test those toys out before they reach the stores. There are more than 22 masturbation scenes, erotic scenes with your secretary, fie sex workers you can interact with, and 7 or more toys to test out.
This game is limited to Windows PC's only and costs $18 to download.
Play XXX Factory ($18)
Porn Studio Tycoon (2017)
For starters, Porno Studio Tycoon does not have any sexy scenes that require you to be over eighteen years old. In other words, the game is quite mild in terms of sex. The only thing inappropriate about this game is the occasional moan the girls let escape. Like the title suggest, the premise of Porno Studio Tycoon has you directing and producing a porn film.
The greatest part of the game are the retro-style visuals and graphics, as they are giving me some serious 90's gaming vibes and they remind me a lot of classic gaming titles such as Sim City 2000.
Your tasks in the game? You'll organize the lighting, hire a photographer, order the girls around, and order pizza, because that's very important. If you want to learn how a porno studio works without seeing any actual nudity, then give Porno Studio Tycoon a go!
The game was developed by Zitrix Megalomedia and released in 2017. It's available on Steam.
Play Porn Studio Tycoon
Superdimensional Sex Shop (2020)
Superdimensional Sex Shop is a hidden gem in the world of porn games. This comic-book style game will show you some high-tech sex toys, flexible space girls that want to jump your bones, and space travel, of course. Quite an odd mix, but it works and it even is a pretty damn sexy adult business simulator game!
A smoking hot scientist accidentally opens a portal to your world, and you have to hide her in your basement and keep her device running with nothing but raw, sexual energy. A total of seven portals and seven slutty deep space girls await for your arrival in this game, and you'll get to upgrade your sex toys to try out even more ways to satisfy them. Superdimensional Sex Shop will keep you engaged for ages to come thanks to monthly events and constant updates!
This game really gives me some serious Rick and Morty-vibes, but with Rick and Morty replaced by total cute and naked babes. And let's not forget about the arousing alien chicks! A must play for fans of sex-filled sci-fi action!
Play Superdimensional Sex Shop
Sweet State (2017)
Become the greatest pimp that ever walked the Earth in Sweet State! However, be careful of other pimps as you're not the only one in town. In a city named Pornwood, you invite a couple of your slutty friends to film them doing all kinds of perverted things. You'll have to find the next big sensation, break the law to discover the ideal public sex location, and compete against other players in this everlasting battle of the pimps.
Think you can be the king amongst all pimps? Let's see what you got then. Go and play Sweet State for free at Nutaku.
Play Sweet State for free

Lewd Producer (2020)
Lewd Producer is an anime-style game that centers around your ability to find girls with the potential of being icons. As you're daydreaming about various girls you see during your casual stroll down the street, a blonde vixen pops out and tells you that she needs you to relax these girls into their true roles. You'll meet plenty of girls that you'll have to click on until you beat a stage, earning a special envelope with smutty pics hidden inside.
However, you're going to need a lot of patience and a strong pointer finger until you actually reach any dirty scenes. But hey, who said being a "producer of lewds" was an easy job?
Play Lewd Producer for free
By playing the porn games mentioned above, you'll get a good taste of how it's like to be working in the adult entertainment business. Both the good, the bad and the ugly. Sometimes it's glitter and glamour, sometimes it's a pain in the ass (literally hihi). But man, running your own virtual porn company is just so much fun!
Did we forget any title on this list? Let us know as we really appreciate all your help. Tell us if we missed any adult game by contacting us on Twitter (@GamesStick) or by dropping us an email, and we'll update the list as soon as possible.