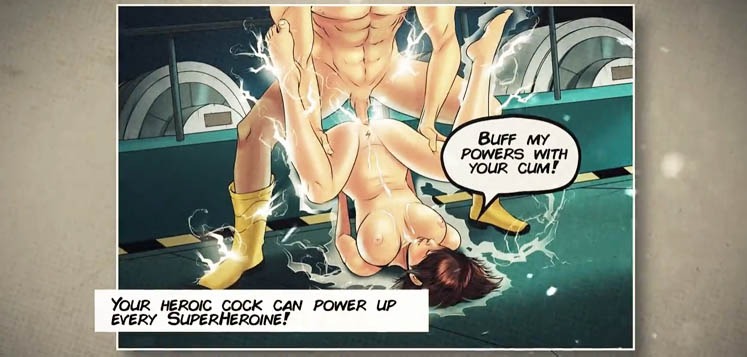 Comix Harem - One Giant Superhero Orgy (Adult Game Review)
Fans of hentai gaming, DC or Marvel-comics, will be in for a real treat with this brand new adult adventure game called Comix Harem, which mixes the best of both worlds. Meaning, a lot of uncensored on-screen sex, and a universe filled with the sexiest heroines and comic girls, all desperately craving for the protagonist's big dick. Not without good reason, by the way.
Adult game studio Kinkoid just released their third hentai game - Comix Harem
The popular adult game studio Kinkoid returns to its roots by releasing their latest porn game called Comix Harem, which uses the same gameplay as their first (and highly popular) adult game known as (aka Hentai Heroes), only this time around, it's up to the player to grow a harem of super heroines... Super horny heroines, that is!
If you've already enjoyed playing Harem Heroes, you'll likely going to have a blast with this sex-filled kinetic novel (with RPG adventure gameplay elements) as well. Comix Harem even uses the same game-engine as its predecessor, but set in a different universe.
All the hentai girls from Harem Heroes are replaced with naughty heroes, heroines, hot comic girls and of course - evil villains trying to "suck" you dry, like literally! These evil villains are looking to drain your balls, till the very last drop.
The return of the mysterious bunny girl
Those lewd-gamers among us which are already familiar with the previous two hentai games by Kinkoid, are probably wondering if the mysterious bunny-girl returns once more for the third Kinkoid game release... And well, for a minute I thought she wouldn't, but in case you're a fan of the mysterious bunny-girl, fear not because she's making an appearance in Comix Harem as well!
In fact, she's the second female character in Comix Harem which you'll get to stick your hard, magical dick in (technically, number 6, but we are not counting the foursome at the beginning).
Yes, you've been reading that right! The protagonist of the game happens to be the proud owner of a – wait for it... a magical, healing penis. How about that? We will get a bit more into that in a second.
In both Harem Heroes and Hentai Clicker, the first two games developed by Kinkoid, at the very beginning of those two adult game titles, the player gets introduced to a mysterious female character known as the bunny.
After flaunting plenty of skin, teasing you with her sweet booty and flashing her boobies, this bunny girl will guide the player into the unknown universe he's about to enter, and basically explains the basic gameplay mechanics, as well as guiding the way to the many different locations the player might want to visit (or needs to visit in order to continue his adventurous quests and missions).
Think of locations such as different towns the player gets to visit, different quests to choose from, as well as things like - where to find the location of a store or market (to buy upgrades for yourself or the girls you've collected for your harem).
One thing to notice though, the physical appearance of bunny girl has changed quite a bit since Harem Heroes & Hentai Clicker, as she swapped her cutesie hentai schoolgirl-looks (with fluffy bunny ears) for a full-blown super heroine suit, complete with her trademark pink hair and bunny ears (only this time, the bunny ears are part of her mask and costume).
Fun fact – during an interview with Nutaku, one of the team members of Kinkoid explained that the bunny girl at the start of the game is in fact a little wink and homage to Alice being lured into following the rabbit deep down the rabbit hole in the famous "Alice in Wonderland" book (written by Lewis Carol). While they've mention that, I must say – that all makes sense. Somehow I never managed to put that link together myself for some strange reason, even though it was pretty obvious.
Oh well, I guess there's just something about Marry about half naked, mysterious girls wearing fluffy bunny ears.
Comix Harem, an adult visual novel with RPG adventure elements
Comix Harem definitely is a story-driven game, a lot of the actual gameplay involves visual story-telling and character development. That being said, there's plenty of RPG and adventure game elements and challenges for the player to keep the game interesting.
To top it off, the limited time special events even add some multiplayer action in the mix and present the player with fresh new in-game content, even after you've completed all the regular quests.
Between the main storyline, the player gets to complete missions to gain extra gold or cash, buy gifts to seduce the girls in his harem and to gain XP points (needed to level-up). If you thought you could bang 6 wild girls in a single day without enough experience, or without any training and work-outs, you were wrong!
Don't forget, after all, these babes are all super heroines, they are kinda known for completely draining your energy... and balls, for matter. In other words- you need to level-up in order to pleasure all the horny ladies you'll stumble upon in the Comix Harem universe. And trust me, that would be a lot!
I'm sure fans of comic books will appreciate these visual novel elements as it makes the actual game feel kinda like an interactive comic book. A really spicy one, that is!
Every hero needs his own superpower - yours being a (magical) healing penis
As soon as the game starts, so does the on-screen sex...
Literally, no time is being wasted here as we dive straight into the story, as well as your penis sliding deep inside the soaking wet pussies of three different horny heroines, while they are takings turns riding and grinding on top of your hard rod in a wild foursome... And well, for good reason!
It's not like you just happen to be some random dude that got really lucky by scoring a date with three cock-hungry girls at once, nope – just like the three super heroines pleasuring, sucking and bouncing up and down your cock, you are in fact a superhero yourself... Or well, your penis actually is the real hero in this story.
Turns out, your the only guy in a world full of super heroines, who's dick happens to have the magical power to heal all the female heroes.
Basically, all they have to do is make you cum to have their energy and powers fully restored. Not just that, even boosting the heroines' super powers in the process. Now that's what I call being a lucky bastard!
You can probably guess where this story leads to, right? Yup, you're about to meet a whole lot of super heroines, all of which desperately in need of your ''assistance''. Which also means, you'll need to gain as much XP points and "grow" to the highest level as possible in order to be able to complete your duty of satisfying so many girls, almost 24/7 a day.
It's a dirty job, but someone's gotta do it! Who said life as a superhero was going to be easy, right?

The Game's Quests & Missions
After a steamy foursome which shows the main protagonist called "Wildman", restoring the powers of three bare naked heroines, the game continues with a flashback, taking us a few years back in time. After a love-making session with "Cougarwoman", Wildman stumbles upon the famous and returning Bunny Girl, and yes, she also needs to borrow your large friend that hides inside your pants.
After Bunny Girl's health and powers are fully restored, she's will explain step by step, which locations you'll get to visit and where to click in order to view, for example, the current stats of your harem or how to collect their cash. Besides cash, you'll also get to collect gold which can be used to purchase upgrades for your character or to speed up the process of gaining XP points (to grow your character to the next level).
Just like you need to level-up yourself, the player also needs to increase the "experience level" of all the girls you've collected in the game. Another meter to keep an eye on is the affection-meter, which shows three stars. Each time her affection grows by one star, she will generate more money for you, and she will take off more clothing. In other words – be sure to spoil your harem with plenty of gifts and presents such as flowers or panties and sex toys, which will help grow her affection-levels.
Once all the basic game mechanics are explained, Bunny Girl will continue to introduce you to the world you'll get to explore in Comix Harem. So far, the game has 3 different locations, all with their own quests and missions to complete.
The game starts at "Begin City". Once completed, the player gets to visit other areas as well:
But wait, there's more! On top of that, 3 additional locations which currently aren't available yet (at the time or writing), but will be announced soon.
The first couple of quests you stumble upon are called:
Let's be Wild
Super Dick
Tight Backstreet
Just those three quest titles alone, will likely give you an idea of what we're dealing with here today... It's going to be quite the dirty little adventure. ;)
For example, in "Tight Backstreet" we meet a busty chick named Golden Silk, who got her super powers stolen. I guess that must have been her lucky day, because guess who happens to have that "one item" in his pants to help her restore all of her super powers? That's right, you! So you'll get to shag her in a tight alley... And yes, also in her tight pussy.
Once you've helped her out by restoring and boosting her super powers, Golden Silk will be the second super heroine to join your harem.
Besides quests, there are also daily missions you can choose to complete in order to gain some extra cash, gold and experience points (XP). Other times, when the player is exhausted from boning all the female characters in town, the player can either take a rest by stopping to play for a X amount of hours or by taking a shortcut and paying for a full recovery, through spending your precious gold. That is, if you managed to gather enough cash on gold along your kinky journey.
Grow Your Harem (Gotta Catch 'Em All)
In the end, the game's goal is to complete all quests and to grow your harem as big as possible. And of course, to make sure all the girls in your harem are fully satisfied and have had their proper training.
In essence, it's kinda like Pokémon, but in today's case, we'll be collecting cock-craving heroines... Gotta catch 'em all! Which is also one of the main reasons what makes Comix Harem such an addictive game to play. The other reasons being the great art work and the intriguing storyline, which simply makes you want to explore the rest of this fascinating world and meeting the rest of the super heroines (and all their quests).
You never know what to expect next, which makes this adult game a fun and exciting way to be killing your time. And ok, the many naughty sex sequences help out a lot as well hihi.
Compete against other players in the Comix Harem universe
Comix Harem also has its own (PvP) leaderboard. Train your harem and compare you harem's stats with other players. Think your harem of comic girls are skilled enough? In that case, you can try and defy other players to take their spot on the international and national leaderboards.
There's also the option to start your own club or join other players in a club to play together, with the chance of winning in-game awards.
There's even the possibility of challenging "the sex champions". Try to impress them and your harem girls might be rewarded with gifts or even more special trophies.
Summary
Comix Harem is the perfect sequel to Harem Heroes (aka Hentai Heroes), especially for those, including myself, who prefer the more western art-style over the Japanese manga and hentai drawing style. And if also happen to be a fan of superhero comics in general, you're going to have a blast for sure!
With so many different locations to explore, characters to meet and fuck, a ton of exploration to do and quests to fulfill, Comix Harem will easily get you hooked for at least a few days straight.
And even after you've completed the main game, there's still a good reason to revisit this browser game again from time to time, simply because of the (limited time) special events, which provides the player with fresh new content including new quests, new characters, missions, additional babes to add to your harem and more fresh hentai art.
Since Comix Harem doesn't require any hardcore RPG gamer skills in order to play, this game is also one of those adult game titles which is perfect for players who are new to the adult videogame genre.
All in all, it's a perfect game to relax with during gameplay for a few hours a day. While simultaniously enjoying all the eye-candy during the sex scenes this game has to offer. And well, that's pretty much one giant superhero orgy.
Comix Harem is a free to play, browser-based porn game. Which means, this spicy game can be played on every device - from PC or laptop, to Android and iOS phones or even on your tablet.
Ready for a ton of arousing hentai art? If so, it's time that you (and your magical dick) start exploring the steamy and exciting world of Comix Harem. At least, if you are deemed heroic enough!
Play Comix Harem