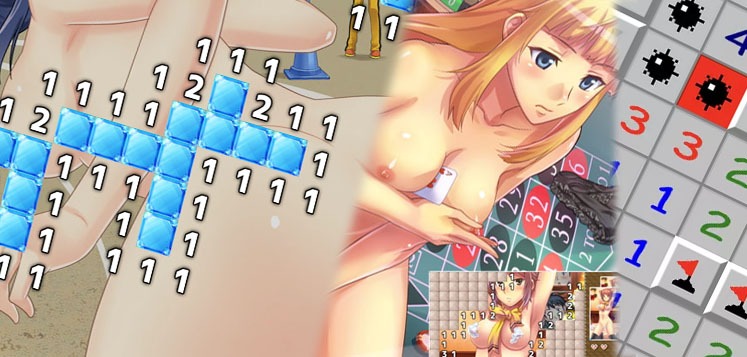 Ecchi and Hentai alternatives for the Windows Minesweeper game
When you think of classic video games that came bundled with the Microsoft Windows operating system, you think of classic titles like Solitaire, Mahjong, and let's not forget about the "3D Space Cadet" pinball game, right? That pinball game was like the perfect time-killer whenever you felt bored! But there's yet another iconic gaming title that we all remember from back in the day - I'm talking about the classic Minesweeper game.
For those that for some strange reason aren't familiar with Minesweeper, this Microsoft game came bundled with the release of Windows 3.1 in 1992, replacing Reversi from the previous Windows 3.0.
The original "Microsoft Minesweeper" came pre-installed with all Windows versions, starting from 3.1, all the way up to Windows 7. In case you're running Windows 8 or 10 and you're missing the old Minesweeper game, you can download an updated and more modern version from the Microsoft App store online, or even better - get one of the more spicy ecchi or hentai alternatives which we're about to share in this article below.
The rules of Minesweeper (How to play)
I have to admit, even after more than a decade of having Minesweeper installed (not that we had much of a choice as Windows-users), I never really bothered learning how to play the actual game. So for those that aren't familiar with the rules of the game or don't know how to play a game like Minesweeper, here are the main factors you'll need to consider while playing. Trust me, without understanding the basics, even the "beginners mode" feels like playing a difficult game such as Dark Souls.
The basics of the grid (clearing the mine field)
While the premise of the game may sound really simple on paper, the actual gameplay can be quite difficult. Especially as a beginner, you can expect a lot of trial and error before you've "mastered" this classic puzzler.
Upon starting the game, the player gets introduced to a grid of squares (a mine field). Each time the grid is randomized. You can click on each square, if you click on the wrong one, you've stumbled upon an exploding mine and you'll simply have to try again from the start.
If you didn't die upon your first click, you'll noticed a number will appear inside the square you've just clicked on. That number represents the number of mines adjacent to that same square (or block), allowing you to make a better guess of which squares might actually contain a mine. If you manage to click and open all squares without accidentally stumbling upon on a mine, you win the game.
If you suspect a mine is underneath a certain square, you'll need to "flag it" by clicking on it using your right mouse button (instead of the left). In the upper left corner, you can see the amount of mines that are still left on the grid. This number might help you make the right "guess" in certain situations.
The original game offers 3 play modes - Beginner, Medium and Expert. For each difficulty option, the grid or mine field becomes larger. Once you'll finally found yourself a strategy that works, you'll notice that even a game as simplistic as Minesweeper can eventually become quite addictive and fun to play. Don't get me wrong, the word "simplistic" may sound like something negative, but in the world of video games, that's actually often a good thing.
For example, think of all the Match-3 games like Candy Crush or Bejeweled, or what about those awesome 2D side-scrolling platformers? Those games might be quite simplistic in terms of gameplay, yet they are still fun and entertaining, even after many decades.
But there's just one thing we can all agree on and that's the fact that the graphics of Minesweeper are as plain, dull and boring as it gets. It's just a grid of grey blocks and that's it. How can you make such a game a bit more exciting? Well, what about adding some bright colors, hot anime girls and plenty of erotic elements to the mix?

Three erotic ecchi and hentai alternatives to Minesweeper
Below, you'll find three alternative adult editions of the good old Minesweeper game, either offering sexy anime schoolgirls in panties, topless girls, fully nude babes or even the whole nine yards - straight up hardcore hentai! Of course all drawn in beautiful Japanese anime art-style.
Lewd ecchi or hardcore hentai action, whatever you prefer, in both cases you'll be enjoying a lot of arousing and steaming hot girls on your computer screen today... Make Minesweeper Great Again! #MMGA
Note: All three games below are only available on Windows PC's (or laptop).
Cute Puzzle & Cute Puzzle SP
Cute Puzzle, as the title already suggests, offers the best of both worlds - Brain training and arousing entertainment. Now that sounds like a healthy combo to me!
Cute Puzzle maintains the original gameplay and game rules of Minesweeper, but replaces the dull grey mine field with colourful and erotic hentai drawings. Meaning, the more blocks you'll clear on the "mine field", the more parts of the hentai art will become visible. In each level, you'll need to find out where the 40 mines are located.
There are two different versions of Cute Puzzle. The original version offers 15 different levels, all with their own unique and sexy anime girls. This version is available as a download for as little as $0.44 on DLsite.
Get Cute Puzzle ($0.44)
That brings us to Cute Puzzle SP, an alternative and upgraded version of Cute Puzzle. This one offers 26 levels all involving the same cute heroine (with blue hair) in all sorts of wild and kinky situations at the school's sports fields. And boy, does things get kinky indeed! Images even include the protagonist being sexually humiliated in public as a group of guys watch her being forced to masturbate and play with sex toys (while wearing a dog collar).
Besides the imagery you'll get to enjoy during gameplay, the SP version also adds female voice acting by Kotone Akatsuki (in Japanese) and rewards its players with unlockable animated sex scenes for finishing a level. As you can see, this SP version is quite a big upgrade in comparison to the regular version.
In total, the game offers 14 animated sequences to unlock and even more static hentai images.
Get Cute Puzzle SP ($5.30)
Sweeper Girls
Sweeper Girls by the Broken Desk developers team does have a few minor changes compared to Microsoft's version of Minesweeper. In the classic version by Microsoft and similar to real life, you're only being granted one life. Basically, one tiny mistake such as stepping on a mine will result in an instant fatality. That's not the case with Sweeper Girls over here.
Sweeper Girls grants you multiple attempts before you're "game over", which makes this title a bit easier and the perfect match for beginners that want to learn the gameplay and perfectly suitable for the less "hardcore" Minesweeper players among us.
But here's the odd part of it all; Sweeper Girls doesn't reward you with naked girls, but instead "punishes" the player with girls flaunting more skin each time they fail. That's right, as a player, you'd likely prefer to lose instead of actually winning the game.
Here's the deal - Normally the player would lose each time you click on a mine, with Sweeper Girls however, each time you've clicked on a mine, the girl on the right side of your screen will drop a piece of her clothing. If you've lost all of your clothes, the game is over. Quite an odd choice, if you'd ask me. Oh well, at least the game contains stripping girls, right?
Sweeper Girls allows you to choose from three different schoolgirls as playable characters. All of which have their own character-specific skills to discover the location of the mines on the field.
Sweeper Girls also introduces the usage of special items and objects (sort of power-ups) on top of the regular set of Minesweeper game rules, and as a result, creating more variety in terms of gameplay. On the downside, this game is considered more of an ecchi (softcore) title and doesn't contain any explicit hentai content. However, it's still worth checking out!
Get Sweeper Girls ($4.21)

18+ Hentai Sweeper
That brings us to our third and final entry of today's list of erotic Minesweeper-games; 18+ Hentai Sweeper and unlike the previous mentioned game, Hentai Sweeper does reward its players to some spicy animated hentai video content! Hooray!
Also, 18+ Hentai Sweeper sticks as close as possible to the original gameplay of Minesweeper, but of course, replacing the boring grey colors for a much brighter and colorful user interface and graphics... Not to mention the sexy ladies that appear inside the game. The naughty type, you know, the kind of girls which love to strip down bare naked right in front of your eyes. You can imagine this title being quite an improvement over Microsoft's version, right?
There are various stages to complete, all with mixed difficulty, ranging from very easy to brutally hard and the best part of it all, each level comes with a special "reward", well, only if you manage to successfully finish that stage of course.
Clear the mine field and enjoy those massive boobies!
Get Hentai Sweeper ($3.53)