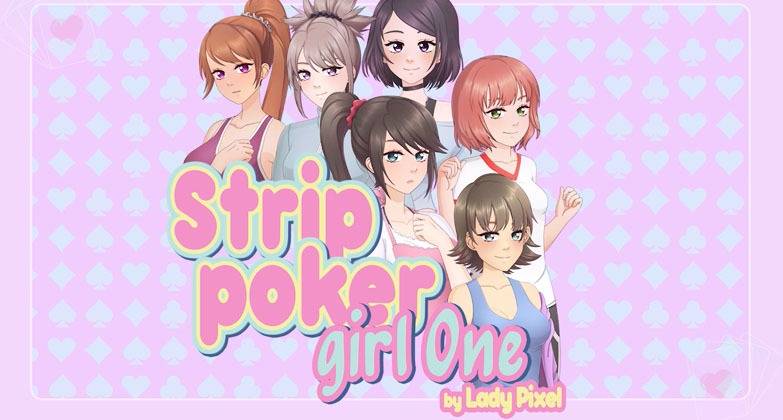 Girl One Strip Poker - Let's You Play Against Hentai Cuties (Adult Game Review)
Girl One Strip Poker is a fantastic, cute, fun and sexy little hentai poker game. Usually, when you play poker, you do it for fun or to earn some extra lunch money. In this tremendous instance, you can do it to 'score' with several cute anime characters.
Sex games like strip poker are all about having fun
Both in real life, as well as in a digital format, sex games such as strip poker are simply meant to be fun, and the "One Girl Strip Poker" video game, offers exactly that.
These hentai babes are waiting for you to "cum and play" with them. And, if you get the right hand, you might be able to undress them. So, if that's something that you think you'd enjoy doing, read this article. You'll see why this game is excellent and you'll quickly notice how all the girls featured in this adult game are simply jaw-dropping gorgeous.
I've played my fair share of "naughty poker games" throughout the years, but the majority of these games all featured either photo or video footage of real life models and pornstars. Think of adult products such as Video Strip Poker Classic, Maria's Christmas Box or Cover Girl Strip Poker.
And in all cases, the live action footage were really poor quality (as in, far from being in HD resolution). It's refreshing to finally get to play a strip poker game that offers artistic value, by deciding to go for more of a hentai approach.
Dare to play a game of strip poker against these naughty high school gals?
The game offers a few different girls to choose from. They're primarily schoolgirls, but some of them look like they are athletes, in both body shape, their looks, and the way they are dressed.
Like you've already figured out by now, you'll also get to play a game of poker with them. If you get a good score and beat them, you'll get to undress them, slowly and of course, piece by piece.
As far as I can tell, they have no problem showing off a little skin at all, far from it. These girls are more likely to get turned on and get all excited from all that teasing, and actually even enjoy stripping nude for your fapping viewing pleasure. Oh girls, stop being such a tease.
Don't be a "chicken" and accept her challenge
I'd suggest you'd better accept their challenge or else they'll might even start accusing you of being a chicken. Now, how dare these women accuse me of such horrible thing? Challenge accepted, I'll take your best shot!
At first, their clothes go off, starting with their shirt or top. But then, after some more playing, they'll eventually take off their bra, panties and even their undies off too. That's what I call; save the best for last, and yes, that means they're getting 100% fully naked. If you win, that is.
Good quality Hentai games developed by such a tiny developers team, such as in today's case with Lady Pixel Studio, are generally rare. And that's because Girl One Strip Poker offers not just beautiful handmade visuals, but also offers a simple, yet well made functional game mechanics. Don't get me wrong, simple isn't a bad thing here.
In fact, it does exactly every thing it needs to do. There's no need for any more unnecessary functions build on top of it, it's a poker game after all. The focus of the game mechanics should be on the card card game itself, and that's exactly what the developers did right with this one.
It's intriguing to play, super relaxing, and also an important aspect of the gameplay; it actually respects real poker rules. And in the end, might even reward you with some exposed schoolgirl boobs, booty and pussy. What could be better than that?
This is the perfect kind of game to play whenever you're sitting bored at home, or you feel like blowing off some steam by rubbing one out to some cute hentai babes too.
The artwork is what makes "Girl One Strip Poker" special
Many people assume that only stunning and impressive 3D graphics can bring something to the table. The thing is, it's quite the opposite, you actually don't need all of those fancy 3D computer generated graphics, sprites or characters at all to improve a game's experience. In my humble opinion, nothings beats the art of hand drawn characters.

The whole game is in 2D, which is expected, since it's a (strip) poker game, there's no need for over the top visual effects or high quality 3D renders nor animations. You know what "they" say, right? Often, less is more.
There's also a good reason why a lot of people enjoy playing arcade classics like Bejeweled or Tetris, even after a few decades. And well, it's definitely not the stunning graphics of those retro games, that makes those two titles so damn popular. Not overcomplicating things, is just exactly what makes a particular game like this "work".
On top of that, the stunning babes in this adult video game are attractive as hell.
Another nice feature, is the fact you'll get to play against multiple girls in this game too. There are multiple flavours to choose from, a nice variety in types of girls that'll most likely satisfy anyone's taste in women.
So, you have some shy schoolgirls, some "bad girl" types, as well as that obviously real horny one too. We all remember that one freaky girl from our days in high school, right? That one girl that's always craving for attention and of course, chasing a hard rod.
One of the characters has a tall and skinny posture, there's a girl with short hair, a brunette, a babe with black hair, a stunning red vixen with amazing long and sexy red hair, and let's not forget about that one that steals the show, the extremely sexy geek with her glasses and arguably the biggest juicy pair of juggs of them all.
All babes are wonderfully drawn, and they all have different personalities. Even the background has some excellent work done on it so that you won't feel bored, and keeps things feeling fresh at all time. Overall, Girl One Strip Poker really gives me those "visual novel" vibes, thanks to its gorgeous visual appearance.
The artists who did this, absolutely took care of every single detail too. Even the outfits that these chicks wear are enough to make your cock point straight up to heaven. You have some classic school uniforms, gym clothes, aprons for kitchen use, and many other arousing clothing that makes your balls tingle, for sure.
Time to challenge some sexy schoolgirls for a game of (strip) poker
What are you waiting for? these dirty little high school girls are all ready to strip down to their undies for you. And maybe, depending on your "poker face", you'd might even beat one of these schoolgirls one day, and finally get to enjoy that well deserved and uncensored "big reveal".
If you're a fan of manga and hentai, and enjoy playing a nice little game of poker every once and while, hop on here and play Girl One Strip Poker, because you will definitely enjoy it.
Girl One Strip Poker is available as an instant digital download. Another plus, the game barely takes any free hard drive space and even runs on prehistoric old machines or laptops.
Play Girl One Strip Poker