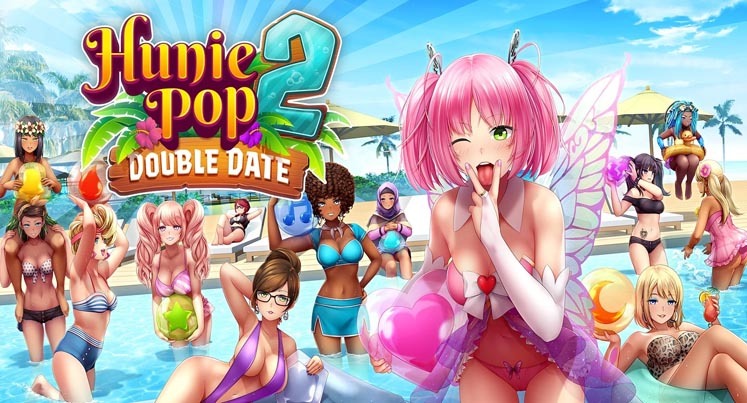 HuniePop 2: Double Date (Adult Game Review)
Time to double the dates, double the D's and double the fun as the wait is finally over - HuniePop 2: Double Date has officially been released. Finally, all of us who have been waiting for a HuniePop sequel can calm their nerves down after a long time. And well, turns out the wait was all worth it and we are being treated on yet another true NSFW Match-3 gem of an adult game.
After all, we had to wait six years for the sequel ever since the original game got released (all the way back in January of 2015).
But before we dive straight into the review of the sequel, for those that aren't familiar with this classic adult game yet, let us introduce you to the original HuniePop game.
HuniePop (2015) was a fan-favorite among adult gamers
It was imagined as an adult alternative to classics such as Candy Crush and Bejeweled. What made HuniePop game unique was the fact it mixed match-3 gameplay together with fiery dating simulations that made it bewitching as well as totally refreshing. It popped up in uncensored and censored versions.

Steam wouldn't accept the spicy details and they were the only platform that locked the nudity away and censored it heavily. It might have been a vibe killer, but it was their term on publishing the game. Twitch even banned it due to so many strong sexual elements, so they considered it inappropriate and today, there are no records of the game there.
Nevertheless, the game rose to popularity extremely quickly because of all these elements and can be considered quite the indie-classic, beloved by both casual gamers as well as the die-hard adult video game fans among us.
The original HuniePop was tempting, innovative and the fact that it was banned made it even more desirable.
More match-3 fun for adults
This refreshing twist on the classic Match-3 gameplay came from the brilliant mind of Ryan Koons, an indie developer who managed to raise funds for the development for HuniePop via a successful Kickstarter. And well, I think we're all thankful for the people who believed in the HuniePop project and gave Ryan his support back then, as today we have its rightful descendant, which also deserves the same glory as its parent.
Got tired of playing the first HuniePop after six years? Craving for more? Good, because HuniePop returns with more action in the long-awaited second part!
The enchanting plotline that lifts the mood
In both these gems, the gameplay is based on the main character (either male or female) who gets in interactions with various women and the final goal is to seduce them. But it is easier said than done. First, the player needs to talk with them and give appropriate gifts to all of them. And all these babes have different personalities and distinct preferences, so generic attempts will not work here. The game simulates real life where all females need to be taken care of with special treatment.
The harder you try, the better the chances of success are, obviously. Once you take the girls on dates, you need to play a tile-matching game and earn enough points to complete the date. If you do well, the ladies will treat you with some provocative pictures after a successful date.
The more dates you do well, the new options and challenges come up. Throughout the whole game, you are in company with Kyu, a love fairy that guides you through. If you do well enough and try your best, you might even take Kyu to bed as well. I'd say - challenge accepted!
The more you play, the harder the game gets, but your rewards become even better.

Welcome to the exotic island of Inna De Poona
The sequel brings so many new ideas to the game. The plotline resolves on the exotic island of Inna De Poona, where you reunite with Kyu on your love missions. The first novelty in the sequence hides in the title - HuniePop 2: Double Date. It takes a step further from the previous game as now you are going on dates with two women at once.
Sounds like paradise - having threesomes on the beautiful island of love? Sure, but it takes a special set of skills to be able to multitask between two horny women. But fear not, as you will get the hang of it very quickly.
HuniePop 2 introduces brand new sexy characters (from all around the world)
While there are some old faces making their return in the Huniepop sequel, however, there has been quite an update in terms of sexy characters, so you can expect a whole new set of hot babes with plenty of variety in looks and best part of it all - these horny girls are all waiting for you to seduce them... Dare to take on that 2 on 1 challenge?
There are many new gifts among the old ones, so you can improve your chances of success on dates. Shoes are now some of the new gifts that you can use to impress your girls and increase the amounts of fruit you receive after a completed date. And you use fruit to buy smoothies to level up the traits.
Also, there are some really spicy questions that you can ask the females, from "would you rather" to "what's your favorite ..." type of questions. When both girls share the same opinion, they will let you know. ;)
Another really cool addition are the wings that you earn after every successful date. You will need 24 of those to complete the final mission of awakening Nymphojinn, the ancient evil that needs to be sexually satisfied. And that isn't all folks.
Oh, did we forget to mention that besides the steamy roleplay, you will also get to enjoy the matching tropical soundtrack, which is a mix of Hawaiian and Caribbean surf rock? And also that there are thousands of voice-acted dialogs that add a realistic feel to the girls' interactions?
Another thing is that even after the ultimate mission is completed, there is post-game content that puts the cherry on top (play to find out for yourself as we won't be spoiling the fun for you).
Final conclusion
Surely, HuniePop 2: Double Date has been long-awaited. The game finally got released on February 8th (2021) and we are more than pleased with the result. And just like we've suspected - HuniePop 2 is already growing in popularity rapidly (just like the its predecessor) and will likely attract both fans of the original as well as introduce this adult-style of Match-3 gameplay mixed with dating sim elements to an entire new audience (and probably get them hooked as well).
Addictive? Damn right! Fun and sexy? Yes sir!
Download the uncensored version at Nutaku
A game like this one shouldn't ever be censored, but as sometimes compromise must be made. For example, GOG published only the censored version. However, platforms like Nutaku.net reveal this baby in its full shine and with the juiciest details it offers. But even with the censored version, the players may download the uncensoring patch and experience the full potential.
HuniePop 2 is available for both Windows and Mac. We can't wait for all of you to try it out and share the excitement. If you had fun unlocking all the hentai eye-candy while playing the original 2015 HuniePop game, you'll be loving this sequel as well.
Who's ready for a double date?
Play HuniePop 2