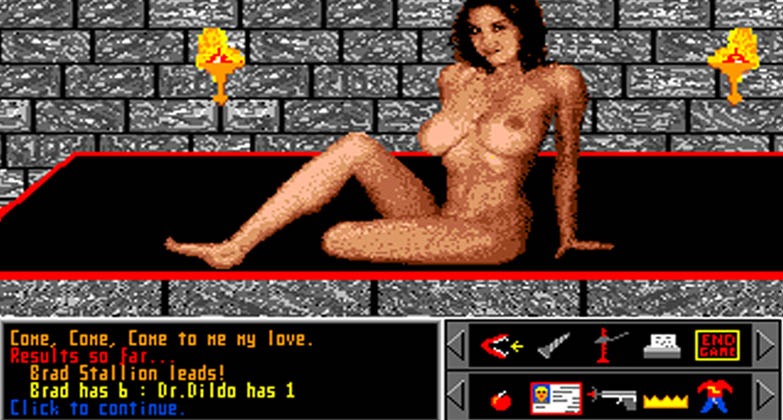 The Erotic Intergalactic Adventures of Brad Stallion (Adult Retro Sci-fi Video Games Serie)
Hard to forget about Brad Stallion, everyone's favourite intergalactic hero and of course, the biggest "chick magnet" in space. Oh and let's not forget about the biggest anti-hero from outer space as well, the evil Dr. Dildo.
Who didn't play or remember the star of the Brad Stallion adult video game series, from back in the day? Obi-Wan Kenobi can keep his filthy lightsaber inside his Jedi pants, Jean-Luc Picard can eat his own heart out, as it's time to make room for the greatest space warrior that has ever lived, the man, the myth, the legendary; Brad Stallion!
Brad Stallion, by the way, should not to be confused with Brad Pitt! You know... That Hollywood actor with schizophrenia who started an underground fight club with his own second (split) personality. Yeah, you can't make this kind of stuff up. When I come to think about it, topless babes in space doesn't even sound that strange after all, especially when you compare that to the wild and crazy world known as Hollywood.
Anyway, let's move on with today's retrospective!
Overview of the erotic Brad Stallion video game series
If you grew up during the 80s or 90s, it's likely you've been growing up playing all the famous (Sierra) point and click-adventure games such as The Curse of Monkey Island and The Leisure Suit Larry games. And well, you can add Uncle Brad to that same list and category as well.
Brad Stallion is an erotic, point-and-click adventure video game series, emphasizing puzzle and retro-style (pixel art) game aspects, developed and self-published by the company; Free Spirit Software. The series contains five adult game titles, released during the 80s, and are offering you exquisite gameplay in a space environment, unlike pretty much 99% of all the other adventure games from the same era.

Back in the 80s, the erotic video game genre was slowly becoming a trend, and unlike these current days in which we have free access to unlimited porn, mainly thanks to websites such as Pornhub Premium, however, back in those days, people didn't have that much of a choice, besides maybe some old sticky magazines laying somewhere hidden under the bed.
So it shouldn't come as a big surprise, people were in fact quite curious about playing such types of 18+ games, including the famous Leisure Suit Larry games and of course, the Brad Stallion series. Pixelated boobies or not, people didn't know any better during that time, which basically means, they were quite easily satisfied. That probably also explains the many strip poker video game titles, as well as a ton of poorly design erotic video game titles that got released during that era. For game developers, an easy way to make a "quick buck".
Point-and-Click Adventure Time for Adults
For those feeling a bit nostalgic lately, we figured this would be a great time to overview the Brad Stallion game series, or for those players who aren't familiar with this (in)famous video game series yet.
Brad Stallion brings a series of adult science fiction themed adventure games, all of which are starring Brad Stallion (the main protagonist), who embarks on naughty adventures in outer space against various (and often returning) characters, including the nefarious Dr. Dildo.
There are five different titles, each one is set in an unique environment where the protagonist needs to deal with a bunch of bad guys, while rescuing and interacting with as many women as possible. And like you would suspect, this often leads to Brad getting laid or girls flashing their pixelated topless breasts.
Many planets are available to explore, and each one has unique attributes and a set of objectives to complete. Using the highly popular point-and-click interface of the good old 80s and the 90s, you can control the movement of your character throughout the game. The last four titles are available on the following platforms:
Amiga
Atari ST
MS-DOS Computers

The first two titles were specially designed for the Commodore 64 gaming console. The series itself consists of the following titles:

Sex and Violence Vol 1 (1988)
Sex Vixens from Space (1988)
Bride of the Robot (1989)
Planet of Lust (1989)
Sex Olympics (1990)




The History of Brad Stallion




The first title in the series was "Sex and Violence Vol 1", released in 1988 for the Commodore 64. The series ended only 2 years later with its final release; "Sex Olympics", released in 1990. The storyline follows a freelance government agent and the captain of the spaceship "The Big Thruster".




Brad Stallion is hired by the Federated Government to take on the antagonist of the series, the "evil space baddie", Dr. Dildo himself. It's up to Brad to defeat Dr Dildo and to investigate the force field (surrounding Earth) before it's too late and our beloved planet gets smashed to pieces. Is our favourite intergalactic stallion up for this life-threatening task or does Dr Dildo have the (insecure) future of mankind by its balls? Let's find out!

The complete series spans five different titles, each one is offering similar style of gameplay, either with a point-and-click interface or text-based. However, each game offers a different storyline and with other objectives to complete.




Sex and Violence Vol 1 (1988)




The one that started it all and launched our erected hero directly into space, for the very first time, kinda like losing your virginity.

Sex and Violence (Volume 1) is a bundle of three text based (single player) adventure games playable on the Commodore 64. The bundle features the following three stories:




Bite of the Sorority Vampires
Hatchet Honeymoon
Sex Vixens From Space




Bite of the Sorority Vampires represents a thrilling storyline, revolving around a few naughty girls of a group called "Eta Beta Pi". These chicks have quite a reputation. After visiting these girls, men would come out of their houses completely sexually drained. Some rumors were started to float across the land regarding the disturbance in nature. Eventually, the protagonist finds out his very best friend died. His body completely drained from all his blood, while his body was found located in the nearby cemetery. After that, your friend started an investigation to discover what has happened at the cemetery, but he never returned.

As the good friend you are, your ultimate goal is to investigate the case and find your missing friend before it's too late.

The second story is called "Hatchet Honeymoon" and is a strange and weird vignette of a newlywed rescuing his brand new and virginal bride from the hands of a mysterious stranger that's been wandering around in a haunted mansion. To make things worse, the mansion is filled with traps and secret passages and it's the player's task to solve all riddles and puzzles and of course, to save your new bride from the evil stranger.

That finally brings us to the good parts, the third story in the "Sex and Violence" bundle; "Sex Vixens from Space". And this is the part where we get introduced to the hero (well, sorta) of this article; Brad freakin' Stallion and his spaceship, the "Big Truster".




Just like any other ordinary captain would, Brad also has a poster of a sexy (topless) busty babe hanging on the wall, as decoration of his cabin.

Sex Vixens from Space (1988)




After being distributed as a three part story bundle, this one (Sex Vixens from Space) actually got his own single release as well. Sex Vixens from Space is an adult adventure video game, released by Free Spirit Software for Amiga, Commodore 64, and MS-DOS computers.




It follows the footsteps of the previous release and retains most of the items found in the version released in the "Sex and Violence bundle" mentioned earlier. While the version in the Sex and Violence bundle (Commodore 64 ) was strictly text-based only, the versions released for the other game consoles, as well as the PC version, all had a graphical interface.

The first title in the series of Brad Stallion is offering you thrilling gameplay mixed with erotic elements and lots of comedy. The comedy part doesn't come as a suprise since the game was heavily inspired by the 1974 sexploitation film Flesh Gordon, not to be confused with "Flash Gordon". That's right, Flesh instead of Flash.

In case you haven't seen that movie or the sequel, go watch it right away, it has a penis-shaped spaceship in it. And well, a movie that has an a bunch of topless cosmic cheerleaders in it, as well as a penis-shaped spaceship, that must be quite the Oscar-worthy movie, right? Not to mention all the fart jokes. Flesh Gordon is exactly the kind of pulp with bad taste jokes and other weird stuff, that I enjoy watching!




Back on topic! Brad Stallion works as a freelance government agent and also turns out to be the captain of his very own spaceship. Furthermore, Brad has been hired by the government to neutralize "The Tribe", a beautiful colony of women that raid different plants with the (pure fuckin' evil) intentions of castrating men using their particular gun. How dare they?! I sure hope these twisted space ladies keep their filthy hands off my balls!

The protagonist is tasked with travelling to their land, known as Mondo, and destroying their secret weapon; the so called "sex-ray gun". Sounds like the perfect job for Brad Stallion.

While playing the game, players are required to input actions through text commands. The addition of objects, graphics, and characters lets the player interact with using the mouse.

Bride of the Robot (1989)




Every piece of smut needs a sequel, right? Bride of the Robot is an erotic (single-player) text-based adventure video game, released by the same developer of previous titles (in 1988). Serving as the third entry in the series of Brad Stallion, it is the sequel to Sex Vixens from Space. Even though Free Spirit Software was known for self-distributing their video game titles, the Amiga version of Bride of the Robot was in fact published by CSJ Computersoft in Europe.




Bride of the Robot features a completely unique storyline, which revolves around Professor Wang. Wang just demonstrated his invention of the first robot that has its own sex drive... In other words; horny ass robots and lustful artificial intelligence. What can go wrong, right?

Proudly, the Professor is giving a scientific demonstration of his latest invention, in some random quite space town. So far, so good... That is, until the robot starts to act weird. During the scene, the robot went mad and started killing Wang in the process. Even abducting a sexy babe that happens to be the winner of the "Intergalactic Beauty Contest", the lovely; Miss Allura Galaxy.




The Federated Government once again decides to select Brad Stallion as their saviour and the man to be send on the dangerous mission to save Miss Galaxy and to destroy the AI. At the very start of the game, the protagonist finds himself with a huge hangover at Mammaria's Moons, not remember anything that happened the night before. That's right, poor Brad has suffered from a blackout after a wild night of partying.

Similar to "Dude, where's my car", Brad now finds himself hung over and in a situation where he can't remember where he parked his missing space ship. It's up to you as the player to retrieve his "Big Thruster", before embarking on yet another dangerous and spicy journey in outer space.




Don't ask why, because I don't know the reasons either, but for some strange reason, if Brad Stallion fails to rescue the Miss Galaxy, all men will lose their sex drives, eventually, causing the human race to die-out. Oh well, I wonder what's next in store for Brad...




Planet of Lust (1989)




Brad returns as the star in yet another truly erotic adventure in outer space, and once again with a similar type of gameplay, along with a mix of new puzzles, complete with all the other familiar text game elements.




Free Spirit Software also developed and distributed the 1989 adult video game title; Planet of Lust. Moreover, Doctor Dildo (from the first encounter) makes his return as the game's antagonist.

Dr Dildo is back with a vengeance and once again has come up with an evil master plan to take over the galaxy. This time by kidnapping most of humanity, holding them in return for ransom. Dr Dildo wants to trade the protective fields and all the kidnapped innocent people for the ultimate weapons (of mass destruction) the galaxy has to offer and that's exactly the moment our beloved Brad Stallion gets another phone call from the Federated Government.

A big challenging mission awaits our protagonist, who has to navigate to the "Planet of Erotica" and save that entire planet, before it gets destroyed entirely at the hands of Dr Dildo.




Using text commands, the majority of actions are being performed inside the game. However, the graphics, graphical user interface and objects help you interact with characters using mouse-driven controls (also known as "point and click").

Sex Olympics (1990)




I must say, a title like Sex Olympics (by just reading the title alone), does really grabs the attention, I'll give 'em that. This game is the final entry in the series, offering the same interesting gameplay style of which the player got familiar with by playing all the previous titles. This time though, the game does come with improved graphical and visual features, as well as improved game mechanics, such as the controls.

The player also gets to choose different difficulty settings as the game spans three different levels; easy, medium or can be played in "hard mode".




Sex Olympics features improved controls in comparision to the other games in the series, allowing the player complete freedom in terms of movement. The player can now move the main character up, down, left, and right using the mouse. The text input features remains intact as well. While inputting commands, the player can take, drop, give, use, and interact with other non-player characters (which are mostly females, not necessary human, however, always having a huge pair of melons).




Like in the Planet of Lust game, the antagonist and Brad's arch-enemy is Dr. Dildo, who happens to have signed up as a candidate, just like Brad Stallion himself, to the yearly Sex Olympics, a futuristic sporting event. To win the Sex Olympics, you'll need to bang as much girls as possible, also, as much girls from different planets and as much various female species as possible.

Throughout the game, both the protagonist and antagonist need to search and find as many women as possible to have sex with. Therefore, the player must visit all different planets to complete this task. It's a dirty job, but someone's gotta do it.




Who will win the epic Sex Olympics "sports event" of 1990? Imagine trying to organize such similar "sports events" in 2020 without pissing off millions of triggered social justice warriors or an army of pissed off feminists coming at you, all wanting to slap you with dildo's... Oh boy, 1990, such different times.

Who will win this championship? Will it be the evil Dr Dildo or will Brad Stallion become the true champion? Let the "babe race" begin!

And with Sex Olympics ends today's retrospective of the "Brad Stallion" adult video game franchise. I don't know about you, but I've got to admit, I've seen more then enough space titties for today. Will Brad ever make a comeback? Who knows, right? To be honest, I doubt it.




Play the Brad Stallion Games directly inside your browser




Oh well, at least we still get to play these retro video game classics. "How?", you'd might ask! What about directly inside your browser? Plug and play, as easy as it gets! Click any of the links below to launch the MS-DOS version of the game (powered by the freeware DosBox Emulator and hosted by Archive.org).