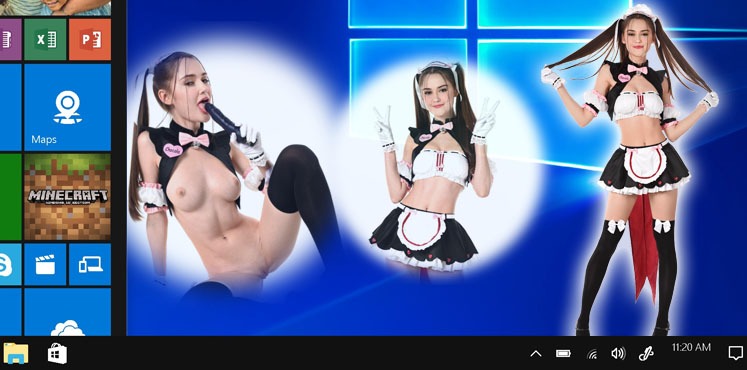 Sonya Blaze's mesmerizing kawaii cosplay stripper show (at iStripper)
The name Sonya Blaze might not ring any bells at first, but after you've watched this talented cutie show off her arousing striptease-skills and stripper show available at iStripper.com, I'm sure Sonya Blaze is a name you won't likely ever forget.
For those unaware, iStripper is erotic software for your computer (or laptop) which puts the sexiest strippers on top of your desktop. For the past 2 decades, they have been entertaining millions of fans worldwide thanks to the many virtual strippers available through their desktop application.
In essence, with iStripper you can bring the strip club straight to your own home, or more like - your own computer screen. In case you'd like to learn more about iStripper, you can read our review here.
Meet Adult Model Sonya Blaze (And Try Not To Fall In Love)
Sonya Blaze, not to be confused with Sonya Blade, one of the famous Mortal Kombat characters, however, to be honest, I would definitely pick Sonya Blaze over Sonya Blade any time! This Russian brunette was born on 1 December 1999.
Sonya Blaze is one of the latest models to become a virtual stripper by joining the iStripper crew, even though, only 2 stripper shows of her are available so far, she is definitely already our new favorite iStripper model of them all.
It isn't just Sonya's adorable, youthful and cute looks or her fun personality, this little stunner also has some serious dancing skills. She knows how to move her sexy and petite body in way that will get anyone aroused in about second! Combine that with her gorgeous natural (and overall cute) looks and lovely smile, it becomes really hard (and no, I'm not talking about your penis right now) to not fall in love with this Russian beauty queen right here.

Sonya Blaze Masturbates (Behind The Scenes Video)
From the looks of it, Sonya Blaze had quite a blast while recording her wild shows for iStripper, judging by this spicy video in which we get to see Sonya Blaze having a little bit of fun on her own behind the scenes at the iStripper studio. Enjoy the video footage below which shows her playing with her wet pussy, between the shoots.
Girls just wanna have fun... Sonya clearly had plenty of fun!
Sonya Blaze - Afternoon Delight (Virtual Stripper Debut)
Like I've mentioned above, she's got the looks and she's got the moves, but another thing in which Sonya Blaze really stands out is her cosplay! When she takes on a certain character, Sonya likes to go all in. A perfect example would be her kawaii-inspired debut striptease show, which just got released a few weeks ago.
It's not just Sonya Blaze wearing a sexy costume, she makes her character look even cuter with her natural beauty and those pigtails, and well, also a lot naughtier, even including some Ahegao-faces while she's bringing out some of her favorite sex toys.
That's right, Sonya's debut for iStripper doesn't only include a fantastic and really sexy striptease, it also includes Sonya Blaze pleasuring her tight, young pussy with a dildo... As if watching her slowly undress to reveal those sweet boobies or when she's swinging that fine booty of hers while teasing us with that naughty look on her face, wasn't providing enough eye-candy already.
Obviously her cosplay-outfit is Japanese and kawaii-inspired, but for those wondering which character Sonya Blaze actually is portraying during her mesmerizing debut stripper show, it's in fact a character named Chocola from the popular comic and anime series - "Nekopara - Cats Paradise".
It's all about the details here, even I had to look up real close before it became completely clear she was cosplaying the Chocola character, but the small name tag on her outfit gave it away.
Ready to watch her strip and reveal her (perfect shaped) bare naked body? Or play with her soaking wet teen pussy?
Watch her strip nude
Sonya Blaze In 50's Pin-up Cosplay (Striptease Coming Soon)
For those craving for more erotic cosplay entertainment by Sonya Blaze, luckily won't have to wait that long. The iStripper team has already been teasing a steamy follow-up cosplay stripper show starring the lovely Sonya Blaze.
This time, Sonya will be transformed into a 50's style pin-up chick, complete with red lipstick, and from looking at the teaser photos above, she's literally "rocking" this outfit as well. To be honest, we can't wait to watch her take it off. ;)
Update: Sonya's latest cosplay striptease show has just been released! Go watch and enjoy the show!
Watch her strip nude
Sonya Takes Off Her White Lingerie (In iStripper's – Thin White Cloud)
For those that barely can't wait much longer for her second cosplay stripper show to arrive, we've got good news for ya. Just today (July 2, 2021), iStripper has released another steamy striptease featuring Sonya Blaze.
This time, you'll get to watch and enjoy this goddess slowly take off her white lingerie in a hot and horny stripper show called "Thin White Cloud".
Watch her strip nude
Watch Sonya Blaze Strip & Masturbate In Virtual Reality (VR)
For an even more intense experience, you probably want to watch this goddess slowly take off all her clothes, piece by piece, to reveal her heavenly, tight and petite body, sweet juggs and sexy firm butt in VR! You can watch her kinky virtual reality scene at SexLikeReal.com, the Netflix of virtual reality porn!
Put on your virtual reality gear, buy the ticket and let this hottie take you for a ride!
Watch her strip nude in VR

To sum it all up, we simply can't wait to see what the iStripper team has in store for us next, but one thing's for sure though, with their new arrival Sonya Blaze, they've got gold on their hands! And me? Well, I've got sticky fingers...
Let's just put it this way, and I assume I can speak for all of "us" right now – We want more, we want more, we want more!
While our patience is being tested, in the meantime, you might want to checkout some other fantastic and ultra-sexy cosplay stripper shows (available at iStripper) as well:
That's enough eye-candy for today. Be sure to watch this beauty queen steal the show when she starts stripping on your desktop.
Update: The iStripper team just announced that this fantastic striptease by the lovely Sonya Blaze has been breaking all prior records and is now the number one most watched show of all time... Congratulations!
Sonya even doubled the total views of the the previous record holder, which was held by the sexy Estonika in a hot Harley Quinn cosplay stripper show. I hate to say I told you so, this babe is a natural talent. ;)