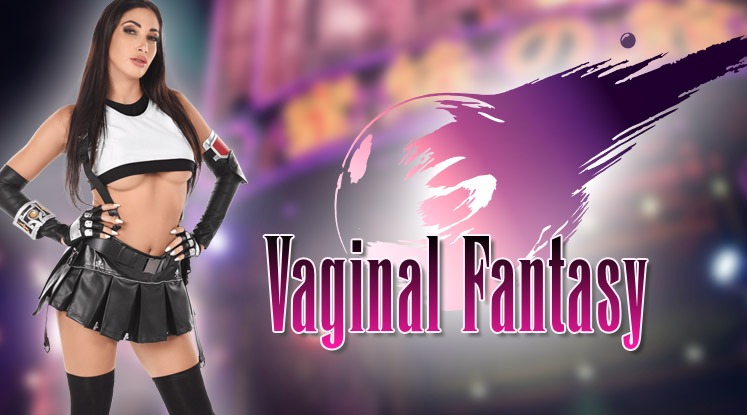 Sexy Tifa Lockhart cosplay stripper show (by Clea Gaultier)
What's even better than watching a highly arousing striptease show on your computer screen? A stripper show which features a porn star cosplaying one of the sexiest videogame characters of all time - Tifa Lockhart... Of course, from the Final Fantasy game series.
Tifa Lockhart is most famous for being a playable character in the role-playing game - Final Fantasy VII. A game which is still very much beloved among gamers, even so many years after its original release on the Playstation (PSX), all the way back in January 31, 1997.
iStripper releases another videogame cosplay striptease show
Lately, iStripper has been releasing more and more sizzling hot stripper shows involving videogame character cosplay. The latest and greatest on that list? Vaginal Fantasy!
For those not familiar with the iStripper application for Windows yet, iStripper is a piece of software which adds stripping girls on top of your computer's task bar. Just recently, iStripper also became also available on mobile.
Download iStripper (free)
Imagine total hotties dancing around topless while shaking their booty on your Windows machine, now that makes your daily PC tasks a whole lot more fun, doesn't it?
Vaginal Fantasy - an erotic Final Fantasy parody
Tifa from the Final Fantasy franchise, performed by the busty French porn star, Playboy cover girl, AVN and XBIZ award winner, the lustful beauty - Clea Gaultier.
Watch Tifa Lockhart strip
Clea Gaultier sure seems to be a great fit for portraying (and stripping as) Tifa Lockhart, because just like Tifa Lockhart, Clea Gaultier also steals the show with her athletic body and juicy double D breasts.
The team behind the adult PC software iStripper sure seem to have learned one thing over the past two decades, and that's the fact that "content is king".
For example, you can find even more videogame stripper shows available in the iStripper app, from Nier Dildomata (that title made me giggle) to Div.Ass (an Overwatch game parody).
Watch Div.Ass striptease
But also various other themes are covered, ranging from busty nurses, to petite schoolgirl outfits, naughty cops, chicks in maid costume, lingerie, comic book characters and much more. Curious about iStripper? Click here to learn more about the iStripper software by checking out our in-depth review.

Who is Tifa Lockhart?
Now if the name Tifa Lockhart doesn't ring a bell, shame on you. You call yourself a gamer? Tifa Lockhart is one of the most popular female characters in the Final Fantasy videogame franchise, a playable character in the Final Fantasy VII game, and even being the main protagonist in the novel - Final Fantasy VII Trace of Two Pasts.
Tifa Lockhart became such an iconic videogame character, not just among gamers, but also in the cosplay community. Whenever you visit a cosplay event, you will stumble upon at least one or two Tifa's. How come she's such a beloved fictional character? Perhaps it has to do with her personality...
While Tifa often is considered a bit of a shy type, even though she's a real stunner, looking absolutely stunning, thanks to her cute face and killer-body. Speaking off killer, Tifa Lockhart isn't the kind of babe you should mess around with. Tifa is a student of Zangan-style martial arts and has quite the fighting skills. In other words - she has no problem beating your ass... But only if she really has to.
You see, besides being extremely sexy and a true bad-ass with some serious martial arts skills, Tifa is also often seen as a very reasonable person. She likes to try and prevent a war or a fight, when she believes there's no real reason to start one. The voice of reason, so the speak.
Tifa Lockhart is popular among the cosplay community
Tough and sexy, that's what makes her so beloved among the Final Fantasy fans, as well as the cosplay community. And ok, fair is fair, those gigantic tits are a big "plus" too.
Pretty much all the popular social media influencers in the cosplay niche, such as the model LuxloCosplay in the photo above, all cosplayed Tifa Lockhart dozen times.
And not just Luxlo, far from it! Even most of the other hot cosplay girls we've featured on our website in the past, all seemed to have cosplayed their favorite Final Fantasy character(s) too, including Tifa.
Besides LuxloCosplay, think of other popular ero-cosplayers such as the attractive, steamy hot redheads - Madison Kate (photo above) or Irina Meier.
Well, thanks to the iStripper team, and of course thanks to the talented, hot and horny stripper act by porn starlet Clea Gaultier, you'll now have the chance to watch your favorite busty game character slowly reveal it all.
By "all", we mean, literally, all of it... and beyond!
From Tifa Lockhart cosplay to flaunting her Eve-costume, porn starlet Clea Gaultier has no problem with going "all in" and strip bare naked... Not just that, Clea even decided to bring some of her favorite sex toys with her.
You can watch it all in iStripper's latest cosplay show called Vaginal Fantasy... Now that's one way to make your "final fantasy" come to life! *Ba dum tss*
Clea Gaultier as Tifa Lockhart (Preview)
You've probably watched this French stunner "in action" at popular porn websites such as Brazzers, Evil Angel, Reality Kings or perhaps in "sticky magazines" like Playboy Magazine...
But I bet you haven't seen her starring in a seducing striptease while dressed up as one of the hottest babes in video-gaming history. Ready for a sneak preview of iStripper's latest cosplay stripper show called Vaginal Fantasy?
Clea, it's time for you to start flashing those massive knockers...
Want more? Go download and install the iStripper app and watch Clea Gaultier's Final Fantasy cosplay striptease. Enjoy the show!
Watch Vaginal Fantasy
More Clea Gaultier stripteases (at iStripper)
Vaginal Fantasy wasn't the first striptease which Clea Gaultier had recorded for iStripper, which is good news for those that are craving to see more of this babe or for those which simply prefer watching this big titted porn star brunette wiggle her fancy booty while dressed up as a naughty bunny instead.
Watch Bunny Stripper Show
Virtual Reality adds a whole extra layer of excitement. Just imagine watching a porn star like Clea Gaultier standing in front of you while putting on a strip show of a life-time in VR... That's pretty much as "real" as it gets.
Feels as if those gigantic tits of hers are being thrown right in your face and well, that's never a bad thing, right? Go watch her strip in VR at SexLikeReal.com.
Final Fantasy cosplay or bunny-costumes not entirely your "thing" really? Well, Clea Gaultier also did a fap-tastic striptease while rocking her extremely sexy maid lingerie.
Watch Maid Stripper Show
Go watch 'em all, because a French beauty queen like Clea Gaultier never disappoints when it comes down to performing a strip act (and will make definitely make you cum, hihi).
Pssst, speaking of hot maids, want a little bonus? Naughty babes in maid outfit turn you on, ha? In that case, make sure you also check out our top 10 list of the hottest maid stripteases on iStripper.
Now that's what I like to call - adult freakin' entertainment!